Main Content Starts Here
Old Ales and Barleywines on a Hot Summer Day part 1 - Barrel to Bottle, the Binny's Podcast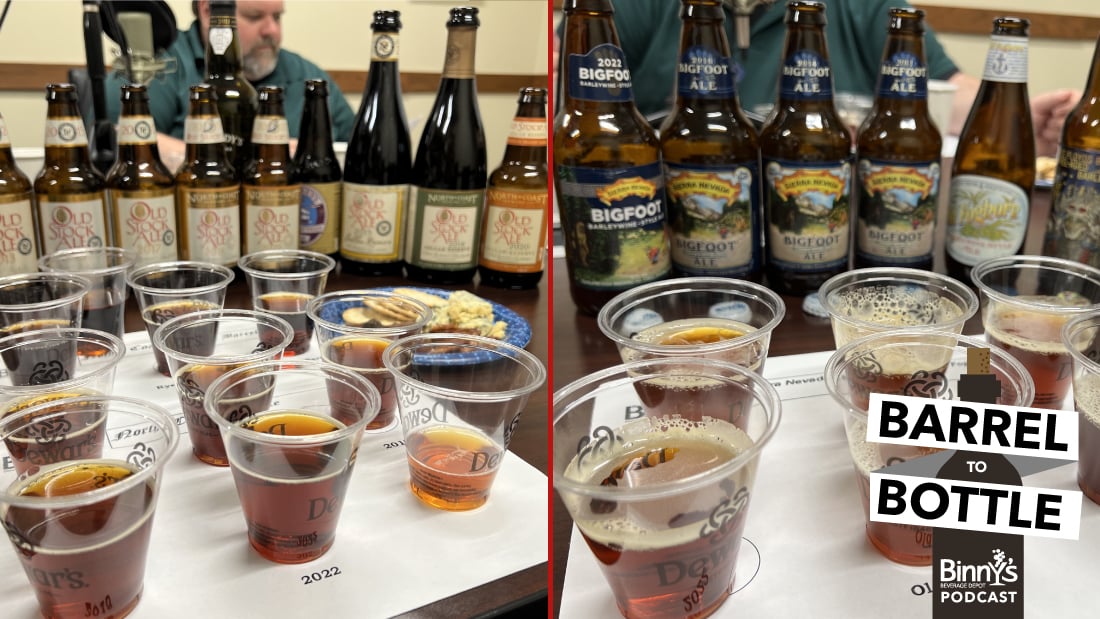 (check out part 1 of our episode on Old Ales and Barleywines)
Old Ales and Barleywines part 2
Welcome to part two of Old Ales and Barleywines. In part one, we covered old ales, this week, we're exploring the American side of these styles. Barleywine used to be huge among craft beer nerds, it was the hot beer style and was often viewed as a thank you from breweries to their hardcore fans.
The modern American craft brewery movement grew out of the legalization of homebrewing by Jimmy Carter in the late 70s. These pioneers had to create their own equipment and methods to make beer in their kitchen. They also looked to the English and their top-fermenting ales, which were much easier to make than lagers. That's why porters, imperial stouts, IPAs and barleywines were so popular in the early craft years.
Anchor Brewing in San Francisco was responsible for many of the firsts in modern American craft beer. They were the first brewery to make a porter, an IPA and a barleywine in the US since prohibition. They were using a brand-new hop at the time, Cascade. The first beer today is Anchor's Old Foghorn.
Many of the early American craft brewers were located relatively close to the best hop-growing regions of the country in the Pacific Northwest. It's another reason why so many of these early American craft beers were IPAs and Barleywines, which require a lot of hops. Sierra Nevada was a brewery that took notice of what Anchor was doing and made their own Barleywine, Bigfoot. They also put the vintage on the bottle cap and thanks to our friends at Sierra Nevada we have a mini vertical going back to 2011.
There are still barleywines out there, but unfortunately there are many that are no longer made. This is like the "In Memoriam" segment of the podcast.
Among the recent entries into craft barleywines is Three Floyds Barrel-Aged Behemoth. These days, so many modern barleywines are only barrel-aged. This one straddles the line between old school and new school barleywine.
Old Ales and Barleywines part 1
Pat considers himself an adventurous guy. Drinking a bunch of old ale and barleywine when it's 100º is not his idea of adventurous though. Luckily the studio is cold, and the fan is on so he should be quite comfortable drinking all these heavy, high alcohol beers.
Roger has been planning this episode for a very long time. He has verticals, he has barrel-aged variants. He even has a beer that he had to hunt down and bring into our Willowbrook location. Chris is a barleywine aficionado, who had the foresight to age barleywines.
Barleywines and old ales are based on British beers from the 17th and 18th centuries. That's why we are starting off with Harvey's Elizabethan Ale, which is the closest thing you can find to the original style.
In addition to bringing the liquid, Roger brought crackers, cheese, and candied fruits to pair with the sampling today. He also brought some Madeira, because at the time the English were brewing barleywines and old ales, they were also very into Madeira. It perfectly captures the balance of massive acidity with residual sugar also found in barleywines.
Next up, a vertical of North Coast Old Stock starting with the 2022 version and working back. We also have some barrel-aged Old Stock ales to try after that. Again, this beer is specifically designed to be cellar worthy. You can and should cellar this beer, somewhere dark around 50º if you can.
Finally, today, Roger has barrel-aged variants of North Coast Old Stock. We have a brandy barrel, a rye whiskey, and a wheat whiskey from various years.
Check back next week for part two where we dive deeper into barleywine.
If you have a question for the Barrel to Bottle Crew, email us at comments@binnys.com, or reach out to us on Facebook, Twitter or Instagram. If we answer your question during a podcast, you'll get a $20 Binny's Gift Card!
If you like our podcast, subscribe wherever you download podcasts. Rate and review us on Apple Podcasts.