Main Content Starts Here
Demo Kitchen Recipes: St. Louis Style BBQ Pork Steaks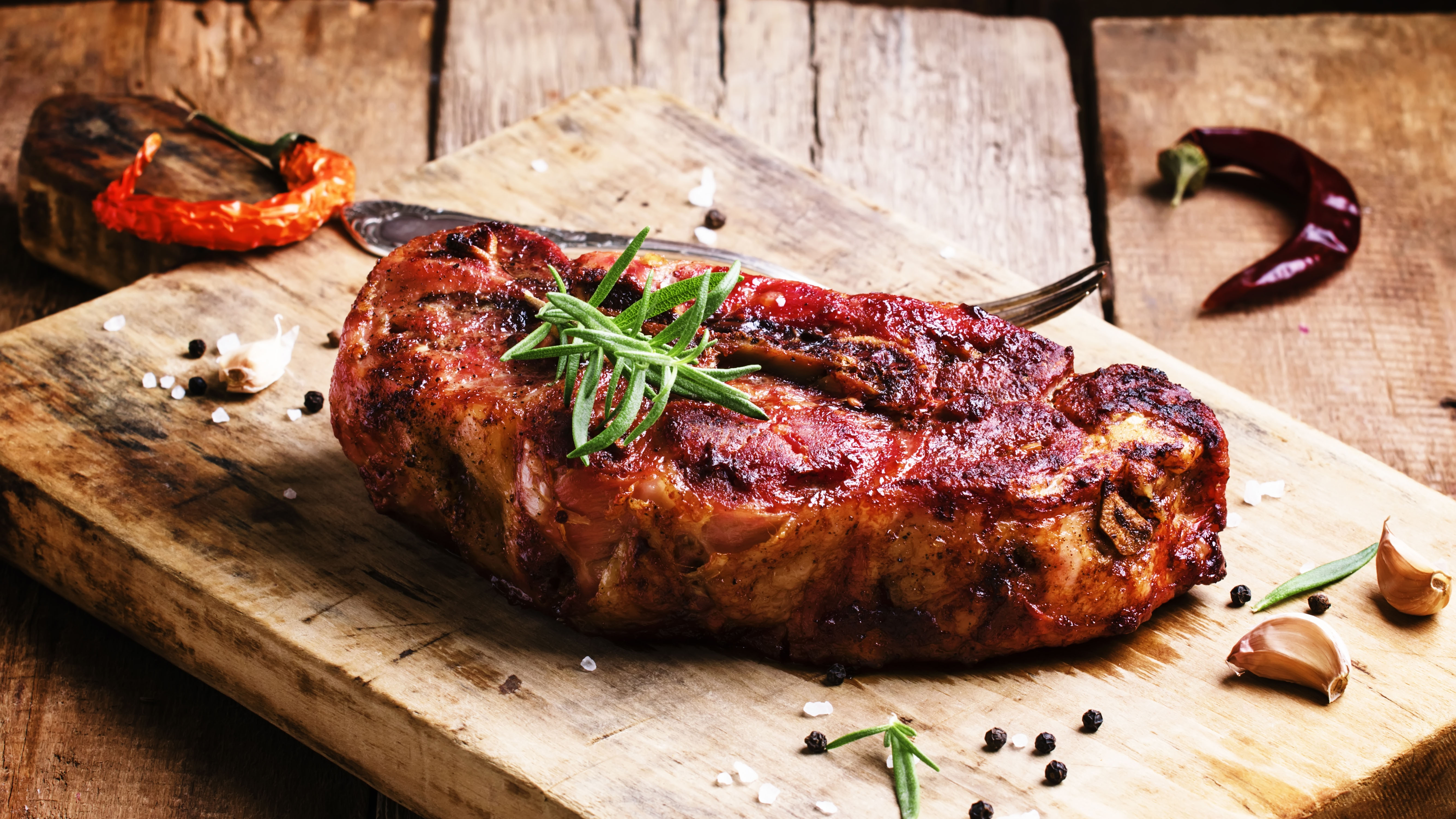 St. Louis is a BBQ town. Right? Afterall, beautifully tapered slabs of spareribs with the tips carefully trimmed away are known as St. Louis style. But what's in a name? BBQ smoke in any town would smell as sweet. In fact, St. Louis cut spareribs are the pinnacle of competition BBQ ribs everywhere and are pulled off smokers by the best pitmasters around the country. However, "St. Louis sparerib" is a butcher's term rather than a style of BBQ per se.
Until recently St. Louis ribs actually made in St. Louis, often in a distinctively salt heavy, verging on cured, style really weren't spoken of with the reverence reserved for BBQ from Missouri's BBQ capitol, Kansas City, or other legendary BBQ locales like Memphis, Lexington or Texas Hill Country. Are there some long standing BBQ joints in STL? Sure, and they can be great, sometimes featuring dishes you would be hard pressed to sniff out anywhere else in the country, like BBQ snoots (yes, it's pig nose). But we would argue that St. Louis BBQ restaurants really just started to come into their own on the national stage over the last 30 years or so with a new wave of pitmasters and restauranteurs.
So, what really makes St. Louis a great historical BBQ town? We would argue it is the fine citizens of this midsouth town, their Weber Kettles or barrel smokers, good old-fashioned charcoal briquets (courtesy of Henry Ford) and the pork steak. St. Louis may be a long way from Pleasant Valley but on any given Sunday there is charcoal burning everywhere. They don't Monkee around, St. Louis is a quintessential backyard BBQ town.
They even have their own beloved commercial sauce, Maull's, that bills itself as America's Original BBQ Sauce, and with almost 100 years on the market it's hard to argue. Many would insist that it's a defining characteristic of the STL style and, indeed, its sweet, tangy and pungent profile does seem distinctive from other tomato-based sauces from Memphis and KC, or even Chicago's own super sweet and extra tangy sauce.
No doubt, many a Cub fan has taken note of Maull's prominence when attending games at their archrival's Busch Stadium, just like one might become familiar with Cleveland's Stadium Mustard. We could be wrong, but we are not aware of Maull's being available in Chicagoland. However, we are guessing that our friends who shop our Springfield location and maybe even other downstate Binny's stores might have easy access from the local grocer.
Otherwise, there is always this crazy phenomenon known as online shopping. (You can shop Binny's online too, but as you are already on our website you probably know that.) Which is to say, we recommend it for this recipe, especially if you are looking for a streamlined way to make memorable pork steaks. Otherwise use your favorite storebought sauce or make your own with the recipe below.
That reminds us, the subject here is pork steaks. Another ingredient that is ubiquitous in STL but harder to find elsewhere. STL plows through literal tons of these rich slabs of meat cut from the pork shoulder and outpaces every other city in America in pork steak consumption. In the last decade we have started to see pork steaks in Chicago grocery stores but if you have trouble finding them ask your butcher to cut ¾"-1" steaks for you from the Boston butt. This is the same well marbled and collagen rich chunk of pork shoulder used to make pulled pork, so even when cut into steaks it needs a good long cook.
Speaking of which, the technique here is less traditional BBQ and more classic brown and braise but it is all done on the grill in the presence of copious smoke. Just start by grilling the steaks, like you might any beefsteak or porkchop, over direct heat until deeply browned, then transfer to a pan full of sauce (also on the grill) for a long smokey braise until the pork steaks are fork tender and almost falling off the bone.
While we have had excellent examples that use Coke or Dr Pepper (particularly delicious), the traditional and essential ingredient in the sauce is beer. It is usually combined with Maull's in equal proportions and is most often something like Bud or Busch. We prefer to use STL beers that bring a little more flavor to the party. Urban Chestnut Zwickel and Schlafly Kolsch or Pale Ale are excellent choices for both cooking and accompanying BBQ pork steaks.
If you're in the mood for a cocktail, try our resident mixologist's recipe for a cooling frozen mojito. Especially if we are experiencing St. Louis like heat and humidity (perhaps even more intense than Havana's) here in Illinois.
Fire up that grill, Binlandia! This STL specialty is waiting to be discovered.
Serves 6


St. Louis Style BBQ Pork Steaks
INGREDIENTS:
1 - 18 oz. bottle of Maull's Original Barbeque Sauce
Or for homemade sauce -
1½ cups ketchup
¼ cup cider vinegar
¼ cup packed dark brown sugar
3 tbsp. Worcestershire sauce
2 tbsp. lemon juice, freshly squeezed
2 tbsp. orange juice, freshly squeezed
1 tbsp. soy sauce
1 tsp. garlic powder
1 tsp. onion powder
1 teaspoon hot sauce
kosher salt, to taste
freshly ground black pepper, to taste
2 cups STL beer
Steaks -
6 pork steaks, ¾"- 1" thick
Kosher salt, to taste
Freshly ground black pepper, to taste
DIRECTIONS:
Build a hot hardwood charcoal or charcoal briquet fire for direct grilling under the full surface of your grill or preheat gas grill on high.
In a foil or stainless-steel hotel pan whisk together storebought sauce and beer. If making your own sauce, whisk all ingredients including beer together. Bring to a boil on the grill stirring occasionally.
Meanwhile, Pat pork steaks dry with paper towels and season with salt and pepper to taste.
Grill steaks over direct heat on the open side of the grill until well-browned, about 6 to 8 minutes per side. Work in batches if necessary.
When the steaks are browned, transfer to pan with sauce and cover pan with foil. Put the lid on the grill and use vents to regulate the fire so the sauce comes to a simmer not a hard boil or turn gas grill to low.
Cook, covered, until steaks are very tender and sauce thickens slightly, about 1½ to 2 hours. Check occasionally to make sure the sauce doesn't dry out. Add a little water if necessary.
When steaks are tender you can call them done or you can crank up the heat again and return them to the grill to caramelize the sauce and give them a slight char. About 3-4 minutes a side.
Skim any fat that has accumulated on top of the sauce or, if flavor matters more than calories, whisk it vigorously into the sauce.
Serve steaks with plenty of extra sauce.