Main Content Starts Here
Demo Kitchen Recipe: St. Patrick's Day Roasted Salmon Supper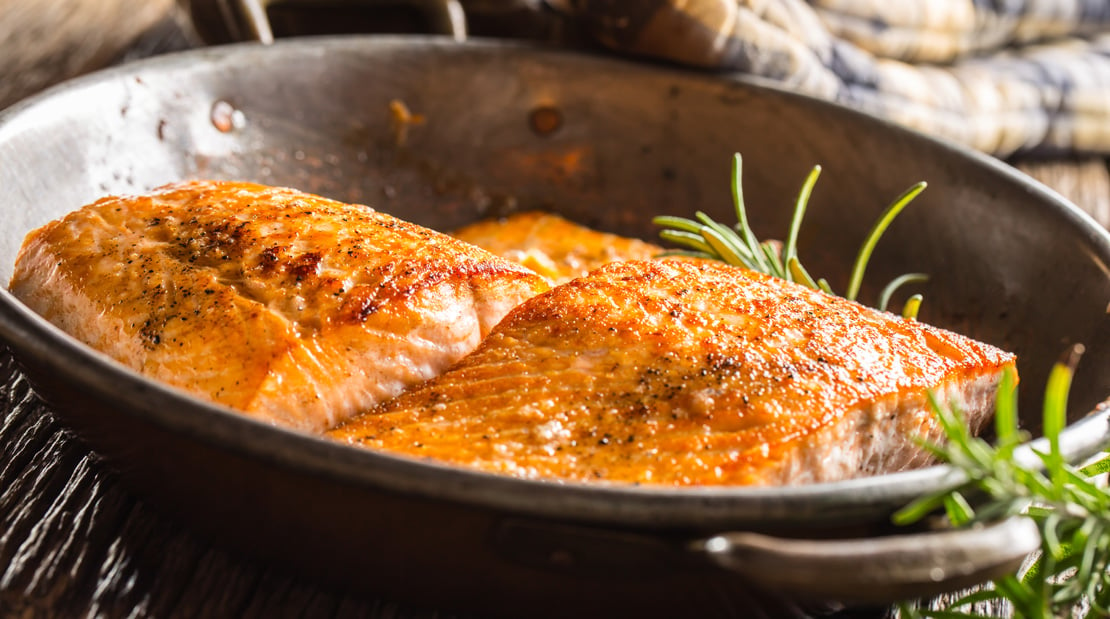 Oven Roasted Salmon with Carrot Sauce, Parsnip Purée & Caramelized Cabbage
St. Patrick's Day is approaching but for most of us parades and big parties of celebrants guzzling Guinness won't be in the cards this year. Don't get us wrong, the lack of crowds won't dissuade the demo kitchen from whipping up some succulent corned beef and cabbage and knocking back our fair share of Irish beer. We will just turn the extra leftovers into even more hash and Rueben sandwiches than usual. But as a sophisticated alternative we present a very Irish influenced meal full of familiar flavors and perfectly suited for family or a small dinner party.
There are a few simple components that will easily come together with a little planning. First prep everything, then proceed with the recipes in the order presented, overlapping of course, and keeping things warm if they are done a little early. The goal is for everything to come together within a few minutes of each other. You can really make it easy by making the puree and cabbage a day ahead and just reheating but the salmon and the sauce are very quick and should be done at the last minute.
Serve with plenty of malty Irish-style red ale such as Smithwick's, Three Floyds Brian Boru, Killian's or Great Lakes Conway's Irish Ale (our choice for matching the slightly sweet, earthy flavors of the root veg) or dry stout. If you prefer wine an Oregon or Alsace Pinot Gris is the perfect choice. Cap the evening off with a creamy Irish Coffee and you have yourself an uncommonly delicious and intimate St. Patrick's Day celebration. Sláinte!
Serves 4
PARSNIP PURÉE


INGREDIENTS:
3/4 lb. parsnips, peeled and cut into 1-inch dice
1/2 lb. russet potatoes, peeled and cut into 2-inch dice
1 clove garlic
1 tbsp. Irish butter
1/4 cup whole milk
1 tbsp. sliced chives
Kosher salt to taste
Pinch of white pepper
DIRECTIONS:
Add parsnips, potatoes and garlic to a pot and cover with cold water. Salt water generously and bring to a boil over high heat. Reduce to a simmer and cook until vegetables are very tender when pierced with a knife.
Strain the veg and return to pot over low heat briefly to evaporate any excess water.
While they are still very hot, immediately run the veg through a food mill or ricer for a very smooth creamy texture (our preference in this case) or mash coarsely with a potato masher for a more rustic texture.
Stir in butter then stir in milk (you can choose how stiff or soft the purée is by using more or less milk at this point).
Stir in chives and season to taste with salt and pepper.
CARAMELIZED CABBAGE


INGREDIENTS:
1 small head of green cabbage (about a pound), cored and roughly chopped
1 leek, white and light green, cleaned and sliced
2 tbsp. Irish butter
2 ounces Irish Whiskey
Kosher salt
freshly ground black pepper
DIRECTIONS:
Melt butter in a large sauté pan over medium low heat.
Add leek, cabbage and a pinch of salt. (Be sure to clean the leek well. They can be quite sandy and result in a gritty texture.)
Cook stirring frequently until cabbage starts to brown and caramelize. You can take this as far as you like from mostly green with a little browning to all brown and deeply caramelized. Time will vary from about 15 minutes and up.
Deglaze pan with whiskey scrapping up any brown bits on the bottom of the pan. Cook briefly, stirring to evaporate alcohol. Season to taste with salt and pepper.
PAN ROASTED SALMON


INGREDIENTS:
4 six-ounce salmon fillets
Kosher salt
freshly ground black pepper
1 tbsp. canola oil
1 tbsp. Irish butter
DIRECTIONS:
Preheat oven to 350°F
Season salmon generously with salt and pepper.
In a large ovenproof skillet, heat oil over medium high until shimmering. Add butter, swirl around to melt then quickly add salmon, skin side down. Cook without moving for 4-5 minutes until skin is golden and crispy.
Move directly to oven (do not flip fillets) and roast another 4 minutes or so until center of the salmon is opaque.
CARROT SAUCE


INGREDIENTS:
4 tbsp. cold Irish butter cut into 4 even pieces
1 small shallot finely chopped
2 tbsp. prepared horseradish
1-1/2 cups fresh carrot juice (either purchased or make it yourself if you have a juicer)
Kosher salt
white pepper
DIRECTIONS:
Melt 1 tbsp. butter in a medium saucepan over medium low heat. Add shallot and sweat until translucent.
Add horseradish and cook, stirring about 30 seconds.
Add carrot juice, stir and increase heat to medium high bringing juice to a bare simmer for 2 minutes.
Remove from heat. If you want a velvety smooth sauce, pour through a fine mesh strainer but it is optional.
Whisk in remaining cold butter 1 tbsp. at a time until incorporated.
Season with salt and pepper to taste.
PLATING


INGREDIENTS:
Four pre-warmed plates
Sliced and whole chives for garnish
DIRECTIONS:
This meal can, of course, be served family style. But why not wow with some restaurant worthy plates? Just put a small scoop of purée in the center of each plate, top with some cabbage, then lay a salmon filet right on top, skin side up to show off that beautiful browning and to keep it crisp. Ladle a generous amount of carrot sauce around the whole perimeter of the plate and garnish by sprinkling sliced chives around the dish and laying one elegant or three crisscrossing whole chives across the top of the salmon. Enjoy!