Main Content Starts Here
CONTACT THE WINE HOTLINE: wine@binnys.com or (866) 975-6188


One of Chile's "First Growths"

Tim Atkin MW, on Vina Errazuriz
That's right, one of the country's First Growths. Due in part to proprietor Eduardo Chadwicks, whose commitment to quality is a guiding force at Errazuriz. And also in part to Errazuriz winemaker Francisco Baettig, who according to Tim Atkin MW is one of Chile's greatest winemakers. But more than anything it is due to Chile itself and its distinct geography. This narrow southerly country, squeezed between the Pacific Ocean to its west and the Andes to its east, enjoys not only the same Mediterranean climatic conditions and advantages that the Napa Valley enjoys, but also an almost unlimited supply of water tumbling down the Andes. Meaning incredible wines AND absurd values!

You could once find Chile's signature varietal, Carmenere, in Bordeaux vineyards and its wines. It was prized for the deep color, distinctive bouquet, and round structure that it imparted onto the Grand Cru blends. But it demanded TLC and some luck for ripe fruit in the cool and rain-prone climate of Bordeaux, where it lost favor. Fortunately, it found a home in the sunny Mediterranean climate of Chile, where it thrives, yielding super silky and flavorful reds like those from Errazuriz. This is an absurd value.
"A medium-bodied red with currants, spices and some dried flowers. Creamy and chewy. Pretty fruit. Drink now."
92 points
James Suckling www.jamessuckling.com, 3 June 2021

Clear blue skies, cool bay breezes, and sun-drenched hillside vineyards - sounds like Napa Valley, right? But did you know that the Aconcagua Valley, where the Errazuriz Cabernet Sauvignon is from, also enjoys those same conditions? Like the Napa Valley, Aconcagua is blessed with a super rare dry Mediterranean climate. Those happy few who enjoy such a climate see not only a long and sunny growing season but also a growing season relatively free of blight. Meaning a Chilean Cab that sells for only a song!
"Attractive red cherries and red plums on offer here with a gently leafy edge, too. The palate has assertively juicy redcurrant flavors and a fresh, crunchy finish."
92 points
James Suckling www.jamessuckling.com, 17 April 2020

It's vibrant, crisp, and exotically flavored - the result of advantages that Chile enjoys. That sunny Mediterranean climate certainly helps, but it's the cool winds tumbling down the Andes that ensure a crisp and vibrant white with a long and persistent finish. What's more, no one can beat Chile for luxuriously flavored, bargain bottes of Sauvignon Blanc. No one. As the Errazuriz SB proves.
"Lots of sliced-apple and lemon aromas and flavors. It's medium-bodied with bright acidity and a creamy, crunchy finish. Energetic. Light grass undertone."
92 points
James Suckling www.jamessuckling.com, 3 June 2021

Ask serious wine enthusiasts what their most memorable glass of wine was and they will likely say… get ready for it… a hauntingly intense yet ethereal glass of Pinot Noir. No other varietal can achieve that intensity and weightlessness like Pinot. It takes a sure hand, but more than anything it demands a sunny yet cool setting. Like the vineyards of Chile, which yield alluring Pinots for a steal of a price, making the Errazuriz Pinot an incredible deal.
"This has a swath of fresh, spicy French oak, making an impressively complex impression on the nose with plenty of fragrant, red florals and cherries. The palate has a very succulent feel with attractively fresh fruit pop."
92 points
James Suckling www.jamessuckling.com, 17 April 2020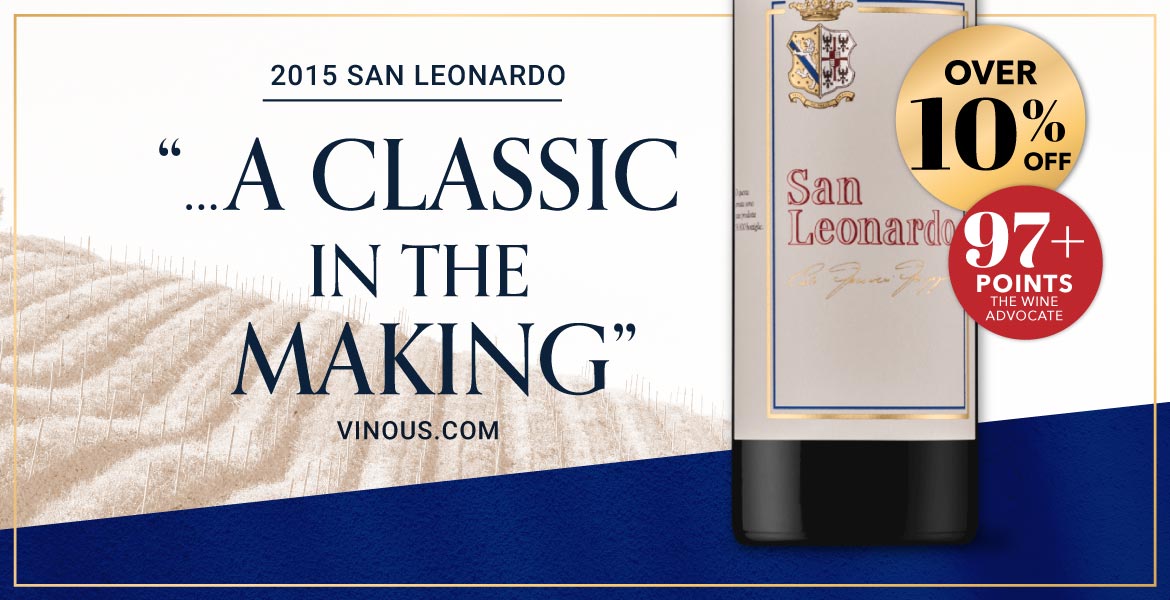 "If you enjoy classic Bordeaux, if you enjoy the energy and verve of of Italian wines..., then you should seek out Tenuta San Leonardo."
vinous.com
Luxuriously ripe yet refined, polished, poised, and persistent - this classic in the making is every bit the equal to any Grand Cru from Bordeaux. Due in large measure to Marchese Carlo Guerrieri Gonzaga, the long time proprietor of Tenuta San Leonardo, who understood the unrealized potential of his Trentino estate. In northeastern Italy, between the Lessini mountains to the east and the Adige river to the west, his ancient and isolated estate - 800 years ago it was a monastery - seems a world unto itself. Yet its gravelly alluvial soils, its Alpine climate, and the Mediterranean breezes off Lake Garda to the south yield a Cabernet blend that is every bit the equal to hundreds-of-dollars-a-bottle Sassicaia or any Bordeaux First Growth for that matter. This is one of the wine world's greatest if often overlooked expressions of Cabernet, making it an undeniable deal for serious wine enthusiasts.

"The bouquet is wonderfully perfumed with peppery florals, mixing tart cherry and blueberry with white smoke, hints of graphite and shaved cedar. Silky textures race across a core of juicy acids and minerals, making for a ripe yet cool-toned and pleasurably tactile expression. Youthful tannins slowly make themselves known toward the close. Long, structured and spicy, the 2015 finishes with a crescendo of tart blue and black fruits, tapering off to notes of subtly sweet spice."
95 points
Eric Guido vinous.com, July 2020


"The 2015 San Leonardo pours forth with a beautiful velvety appearance and sultry dark garnet color. This wine shows a lot of life and dark fruit purity with black plum, blackberry, cassis and tarry prune. There is a delightful note of black pepper that is specific to this warm and sunny vintage. The fruit shows softer and richer concentration compared to past vintages and more pulpy density that gives this edition a bigger profile in terms of mouthfeel."
97+ points
Monica Larner The Wine Advocate, 18 February 2021

"....dark yet radiant, expressive, nearly explosive at times, yet pure, poised and structured."

Eric Guido on the on the Brunellos of the 2016 Vintage
Not familiar with Montalcino? It's Italy's calling card to the wine world and in some ways Italy's Napa Valley. Montalcino, like Napa, is blessed with a dry and sunny Mediterranean climate - the ideal setting for Sangiovese. And should the region enjoy a five-star vintage like the superlative 2016 vintage, what you'll have are world class reds like the wines below. What's more, they are already a joy to drink, bursting with tart berries, ripe plums, and savory nuances. And they will reveal even more layers of flavor with time - if you can keep your hands off them while they age!

"The Camigliano 2016 Brunello di Montalcino offers a more robust bouquet compared to its peers, with its dark and saturated fruit. One thing Camigliano has going for it is that it always delivers the characteristics of its environment. In this case, the vines are located in a warm, sun-drenched corner of Tuscany, and the warm ripeness of the fruit is a testament of place. You also get aromas of scorched earth, grilled porcino mushroom and a touch of burnt rubber or summer asphalt."
93 points
Monica Larner The Wine Advocate, 30 November 2020

"This supple, fluid Brunello offers a compelling mix of bright cherry, black currant and violet aromas and flavors meshed with balsamic notes of juniper, eucalyptus and licorice. Balanced, showing ample structure, with a lingering aftertaste."
94 points
Bruce Sanderson Wine Spectator, 30 June 2021
"Lovely depth of fruit to this young Brunello with tile and tar undertones, as well as bark. It's full-bodied and layered with soft tannins. From organically grown grapes."
94 points
James Suckling www.jamesuckling.com, 14 July 2021

"The 2016 Brunello di Montalcino blends richness, ripeness and refinement to create a model of total balance. At first, it's dark, earthy and herbal; yet with time in the glass, a massive wave of black cherry, raspberry, sage and a grounding note of undergrowth comes forward. In the mouth, it coats all that it touches in silky, cool-toned textures, giving way to ripe red/black fruits complemented by spiced citrus, as nuances of lavender and tobacco form. While this feels round and pliant throughout, fine-grain tannins slowly saturate, sneaking up and reminding you of just how young the 2016 really is today. Hints of baker's chocolate, licorice and a twang of tart blackberry resonate - wow, does it ever end?"
96+ points
Eric Guido www.vinous.com, November 2020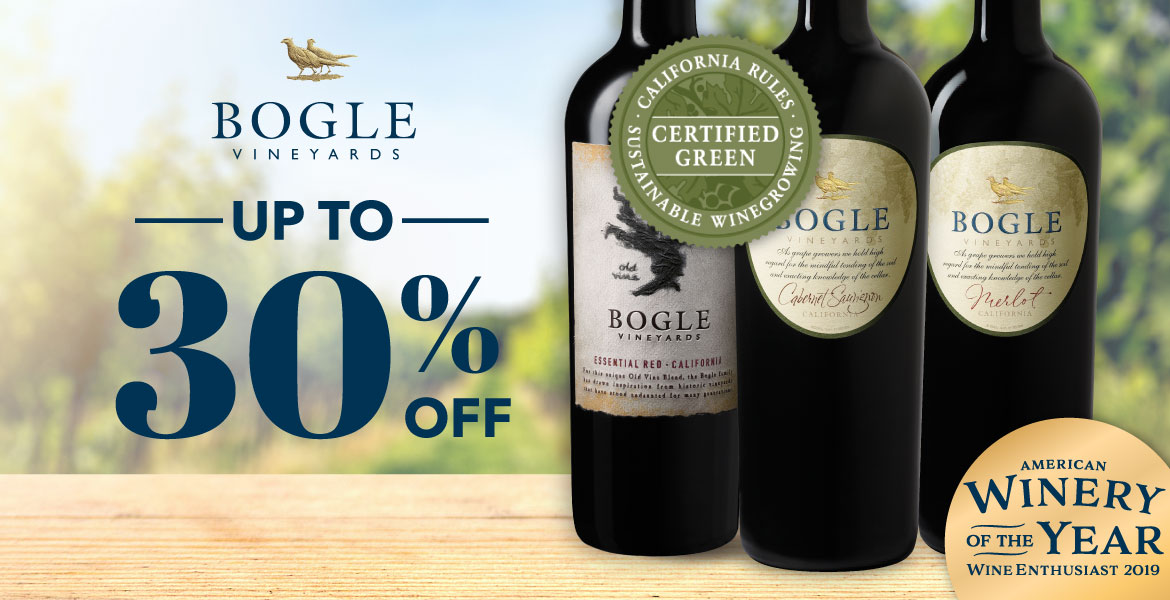 "Bogle is that rare winery that consistently delivers bang for the buck...."

Wine Spectator
With decades of success, California's Bogle Winery is that rare estate with mind-boggling wines that sell for a song. And that's despite practicing sustainable viticulture and maturing their wines in barrel. Neither practice is cheap, nor justifiable if your sole concern is profit. Fortunately for us Bogle Winery keeps quality first and foremost in mind, and to this day remains a family operation that answers to no one but themselves and their customers. And what they offer are fruit-driven, California classics AND some of the best bargains on our shelves. The bottles below not only prove the point but are also on sale, so BUY NOW!

TAlmost opaque, with dark fruit and roasted notes on the nose. Black cherries, blackberries, and coffee beans wash over the palate, with tobacco accenting the dark fruit flavors. Hints of mint lend a welcome lift as silky tannins emerge in the glass. Textbook Cab, with all the classic California ripeness that you could want. A no brainer.

Black fruit with savory hints on the nose. Plums and super intense black cherries on the palate, with tobacco hints emerging with a swirl of the glass. A wave of dark chocolate overwhelms with time. Fuller bodied yet soft and silky, this is a spot-on California Merlot. Seriously undervalued.

Brambly black fruit on the nose. Blackberries and cassis roll over the palate, with dashes of black pepper and exotic baking spices barrelling closely behind. Full bodied yet soft, almost sensual, this bottle is definitely for the hell-bent hedonist. Outrageous value for what's in the bottle. How much is this???