Main Content Starts Here

The Whiskey Hotline: Scouring the World for the Most Interesting & Unique Barrels of Spirits
The Whiskey Hotline team is on a never ending mission. Scotland, Taiwan, Washington, Tennessee, Kentucky..., wherever there's good spirits to be found, we'll find the best of it and bring it to you at the best price we can.
CONTACT THE WHISKEY HOTLINE: spirits@binnys.com or (888) 817-5898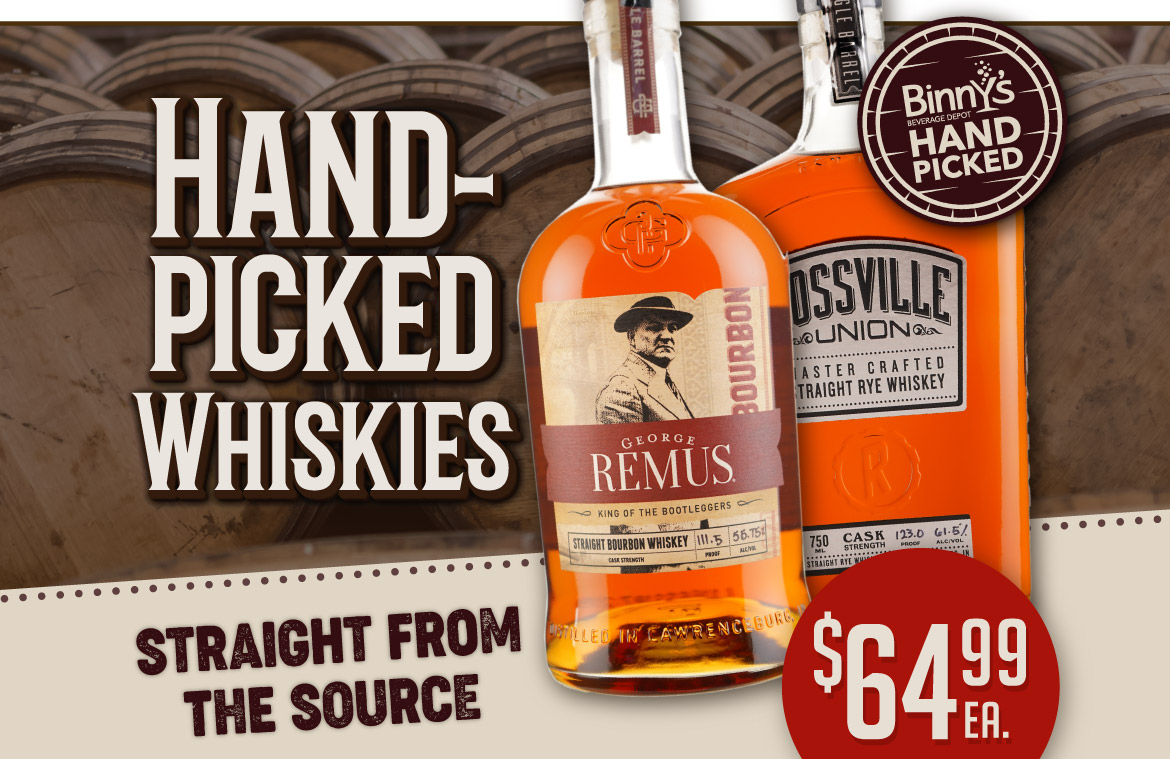 It wasn't too long ago when talk of "the big contract distillery" in Lawrenceburg, Indiana was met with reactions ranging from skepticism of fake brands to hushed praise by those in the know. Nowadays the secret is out, and MGP juice has become some of the most sought-after whiskey for enthusiasts and collectors. The Whiskey Hotline praises their Remus Repeal Reserve as one of our favorite yearly bottlings and there is still no one better at coaxing the magic and nuance from rye grain. This year we've got 9 barrels each of George Remus bourbon and Rossville rye with a range of proofs, cooperage and mashbills. Check out your local Binny's soon before these gems are gone.

We've never had a broader selection of Remus to choose from. These barrels range in age from 5 to 7 years and all have been bottled at true cask strength without chillfiltration. As always, the Whiskey Hotline tasted these barrels blind and we ended up with a mix of 21% rye and 36% rye mashbills with the barrels sourced from 6 different cooperages. Check out more info and our tasting notes here.

This is the first year MGP opened up barrels of their hallowed 95% rye mashbill for the barrel selection program and to say we were excited is an understatement. Excitement and fandom cannot usurp our process, so blind tasting was still followed. We ended up selecting 3 barrels of the 95% mashbill, 4 of the 51% rye 49% malt barley mash, truly as hidden gem, and 2 barrels made from 51% rye and 45% corn in the classic Kentucky style. These were also all bottled at cask strength, range in age from 5 to 7 years, and were aged in barrels from a variety of cooperages. Check them out here.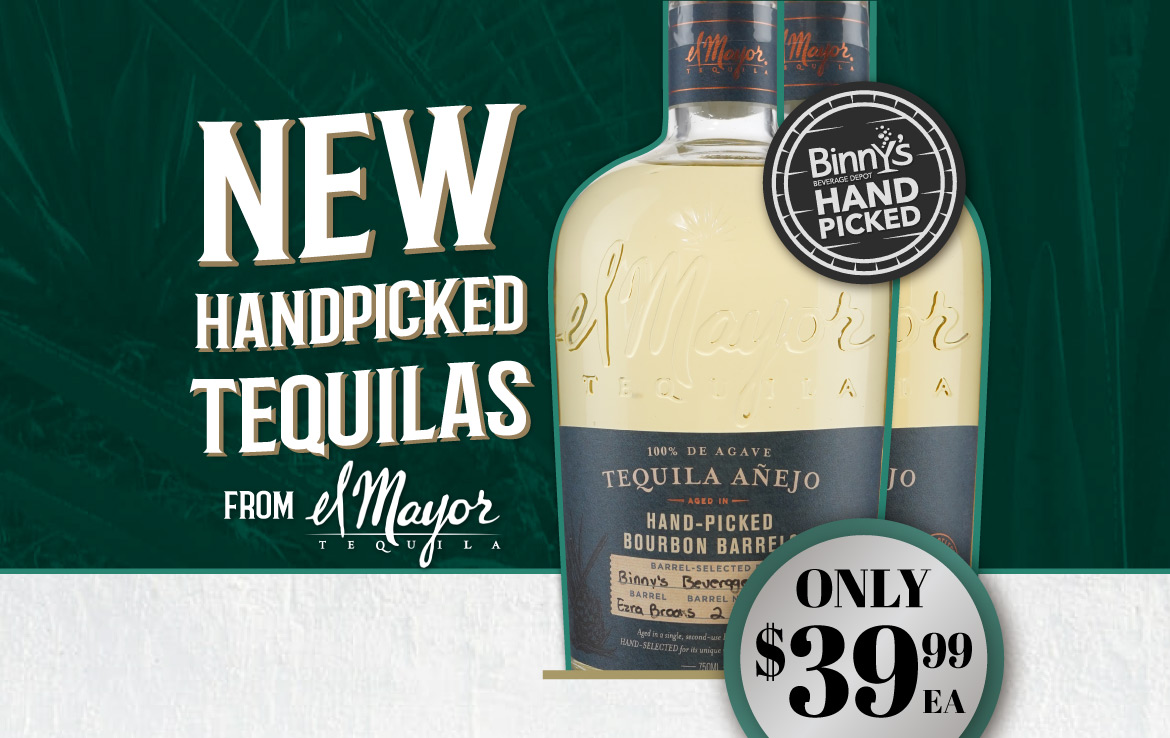 Not just any old barrel picks, these are the second round of "boomerang" picks we have done with El Mayor, this time anejos aged in Ezra Brooks bourbon barrels. Our first barrels were some remarkable reposados aged in Ezra Brooks barrels from the same crop of handpicked casks. While the spicy rye from Ezra was a complement to the herbal spice of the more youthful reposados, we were curious to see what an additional 6 months of barrel time would do. Softer and sweeter agave notes emerged but it still kept a background of complex pepper, spice and oak.

Wow. Better than we could have ever expected. The nose is very inviting, showing green bell pepper, blood orange candies, caramelized agave, vanilla icing, and white pepper. On the palate rich waves of caramel cream and vanilla envelope roasted agave, green pepper, oak spice and blood orange. The finish is well balanced with fruit and sweeter flavors dominating as they eventually fade into a long-lasting cinnamon and white pepper flavor.

More citrus in this barrel with sweet agave notes. On the nose caramel drenched agave hearts with lemon oil, vanilla and orange blossoms, lime candies and cardamom. Sweet notes carry through the palate with caramel, roast agave and fruit flavors from the nose laid over a rich and thick mouthfeel with spicier elements underneath. The finish follows the palate with sweet, honeyed agave, citrus oil and a slow burn of peppery oak spice slowly fading together. An absolute stunner.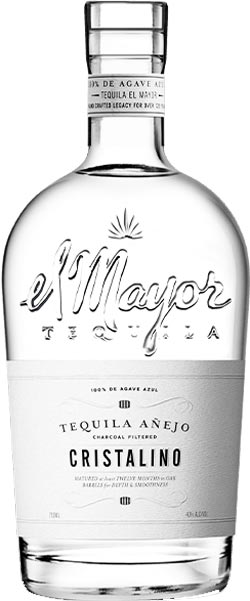 This is a well-made Cristalino at an outstanding price. Incredibly deep nose with cooked agave in vanilla-butter sauce, cinnamon candies, dried papaya with dehydrated orange, and a soft but persistent black peppercorn note in the background. Oak-leaning flavors of butterscotch and vanilla dominate initially on the palate with black pepper and cooked agave moving in with cinnamon spice lurking in the back. The finish is long and enjoyable with black pepper, oak, sweet roasted agave, vanilla, and caramel lingering in subtle waves.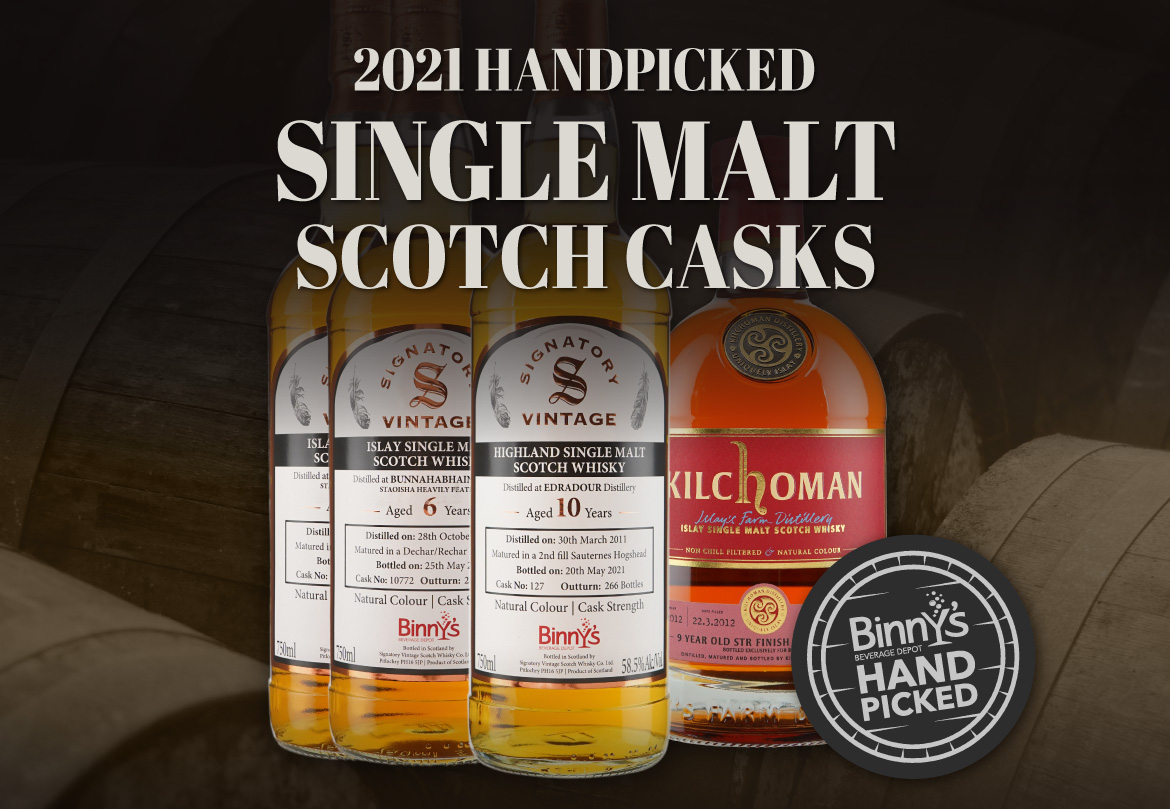 Our 2021 handpicked Single Malt Scotch casks have arrived and we have something for everyone from peat freaks to even bourbon lovers. Staoisha, the most heavily peated distillate from the Bunnahabhain distillery, continues to impress even at its still relatively youthful age. One of our more memorable recent picks was an 11 year old Edradour that rested in a Sauternes cask. We're happy to say we found a sibling to that and have once again fallen in love with the rich, honeyed and fruity character. It's not often that we take a cask of grain whisky, but a 13 year from North British was an irresistible mix of creamy vanilla and caramel. Our latest Kilchoman cask is one of the more interesting we have tasted from the wee farm distillery, thanks to being peated at nearly twice the rate of Kilchoman's standard malt. Grab them while you can.

Dangerously drinkable one for the peat fans. On the nose, peat is very much in charge with an underbelly of grilled mango, papaya, toffee-caramel, hard vanilla candy, and a soft whisp of peppercorn. On the palate, fruit surfs to the front on a wave of peat with oak spice underneath providing balance and depth. The finish is gorgeous, with peat refusing to leave as chewy fruit flavors form the palate fade into the distance.

Classic Edradour at the core; rich, fat and chewy. On the nose, butter with pear confit, dried cranberry, roasted cashews in honey, dried apricot, vanilla-toffee, and cinnamon sticks. The Sauternes cask is on full display on the palate with more honey and fruit, white jelly with butter, with a long nuttiness and warming oak spice providing depth to this chewy and complex malt. The finish is long and layered, with a round wave of butter, white grape, pear and white chocolate sliding into a long-lasting spice finish.

Scotch whisky for bourbon lovers, an easy drinking delight. Don't be afraid to add a little water, the fruits intensify in this case. Butterscotch, vanilla fluff, caramelized banana, coconut shavings and fresh clove on the nose give this soft whisky an American flair. On the palate, banana cream pie, coconut topping, cardamon – clove tea, very bourbon-esque. The finish is warm and long with oak spice slowly outlasting sweeter elements.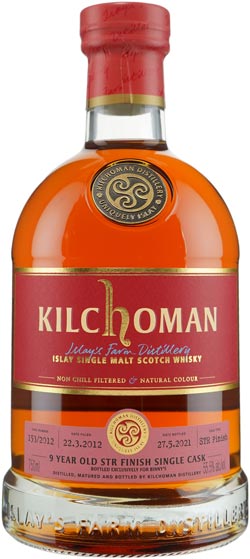 Burly, intense and unlike any other Kilchoman we have tasted. The nose is simply irresistible for a peat lover. Waves and waves of enticing peat smoke emanate from the glass, as the subtle beauty found in STR casks slowly reveals itself with fresh peach, coconut flake, butter-toffee and caramel cake with a bit of plum jam. On the palate, dry white smoke with a pinch of white pepper as vegetal elements mingle with plum jam on molasses cookies and dehydrated peach. The finish is wonderfully balanced with peat waves rolling throughout as sweeter elements fade slowly. An absolute stunner.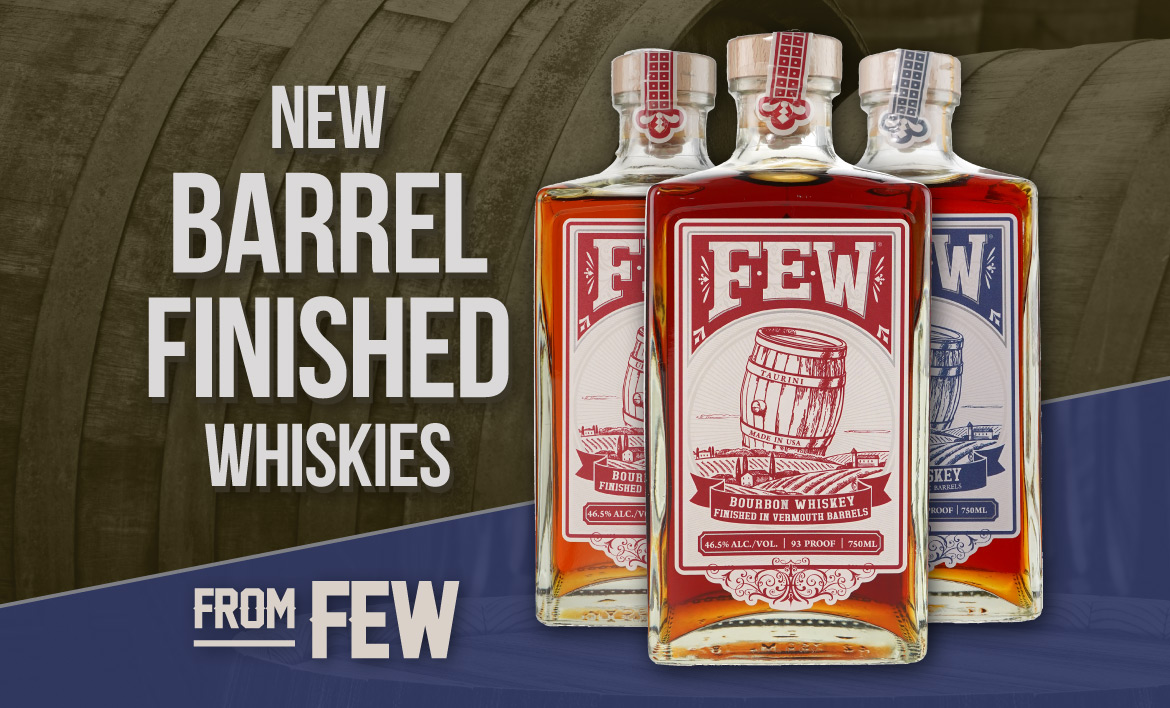 Hot on the heels of FEW's stunning 4 Grain Anniversary bourbon a trio of limited release, cask-finished whiskies from FEW are in stock now. Bourbons finished in Scotch whisky barrels and vermouth barrels as well as a rye finished in Malbec wine casks. These barrel finishes add layers of flavor and depth to their already fantastic whiskies and offer a ready-made course in oak profiles.

Introducing the newest member of our Clark & Sheffield family, Small Batch Bourbon. Clark & Sheffield Small Batch bourbon hails from Sazerac's Bardstown, KY distillery and is 5 years old and 90 proof. A versatile whiskey equally at home on the rocks or in your favorite cocktail and is maybe the best deal in our ever-expanding bourbon aisle. A gentle and flavorful sipper, and a full flavored but budget priced mixer, this bourbon does it all.

Cherries, brown sugar, pepper and vanilla are all layered throughout the robust nose. The soft and round palate brings a touch more sweetness with strong vanilla, caramelized sugars and sweet corn. Cinnamon and clove build gradually giving balance to the sweeter flavors throughout the long finish.