Main Content Starts Here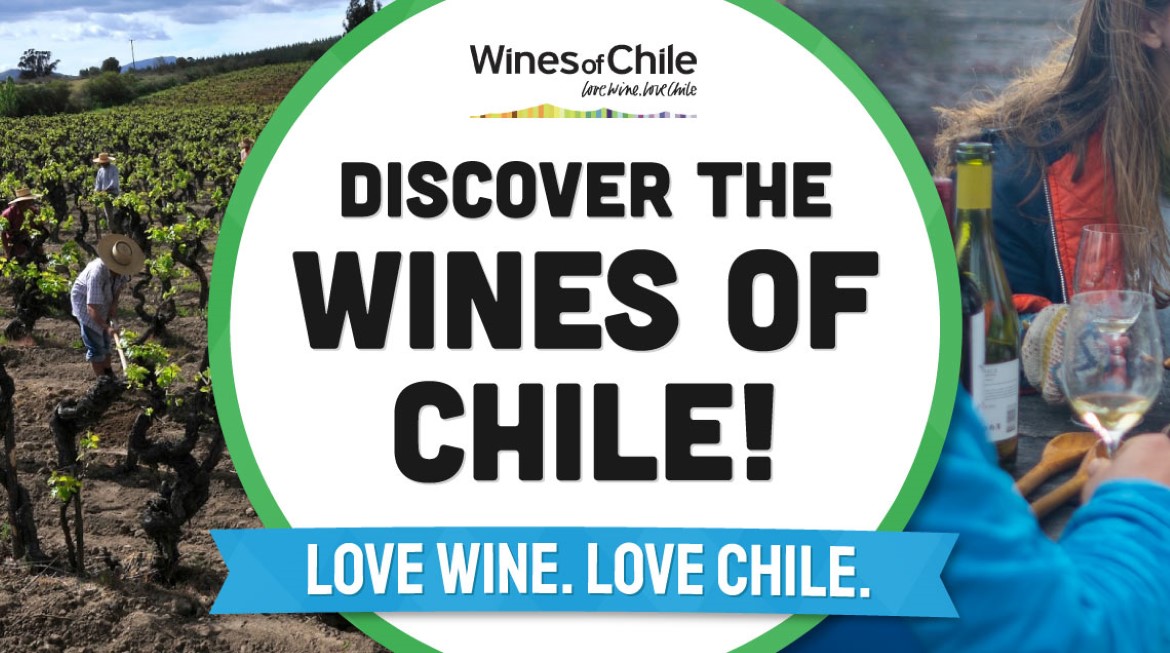 Chile's original wine "appellations," called "Denominaciones de Origen" (DO), were based on political boundaries. The most important of these regions, defined in a 1994 law, are listed below. They are like U.S. AVAs: they define origin, but don't include any other production requirements, such as permitted grape varieties or yields.

In 2012 two major regions were added to reflect the expansion of winegrowing into the far north (the Atacama Viticultural Region, which extends from the Copiapó to the Huasco Valleys) and far south (the Austral Viticultural Region, which extends from Cautín to as far as grapes can grow).

In addition, the rules were amended to reflect another important reality. Chile's "terroirs" can roughly be described as three long strips next to each other, going from the coast (West), to the East (Andes), with a depression (known as the "Central Valley") between the two.

That physical reality – more maritime influence along the coast, more alpine influence in the East, with less of the two in between, was taken into account. Now producers can put on the label which "strip" their wine hails from within the larger DO: "Costa," (coast), or "Andes" ("Andean" i.e. from the highlands) or "Entre Cordilleras" (literally, "between the mountains," i.e. the Coastal Range and the Andes). So, a wine label might say "Colchagua Costa" or "Maipo Andes." However, most producers bottling wines from that central strip, don't use any other identifier – the label will just say "Colchagua" or "Maipo."

Sensibly, considering climate change, "Costa," "Andes," and "Entre Cordilleras" are not DOs within the larger area; but they do provide additional information. That information is based on data gathered over many years by the Chilean Agriculture and Livestock Service (SAG): summer temperatures, frost occurrences, as well as vegetation found in an area. A comment: wines from the same "strip," though from different regions, might have more in common than two wines from the same region.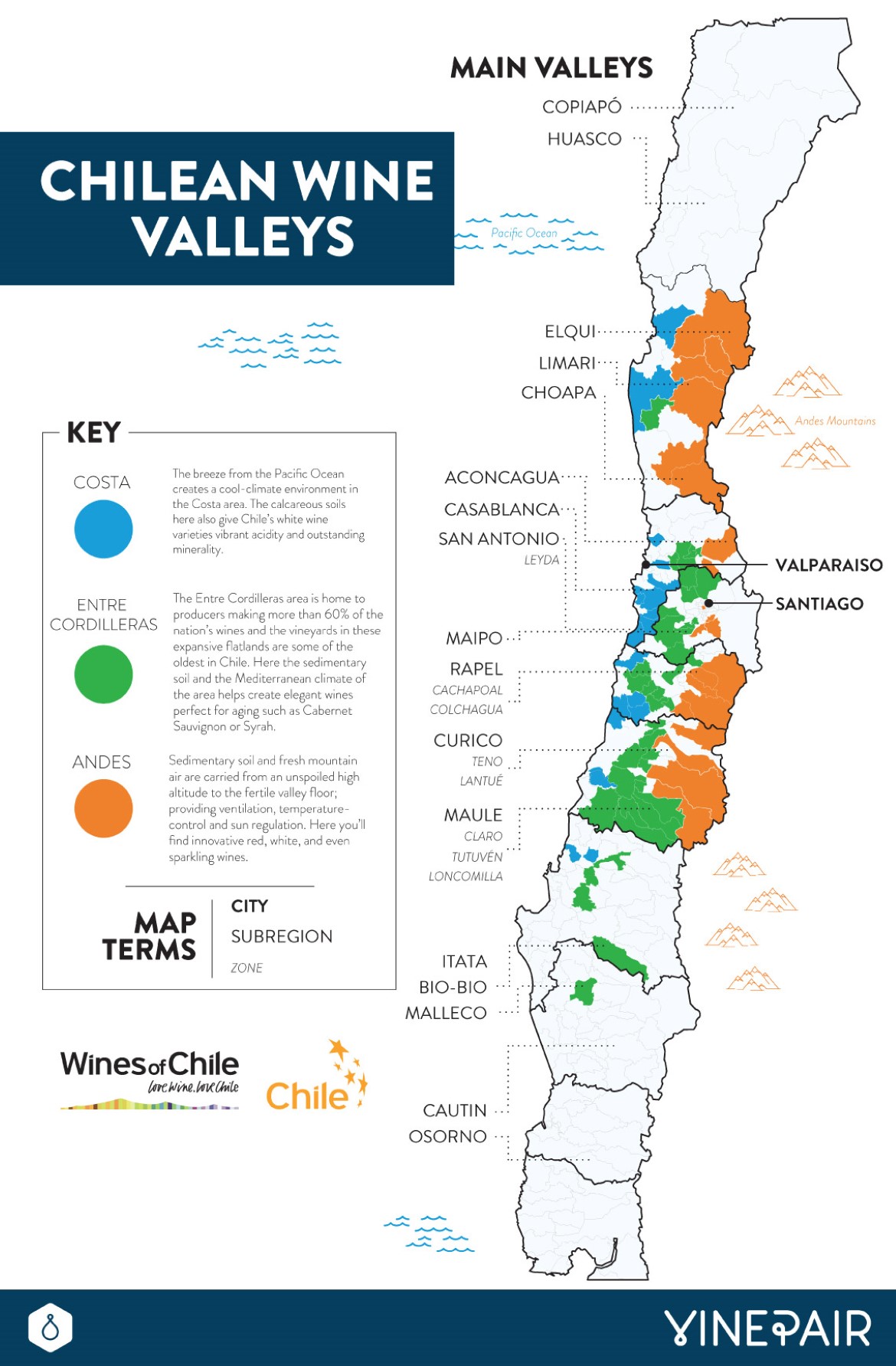 ACONCAGUA VALLEY
Equidistant from the Pacific and Andes, Aconcagua benefits from the cooling influence from both sides. Here is also where the Andes and Central Mountains start separating, and there is room for terraces of vines along the banks of the Aconcagua river -- red varieties in the uplands and white varieties, along with Pinot Noir, closer to the mouth of the river. As with the valleys further North, Aconcagua benefits from the corridor of cool maritime air travelling 80 miles inland to the heart of the valley. It is around the same temperature here as in Chile's historic wine heartland, the Maipo valley.

In 1994 Syrah arrived in Chile, grafting it here onto old Cabernet Sauvignon vines. These Syrah wines often offer savory gamey notes. Carménère is also a calling-card and examples can have a food-friendly soy sauce note. The Aconcagua Costa area north of Valparaiso is an area becoming increasingly associated with top Pinot Noir grown on volcanic and schist soils, and Petit Verdot is also a valley specialty. A noted subzone is Leyda, near the coast in the northern end of the valley.

Noted producers: Arboleda Winery, Errazuriz.
CASABLANCA VALLEY
The appropriately named "White House" Valley is the country's principal white wine production area. It is also the pioneer area for the country's "cool coast" viticulture. This is where Chile's "cool climate wine revolution" started when vines were first planted here in 1982. These forward-thinking pioneers were seeking to make fresher, more vibrant white wines, braving the area's propensity for frosts but attracted to summer temperatures averaging around 77 F.

These summer temperatures were lower than in traditional areas due to the ocean fog, and winds travelling inland over the low-lying coastal hills. Morning fog and clouds meant 180 versus 240 to 300 clear days in the year, slowing ripening. In addition, soils were varied, from friable granite mixed with clay to sand. Fog and some clay are advantages as there is little rainfall. Indeed, the area has been able to develop thanks to a system of wells installed to harvest water. In general, the area closest to Santiago is somewhat warmer as the coastal mountain range here is higher, blocking more of the Pacific influence.

Chardonnay and Sauvignon Blanc were planted and today are vinified into the region's iconic wines, prized for their minerality balanced with citrus and tropical fruits. There is increasing interest in Pinot Noir, Merlot and Syrah, grown in higher, frost free areas.

Noted producers: Agricola Cuvelier, Casas del Bosque Winery, Concha y Toro, Los Vascos, Matetic, Quintay, Sur Andino, Veramonte, Volcanes de Chile.
LEYDA VALLEY
Leyda Valley is a small sub-region of the San Antonio Valley wine region in Chile, located just 55 miles (90km) west of the Chilean capital, Santiago. This cool-climate region enjoys the effects of the cold Humboldt Current of the Pacific Ocean, which accounts for roughly 20% of the total worldwide marine fish catch. Due to the influence of this current, Leyda produces bright, vibrant wines made from Pinot Noir and Chardonnay. The region is also responsible for excellent examples of Sauvignon Blanc and Syrah, as well.

The region sits on a set of rolling hills on the seaward side of the coastal range that protects much of central Chile from oceanic influences. It is just south of the cool-climate wine region of Casablanca Valley, and the sizable Maipo Valley lies to the east. The Pacific coast is eight miles (12km) west of Leyda Valley.

Cold ocean breezes and morning fog moderate the overall temperatures, and the valley is therefore significantly cooler than its low latitude might suggest. These cool temperatures are complemented by warm sunshine during the long growing season, letting grapes ripen fully and develop complexity while still retaining acidity.

Noted producers: Garcés Silva, Leyda Winery.
MAIPO VALLEY
Maipo is the historic heart of Chile's wine industry; this is where it all started. Wealthy estate owners in the mid-19th century, planted Bordeaux varieties (especially Cabernet Sauvignon) just a horseback ride away, south of the capital. Today, while there may be more Cabernet Sauvignon found in Colchagua and Maule, King Cab still rules in Maipo, measured both in quantity (52% of the area's vines) and quality, especially in the Alto Maipo, southeast of Santiago. Here are the famous subzones of Pirque, Puente Alto, Macul (all three at 2,000-feet -plus above sea level) and the slightly warmer, lower Alto Jahuel. Maipo Cabernet was Chile's first collectable calling-card, wines with a recognizable Maipo style – structured, with ripe cassis fruit, warm earth and often with minty notes in cooler vintages.

Summer days in the Alto Maipo are 82 – 86 F, but nighttime temperatures fall to 50F. Southwest of the capital, in Isla de Maipo and Buin, the Cabernet style is rounder, fleshier. Soils in Maipo are varied – gravel terraces in Pirque, sand in the Western vineyards closer to the coastal range, loose sediment around Alto Jahuel. In addition to Cabernet, the other complex, well-structured reds to be found in Maipo are Merlot, Syrah and Carménère-based wines.

Noted producers: Almaviva, De Martino, Aquitania, Santa Ema, Santa Rita, Ventisquero and Veramonte, VSPT & Santa Carolina.
COLCHAGUA VALLEY
Located in the southern half of the Rapel Valley, two-hours' drive from Santiago, the Colchagua Valley has evolved over the past twenty years into one of the largest and most active wine regions in the country. The relatively low elevation of the coastal hills allows the Pacific breezes to interact with the Andean winds, cooling the valley (the heart of which is around 30 miles from the coast) and extending the ripening period. The focus is on reds here and, as a very rough guide, Cabernet Sauvignon-based wines tend to be fruitier here than its counterparts in Maipo.

Some of the region's special terroirs include Marchigüe in Colchagua Costa. Syrah and Carménère grow on soil dotted with pebbles and rounded stones left along the path of a melting glacier eons ago. Another call-out area is the famous Apalta vineyard, home to Bordeaux varieties. The region is also showing potential for fresh-weather costal whites.

Noted producers: Casa Silva, Fox Wines, Lapostolle Winery, Los Vascos, Maquis, Montes, Terranoble Winery, Terrapura, Ventisquero, Veramonte.
CURICÓ VALLEY
With a winemaking tradition dating back to the 19th century, the Curicó Valley is home to some very old vine stock. Farmers were attracted to the area's Mediterranean climate of hot, sunny days followed by cold nights. There is just the right amount of rainfall (around 23-inches per year, concentrated mainly in winter) to nourish the plants without creating too much leaf growth. In addition, the wide diversity of soils of both volcanic and alluvial origin, with different levels of water retention, enabled diverse grape varieties to thrive. Spaniard Miguel Torres in the 1980's started revitalizing the industry here and today it is home to some of the country's largest producers. Cabernet Sauvignon and Sauvignon Blanc dominate, along with fine examples of Carménère, often featuring roasted pepper notes. Lontué is a stand-out subregion.

Noted producers: Sutil (La Playa), Terrapura.
MAULE VALLEY
This is Chile largest wine region and, so not surprisingly, is quite diverse in geography and climate. Unlike many other growing regions in Chile, the Maule Valley has no maritime influence, but relies on the cold winds blowing down from the Andes at night. This big diurnal temperature shift modifies the area's Mediterranean climate, enabling slower ripening.

Maule's wines run the gamut – from easy-drinking, more market-driven wines made from fruit grown on the flatter, fertile valley floor to fascinating, "geek appeal" bottlings. Thanks to Maule's long winemaking history, País is still a major grape variety here, especially in the valley's southern portions. Recently, in a back-to-the future shift, exceptional old vine Carignan from Cauquenes and San Javier, dry-farmed and head-trained (i.e. bush vines) has been rediscovered, and wines bottled. Of course, Cabernet Sauvignon, Merlot and Carménère are the mainstay. Carménère here shows an aromatic intensity, full of spices and black pepper. Around the town of Linares, sandy soils produce elegant wines. And from the coolest areas in Alto Maule, Sauvignon Blanc and Pinot Noir are turned into award winning wines. New vineyards are also springing up along the area's Pacific coast.

Noted producers: Maitia.
ITATA VALLEY
"Itata" means "abundant grazing" in Mapudungun, the language of the Mapuches who lived here. When the Spanish arrived in the 16th century, this is where they established their first vineyards – close to the port of Concepción. Today, those heritage dry-farmed, bush vines, mostly of Moscatel and País, are finally being treasured and saved, and the wines enjoyed. On offer are old vine wines made from 100+ year old Cinsault, 90-year-old Moscatel – truly different and exciting wines. But the race is on as these old vines are in danger of being ripped out to plant pine trees. In total, while Itata is home to 8% of Chile's vineyards, it has 44% of the country's País and Moscatel vines. Other grape varieties grown here include Cabernet Sauvignon, Carménère, Merlot, Semillón, Chardonnay, Sauvignon Blanc and Tintórera. The latter is a red grape, whose home is in Almansa, Spain.

Like its neighbor to the North, the climate here is Mediterranean, but there is enough humidity in the air and rainfall to allow for dry-farming. Starting around Concepción going south, the Coastal mountains get lower, allowing for the Pacific maritime influence to moderate the climate. The seasons are well-differentiated, giving vines a good winter rest. Soils are sandy, granitic and mineral-rich – varied enough for a wide variety of grapes to be grown.

Noted producers: Pedro Parra.
BIO BIO VALLEY - MALLECO
Traditionally, Chile's far south, over 350 miles south of Santiago, in Mapuche Indian country, was considered too cold (a Winkler I region, with 2,012 F – 2,192 F-degree days), too wet (the coastal mountains are lower here) and, in parts, too fertile to be viable. But, the renewed world-wide interest in cool climate style wines has meant that heavy hitters have made a home here, attracted to the potential for making racy and aromatic wines from Pinot Noir, Riesling, Chardonnay and Sauvignon Blanc.

The "deep south" location also ensures more sunlight hours during the growing season. Ironically, despite the area's traditional reputation as being inhospitable to winegrowing, a strand of 140-year old Malbec vines was discovered, and there are pockets of old vine País and Moscatel.

The first vineyard in Malleco was planted in 1995. There are now around 100 acres of vines, found mostly around the town of Traiguén. Award-winning super-crisp Chardonnays are being made here. Colder and with a shorter growing season than its neighbor to the north, it is also, with 51 inches of rain per year, very wet in Malleco – wetter than England's winegrowing areas! Luckily, a lot of the rain falls in winter and, during the growing season, the stiff winds help keep vineyards fungus-free. What enables the vines to also thrive are the pockets of reasonably well-drained volcanic red clay and sandy soils. The lack of water held in the ground means that the vines have to work harder for hydration, and therefore produce grapes with concentrated flavors, excellent structure and racy acidity.

Noted producers: Emiliana.