Main Content Starts Here
Explore the Willamette Valley Wine region
Oregon's largest AVA, the Willamette Valley, sits 50 miles from the Pacific Ocean between the cities of Portland and Salem. It is home to approximately 600 wineries – a number that has increased five-fold in the last twenty years – and the majority are family-owned. Diverse soils and microclimates are found within the AVA which has led to the creation of 10 sub-AVAs.
Broadly speaking, the region has a cool to moderate climate. It boasts long daylight hours with most of the Willamette Valley's high rainfall coming in the winter months. This relatively dry summer and autumn enables many producers to farm sustainably. In fact, 47% of vineyards are certified sustainable and over half of all Demeter Biodynamic certified vineyards in the USA are in the state of Oregon.
The region has a rich geological history. You can find fertile loam soils on the valley floor deposited by floods in the Columbia Gorge several thousand years ago. This is where many have chosen to plant Pinot Gris. At higher altitudes sit volcanic basalt and marine sedimentary soils, which are lower in fertility and dramatically influence the style of the wine.
The Willamette Valley has quickly built a reputation for producing world-class Pinot Noir. Thus, it might surprise you that Pinot Noir was only first planted in the region in 1966 by David Lett. How far they've come! Today, plantings are dominated by Pinot Noir (69% in 2019), Pinot Gris, and Chardonnay. Clonal selection is important; Wadenswil, Pommard and Dijon clones are all used.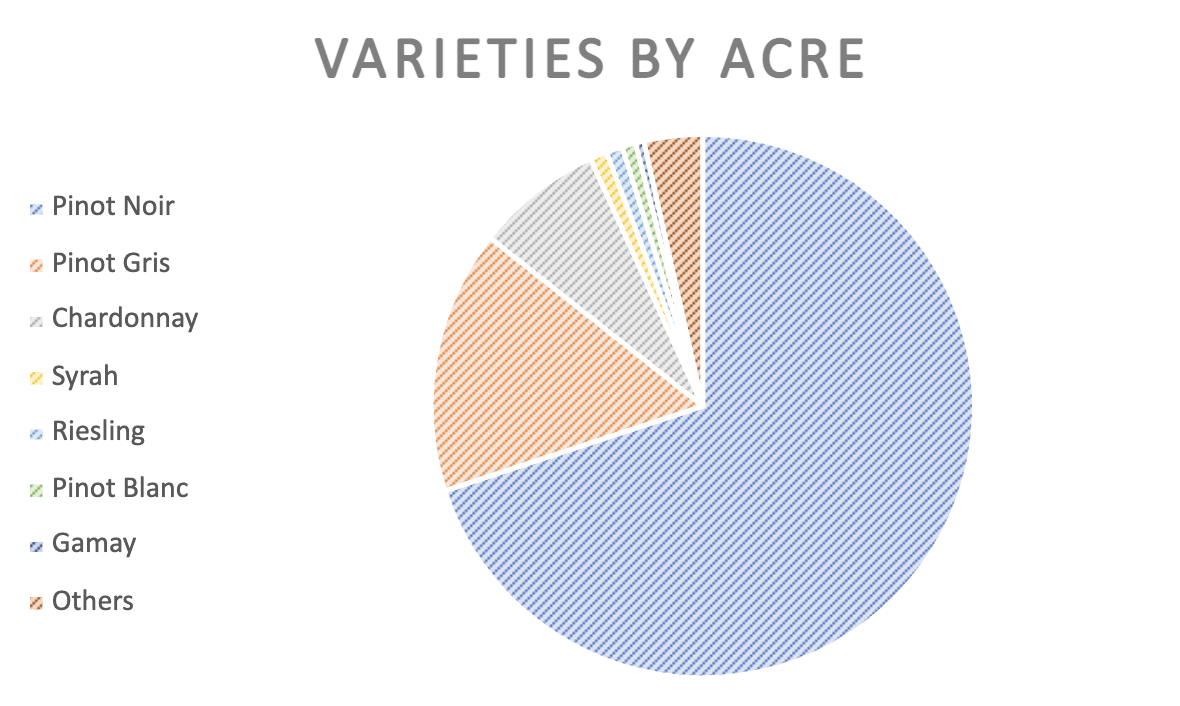 Pinot Noir winemaking varies by producer, but the use of whole bunches has increased over the last few years. Most are matured in oak with the percentage of new oak steadily decreasing. In general, you can expect Willamette Valley Pinot Noir to have medium+ acidity, medium to medium+ tannins, and medium+ to high alcohol with flavors of red cherry, raspberry, black cherry, plum, forest floor and mushroom.
Pinot Gris is typically made in a dry style and fermented at cool temperatures to highlight the fruit. Producers may use skin contact, old barrels and lees contact to generate texture and complexity. The wines are full-bodied, medium to medium+ acidity and have stone and tropical fruit aromas.
Chardonnay plantings are on the rise. In general, the grapes are fermented and matured in oak, a high proportion being old. Full malolactic conversion and lees contact are commonly used for texture and flavor development. They are medium+ in acid and body with citrus and stone fruit flavors.
The 10 sub-AVAs of the Willamette Valley:
Dundee Hills AVA (est. 2005)

A series of volcanic hills running north to south with lateral ridges
Vineyards sit 60m-325m, higher altitudes than the rest of the valley leads to more acidity in the wines
Protected by the Coast Range to the west and the Chehalem Mountains to the north, it's a bit warmer than others, enabling fruit to achieve full ripeness
Chehalem Mountains AVA (est. 2006)
Defined by a ridge in the northern Willamette stretching 20 miles x 5 miles
Vineyards sit at 60-305m
Range of soils creates diverse wine expressions
Most plantings of any sub-AVA
Laurelwood District AVA (est. 2020)
Nested within the Chehalem Mountains AVA, the creation of the Laurelwood District was championed by Ponzi Vineyards and Dion Vineyards
Situated on the north and east facing slope of the mountains, the region was drawn by soil type which is a 15-million-year-old basalt base with a loess (windblown freshwater silt) top layer
All three varieties are grown
Ribbon Ridge AVA (est. 2005)
Smallest AVA within the Willamette Valley
Vineyards are relatively low in elevation and protected from the wind
Sedimentary soil and warmer sites lead to concentrated grapes
Yamhill-Carlton AVA (est. 2005)
A south-facing bowl composed of ancient marine sedimentary soils
The vast majority of plantings are Pinot Noir
Sits in the foothills of the Coast Range which creates a rain shadow over the region
The warm sites and soil type lead to wines with full ripe fruit flavor, fuller body, and lower acidity than its neighbors
Van Duzer Corridor AVA (est. 2019)
In the southwest of the Willamette Valley, a break in the Coast Range funnels Pacific winds during the afternoon. This lowers yields, slows down ripening, and leads to wines with high acidity and fresher flavors
Soils are marine sedimentary, loam and silt
Eola-Amity Hills AVA (est. 2006)
A ridge of shallow rocky volcanic basalt hills over sedimentary soil
Located east of the Van Duzer corridor, it sits at a lower elevation but is still influenced by the same cooling winds
A range of aspects and altitudes leads to diversity of expression in the wines
McMinnville AVA (est. 2005)
Influenced by both Van Duzer Corridor and Yamhill-Carlton
The protected, warmer sites produce fuller wines, while those exposed to the cooling influences produce fresher, more acidic wines
Lower Long Tom AVA (est. 2021)
Sits between Corvallis and Eugene within the west side of the Lower Long Tom Watershed
The region sits in the rain shadow of the Coast Range leading to very little disease pressure and a consistently warm growing season
Pinot Noir dominates plantings and shows flavors of blue and black fruits with plush tannins
Tualatin Hills (est. 2020)
Situated in the northwest corner of the Willamette Valley, it is home to the first commercial vineyard in the state
The AVA is principally defined by the watershed of the Tualatin River and its windblown, volcanic soil mixed with basalt dating back to the Missoula Floods 12,000 years ago