Main Content Starts Here
Explore the country of South Africa
Wine production in South Africa is concentrated in the Western Cape, taking advantage of the region's many mountain ranges, various soil types, warm climate and cool currents from the ocean. The diverse landscape allows for a wide range of varieties to be planted, which you can see below. These eight varieties make up about 80% of all plantings.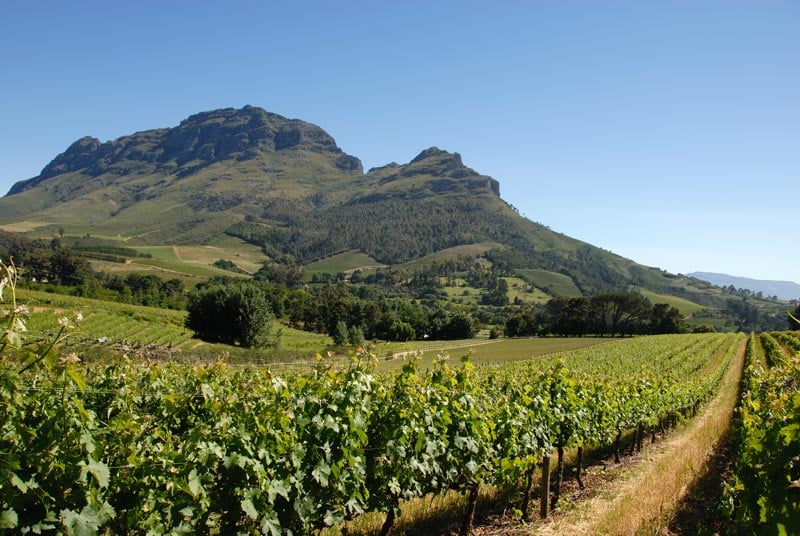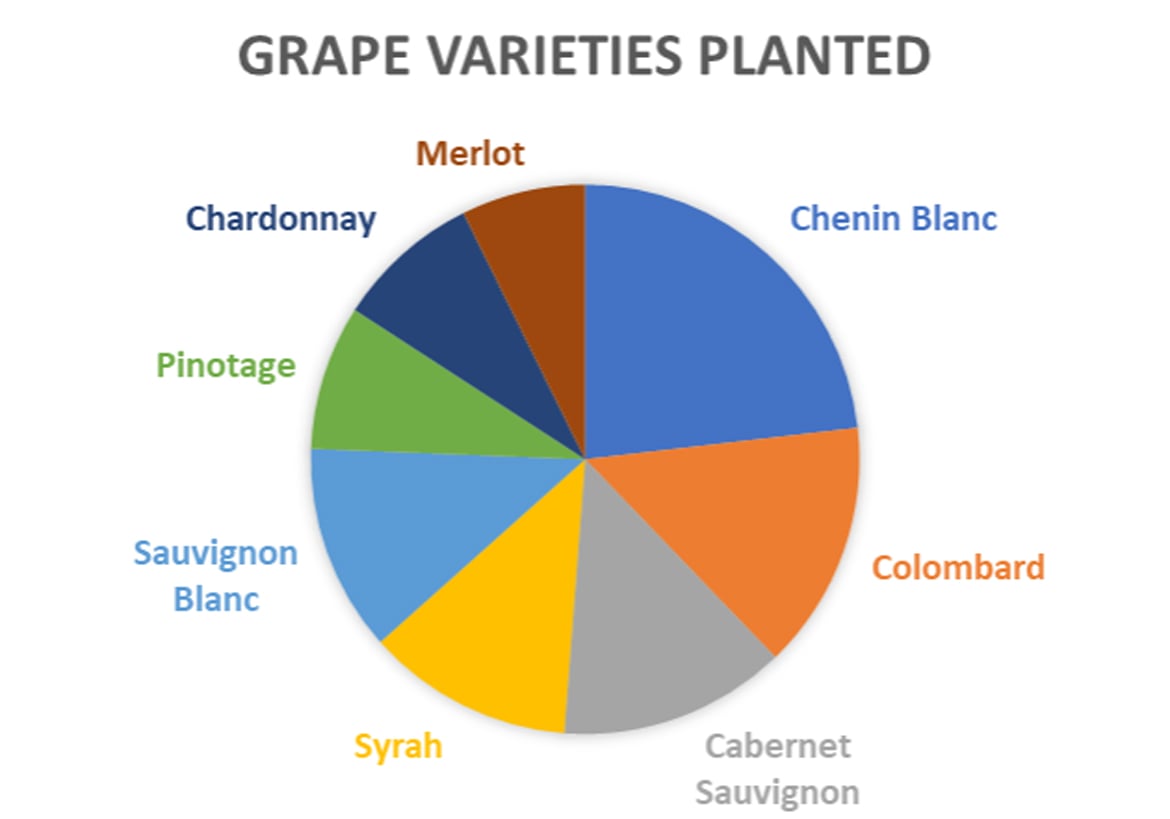 Pinotage is South Africa's own grape variety, bred at the University of Stellenbosch in 1925. It is a cross between Pinot Noir and the Rhone variety Cinsault, then known in South Africa as Hermitage. While the grape variety's reputation has fluctuated, most producers are now making quality examples. You can expect a full-bodied wine with medium to high tannins, medium acidity, and flavors of black fruit, roasted coffee beans, and smoked meat.
Chenin Blanc, native to the Loire Valley in France, is the most widely planted variety and often first to mind for many consumers. It is sometimes referred to as "steen." South African Chenin Blanc tends to have aromas of orchard, peach and tropical fruit with high acidity and medium body. Some may be fermented in stainless steel to preserve the purity of fruit while others may see some time in oak leading to a toasty, vanilla aroma. South Africa produces Chenin Blanc of all quality levels, from bulk wine to ultra-premium.
In addition to making still wine, Chardonnay and Pinot Noir are also used to make traditional method sparkling wine known as Method Cap Classique. These sparkling wines are made in the same way as Champagne—two fermentations, second in bottle—and must be aged for a minimum of 12 months.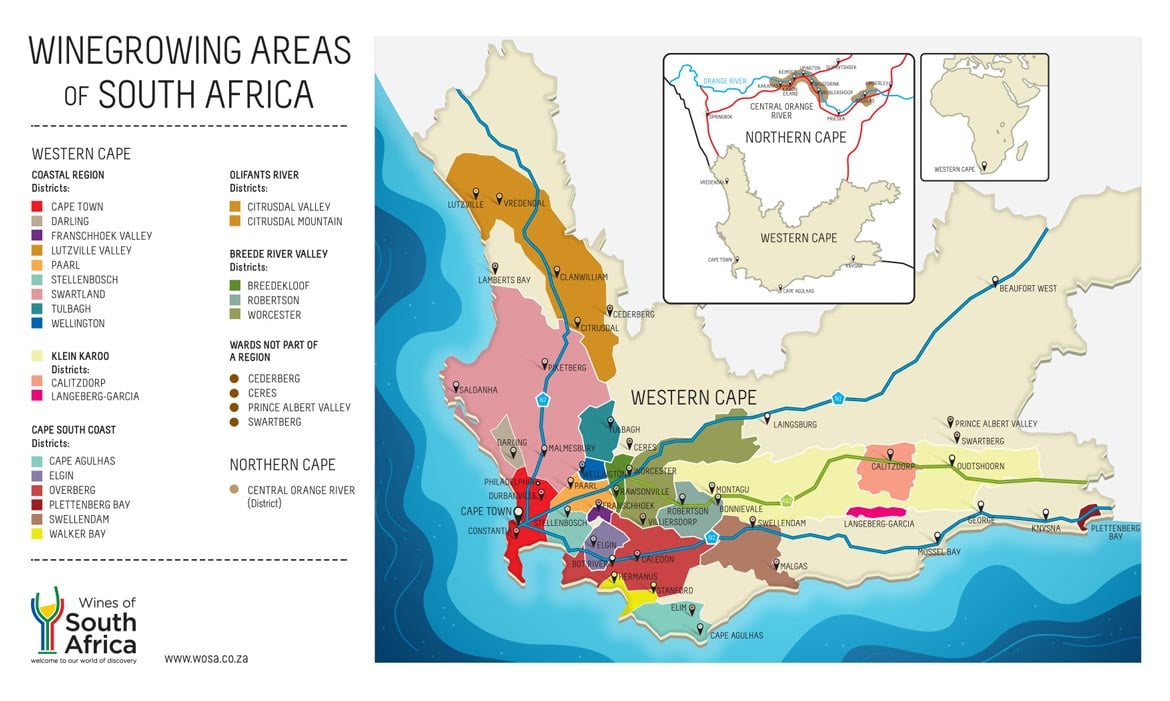 Coastal Region
Stellensbosch District – one of the country's oldest producing regions which is now focused on high quality production, especially from Cabernet Sauvignon. Cooler mountain slopes, varied soils, and breezes off False Bay moderate this warm climate.
Swartland District – the large district of Swartland is home to both inexpensive co-op wines as well as high quality, premium wines from some of South Africa's rising stars. It's common to find dry-farmed, low yielding, bush vine, organically farmed vineyards contributing fruit to wines natively fermented and matured in large, old oak. The district grows most of the varieties mentioned above with the notable addition of Rhone varieties such as Cinsault, Mourvedre and a handful of white Rhone grapes.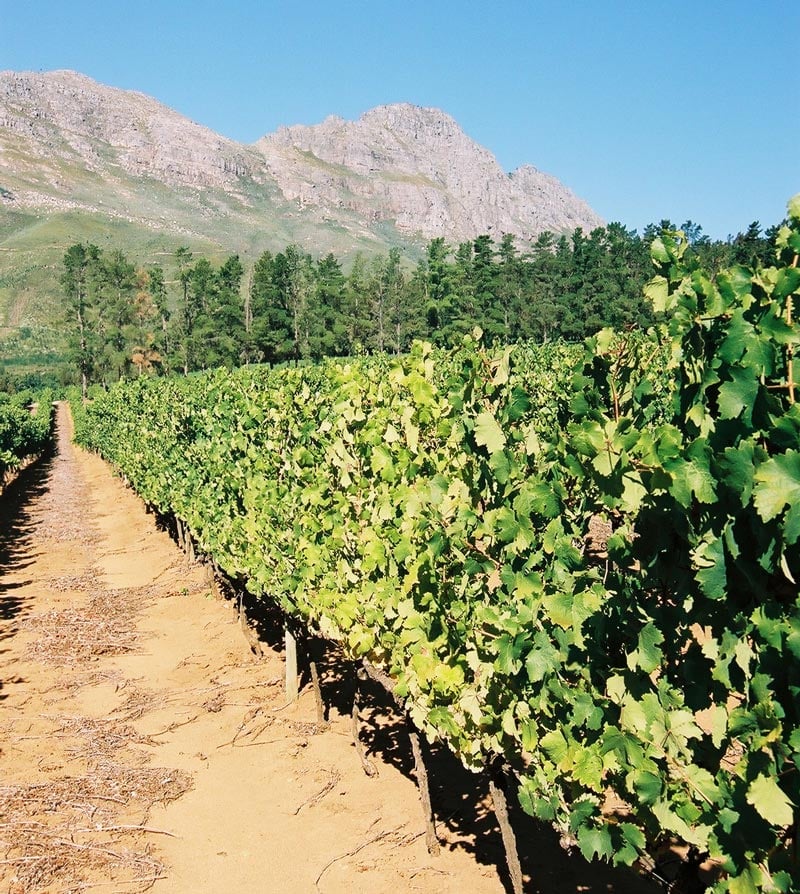 Breede River Valley Region
Robertson District – this region is warm, dry, flat and irrigated, making it a hub for high-volume production. However, the region also has various limestone outcrops, unusual in South Africa, making it a prime location for Chardonnay and Pinot Noir for Method Cap Classique sparkling wine.
Cape South Coast Region
Walker Bay District – immediately adjacent to the Atlantic Ocean, this cool climate region claims some of the best Pinot Noir and Chardonnay plantings in South Africa thanks to Burgundy-loving Tim Hamilton-Russell. It's most notable ward is Hemel-en-Aarde.