Main Content Starts Here
Exploring Sherry and the region of Jerez
What makes Jerez so special?



 The Jerez DO in southwest Spain was established in 1935 and is famous for its production of the fortified wine, sherry. It experiences a warm, Mediterranean climate with an average of 300 days of sunshine a year. Coastal areas along the Mediterranean Sea experience a cool, humid westerly wind "poniente" which is especially beneficial to Sanlucar de Barameda, home to the Manzanilla style of sherry, and Puerto de Santa Maria.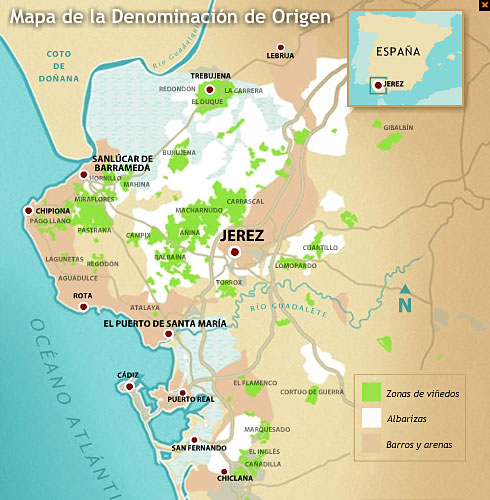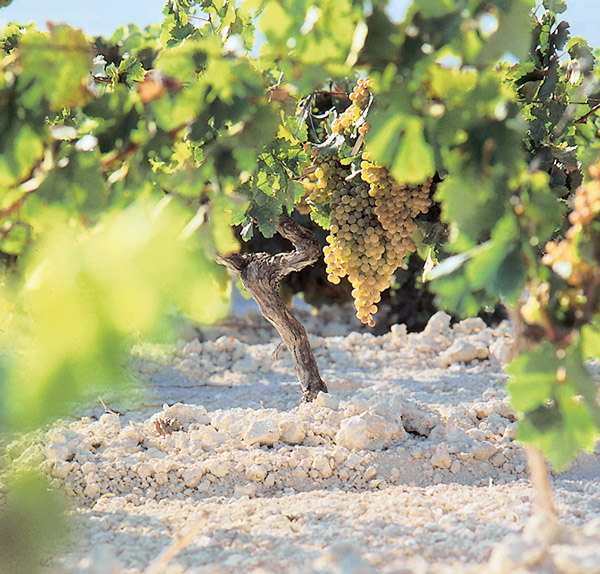 While Jerez contains three main soil types (chalk, clay and sand), it's the porous Albariza chalk that exists at the heart of the region. This soil provides good drainage while also having a sufficient water retaining capacity to sustain the vines through the hot, dry summers. It's dazzling white in color, dries without caking, and slowly releases moisture to the vines throughout the growing season. The finest sites of Albariza will also include some proportion of clay and sand, and produce the most delicate and fine examples of Fino and Manzanilla sherries.
Styles of Sherry & Winemaking



Sherry is a fortified wine. By definition, a fortified wine has alcohol added either during or after fermentation. If added after fermentation is complete, the result is a dry fortified wine. Should a winemaker fortify during fermentation, the remaining unfermented sugar will cause the wine to be sweet.

Sherry is produced in dry, naturally sweet, and sweetened styles.
DRY STYLES OF SHERRY
All of the following are made from the white Palomino Fino grape variety.

Fino is a pale straw-colored wine with aromas of yeast, bread dough, wild herbs and blanched almond. It is light on the palate and completely dry with its special characteristics coming from its biological aging under flor. It typically has an alcohol content of 15.5%.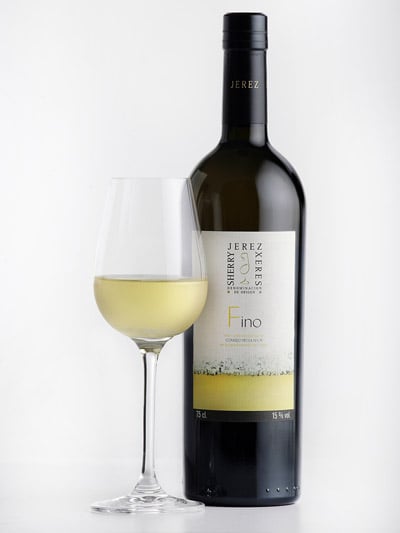 Velo de Flor allows a sherry to mature completely protected from oxygen. It forms a layer on the surface of the wine in barrel in the spring after fermentation is complete. The flor yeasts are living organisms that thrive at a precise level of heat and humidity. It is known as one of the most dynamic and complex aging methods.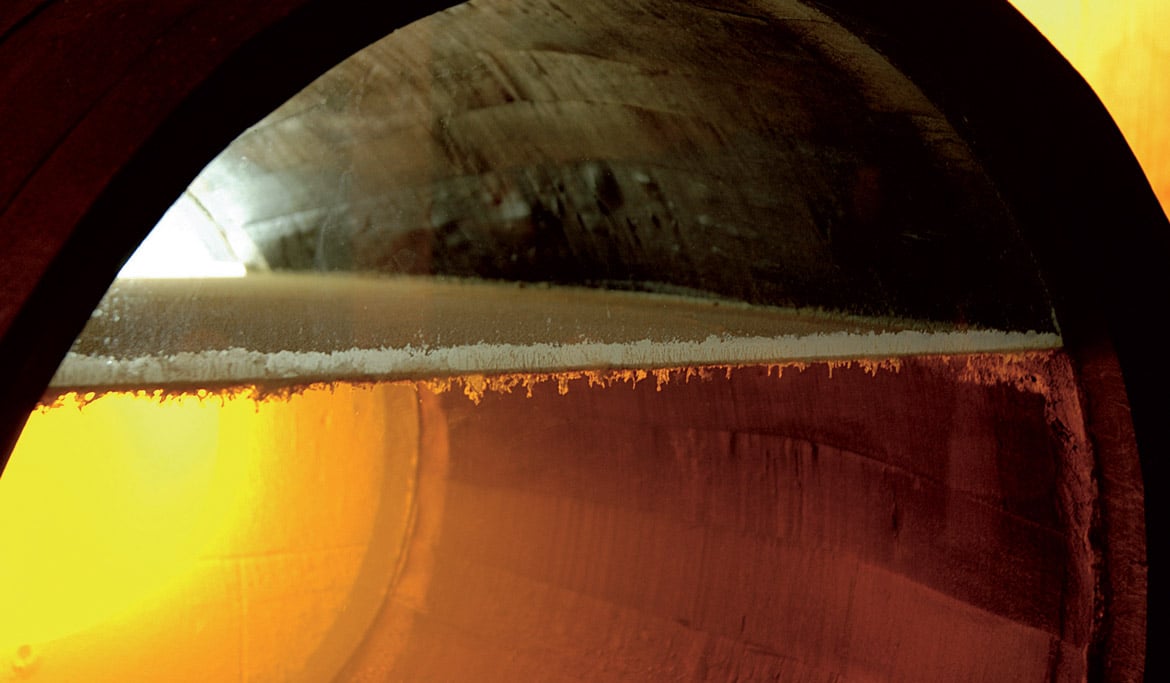 Manzanilla is made exclusively in Sanlucar de Barameda where the cooler, more humid maritime influence of the Mediterranean Sea promotes a thicker layer of flor and a slower maturation. It is a more delicate expression of Fino and has a bouquet of fruits and wildflowers, with higher acidity and a slightly lower alcohol content.
Amontillado combines the characteristics of a Fino and Oloroso sherry since it has a period of biological aging under flor followed by time oxidatively aging after the flor yeast die. It is amber in color with soft notes of roasted nuts, aromatic herbs, tobacco, marzipan, toasted pie crust and pungent hazelnut. It has an abv of 16-22%, initially fortified to allow the flor to develop. A Fino typically turns into an Amontillado in about 8 years.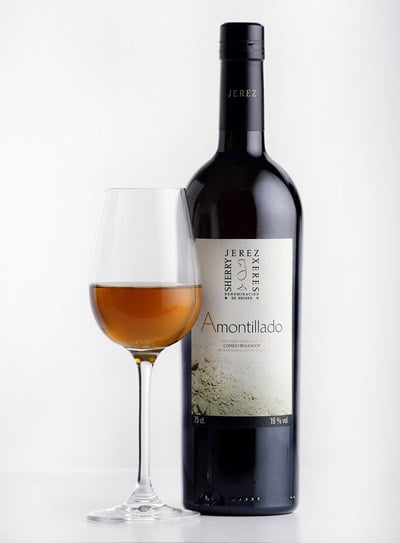 Oloroso has a dark amber color with a distinct, full-bodied walnut bouquet and an alcohol content ranging from 17-22%. Unlike the other dry styles, Olorosos are only aged oxidatively; they see no time under protection from the Velo de Flor. The grapes used for Oloroso are often sourced from vineyard sites with a higher clay and sand content. In addition to their strong nutty aromas, Olorosos can have toasted balsamic notes, aromas of dried leaves, animal and wood notes with truffle and leather. It's full of flavor ending with a dry finish.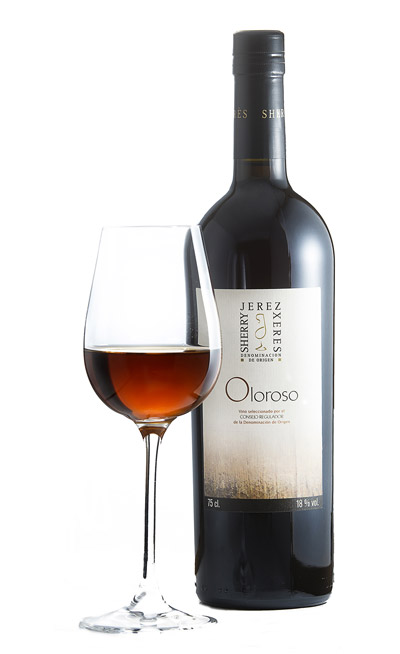 Palo Cortado is the rarest style of sherry that is originally pre-selected to become a Fino or Amontillado but never develop the Velo de Flor. A winemaker will refortify to 17% abv to age the wine oxidatively. Thus, the wine combines the aromatic delicacy of an Amontillado with the power and body of an Oloroso. To the typical profiles stated above, it also has a citrus note of bitter orange and lactic aromas such as fermented butter. It has an abv of 17-22%.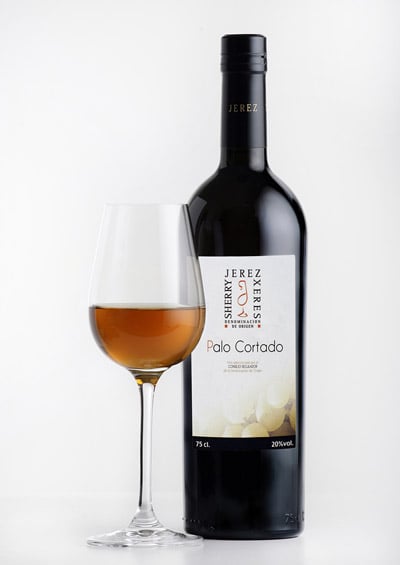 NATURALLY SWEET STYLES OF SHERRY
Pedro Ximinez is a white, thin-skinned varietal that is traditionally dried in the sun and used to make either naturally sweet sherries or used to sweeten previously dry wines. The varietal is intensely sweet and hard to cultivate. If used to make a "PX" varietally labeled sherry, the resulting wine is extremely dark in color with pronounced tearing, appearing sticky and dense. It has aromas of sweet dried fruits like raisins and figs, honey, grape syrup, coffee, dark chocolate and licorice. It has a velvety texture and a long finish. By law, the minimum residual sugar content required is 212 g/L.
Moscatel accounts for just 3% of the plantings in Jerez DO, mainly planted on the sandy soils near the coast. The majority is used to sweeten other sherries though a few varietal wines are produced. It's a white grape variety that has aromas of dried citrus peel, jasmine and honeysuckle. It must have a residual sugar content of 160 g/L.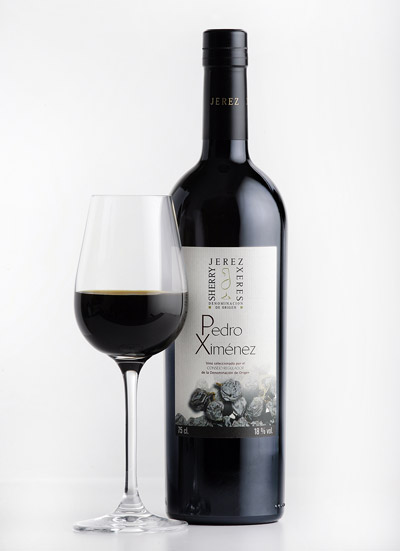 SWEETENED STYLES OF SHERRY
Pale Cream – a sweetened Fino or Manzanilla. Lower quality examples are essentially the same as Cream but with the color removed and less residual sugar.
Medium – a sweetened Amontillado with additional notes of quince, jelly and baked apple. A slightly drier entry to the palate than the richness of the Cream style.
Cream – the sweetest, darkest style (with the exception of PX) that was first created by Harveys of Bristol. It has a chestnut mohagany color with an Oloroso-based bouquet of dried fruits, nougat and caramal, all notes from oxidative aging.
High volume wines will be sweetened with Arope, a syrup made by concentrating unfermented grape juice. Low volume, premium sweetened wines will use the naturally sweet wine, Pedro Ximinez.
THE SOLERA SYSTEM
A solera is a system of fractional blending invented to produce consistent wines of high quality. If a barrel that is 2/3 full of high quality, aged sherry is topped off with a younger wine of the same style, the younger wine will gradually take on the characteristics of the older. This is what makes the solera system possible.
It consists of a number of casks of an identical wine style. At intervals throughout the year (usually 1-3x), a quantity is drawn off and replaced with a younger wine, "refreshing" the solera. There may be as few as 3 or as many as 14 criaderas, the last of which will contain the youngest wine. Practically, all sherry is matured in a solera and it is the highest priority of a producer to use a first-class solera system.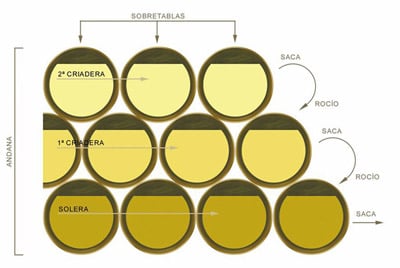 CERTIFICATION OF AGE
These two special categories are reserved for oxidatively aged sherry.
VOS – an average age of at least 20 years
VORS – an average age of at least 30 years