Main Content Starts Here
Explore the region of Bordeaux
After the marshlands of the left bank of Bordeaux were drained in the 17th and 18th centuries, it would not be long before wines from such properties as Margaux and Lafite were widely appreciated across Europe and America. Traversed by the rivers Garonne and Dordogne, which merge to form the Gironde Estuary, the city and region of Bordeaux built a reputation as a fine wine export center attracting entrepreneurial merchants from around western Europe. That system of distribution by merchants remains in place today.
Bordeaux enjoys a moderate maritime climate and is known for producing some of the world's best red wines, highly sought-after botrytised sweet wines, refreshing dry whites and rosés, as well as crémant.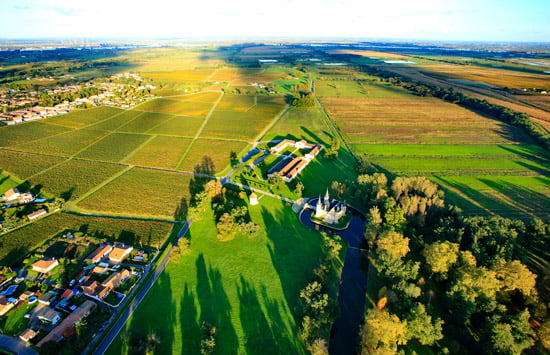 GRAPE VARIETIES GROWN
Red: Merlot, Cabernet Sauvignon, and Cabernet Franc with small plantings of Petit Verdot, Malbec, and Carménère
White: Sémillon, Sauvignon Blanc, and Muscadelle with small plantings of Colombard, Merlot Blanc, Sauvignon Gris, and Ugni Blanc
Note: In the interest of adapting to climate change, four new red and two new white grape varieties were approved in 2021 for limited use (up to 10% of the blend) in Bordeaux AOC and Bordeaux Supérieur AOC.
THE APPELLATIONS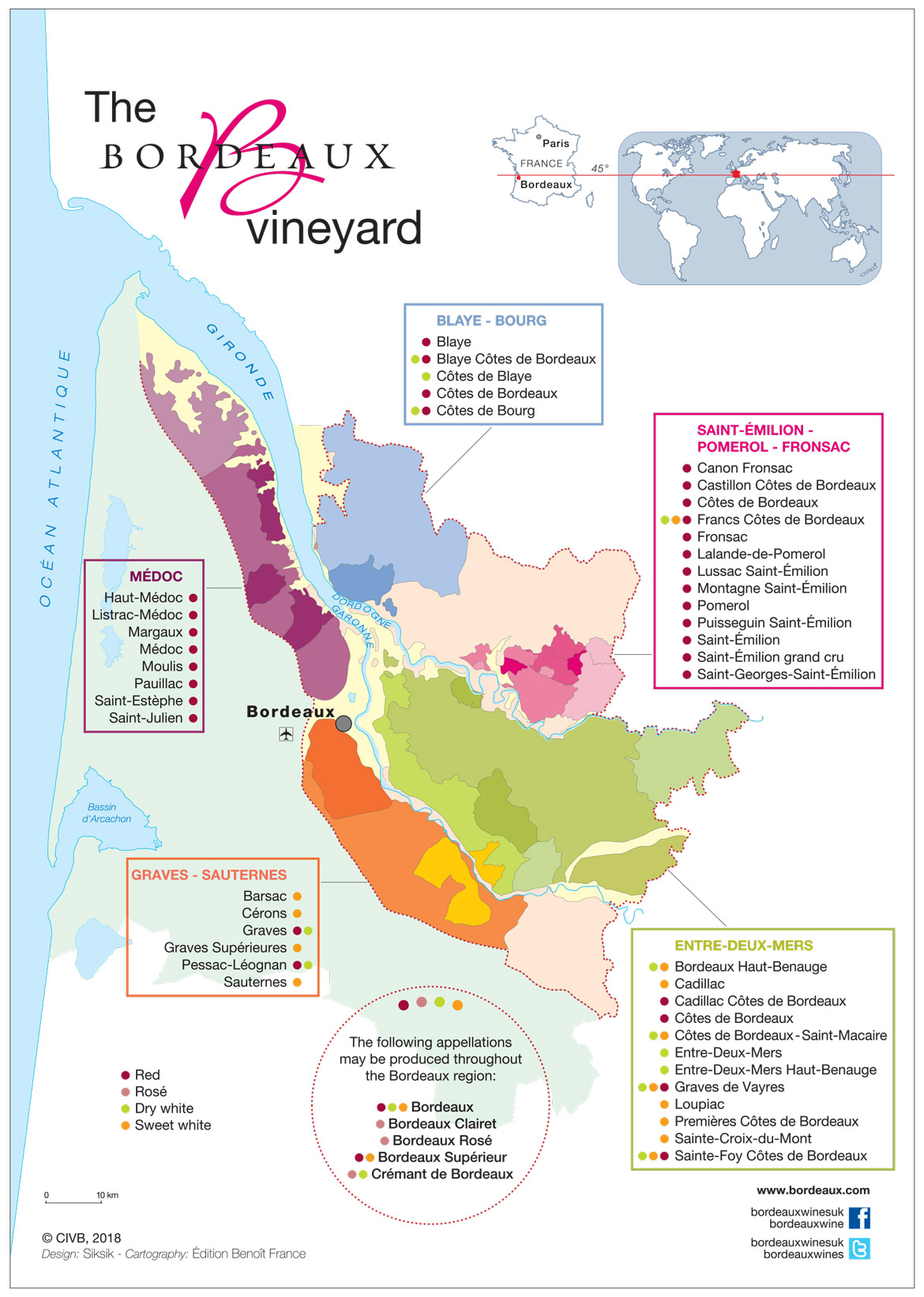 Saint-Estèphe AOP
The most northerly communal appellation situated along the Gironde Estuary in the Médoc is Saint-Estèphe. The soil here is far from homogenous; the region is comprised of deep gravel, which suits late-ripening vintages well, as well as clay-limestone, the more desirable site when heat arrives early. This commune should be top of mind in hotter vintages thanks to the freshness of the clay subsoil and cooler temperatures in its northerly location.
The wines of Saint-Estèphe have been known to be rich, robust, and muscular, often with a more rustic tannic structure that needs time in bottle. However, changes in viticulture are leading to wines with elongated, softer tannins. Additionally, there is now a plushness of fruit in the mid-palate making the appellation more accessible in its youth than it ever was. Wines are generally matured for 15-24 months in cask.
Plantings:
Cabernet Sauvignon 50%
Merlot 43%
Cabernet Franc 4%
Petit Verdot 3%
Pauillac AOP
The Pauillac communal appellation is home to three of the Médoc's first growth producers and thus is often first to mind for Bordeaux drinkers. Situated just north of Saint-Julien and south of Saint-Estèphe, the terroir differences between the north and south reveal stylistic changes in the wines. The deep gravel, found to be the thickest in the Médoc, radiates heat, aids drainage, and forces roots to dig deep for water and nutrients. Other sites sit on sand, clay and even limestone soils. Highly concentrated berries due to high planting densities, long macerations in the winery, and lengthy barrel aging to soften the tannins are all characteristics of Pauillac.
Its wines are deeply colored, powerful, and well-structured. The tannins are built to last, making this wine capable of aging decades in bottle with an evolving aromatic profile that gains complexity with time.
Plantings:
Cabernet Sauvignon 62%
Merlot 32%
Cabernet Franc 4%
Petit Verdot 2%
Saint-Julien AOP
Saint-Julien is rectangular in shape situated along the Gironde Estuary, separated from Pauillac to its north by the tiny Juillac stream. This ideal position with a gentle slope down to the Gironde aids drainage and lessens the risk of frost. This advantage, along with the commune's relatively higher temperatures and lower rainfall, make it an ideal growing environment for the prized Cabernet Sauvignon. Furthermore, the commune of St-Julien-Beychevelle is over 75% gravel; it has deep Gunzian gravel over clay and sand dating back to the last Ice Age.
Elegant and age worthy, look to St-Julien especially in the late-ripening vintages for Cabernet Sauvignon. Its wines are notably consistent, revealing elegant black fruit, superb balance, and remarkable finesse. Most chateaux mature their wines for 18-22 months in cask.
Plantings:
Cabernet Sauvignon 64%
Merlot 29%
Petit Verdot 4%
Cabernet Franc 3%
Margaux AOP
Of the most famous four communal appellations along the Left Bank, Margaux sits alone in the south some 17 miles northwest of the city of Bordeaux. It is the largest communal appellation in the Médoc. Spread across five communes, Margaux has various terraces of gravel split up by streams which also makes it the hilliest in the Médoc. The gravel soils are noticeably finer than the other famous communes down the river and its wines are known to be exquisite, elegant, aromatic, and supple with great aging potential thanks to its tannic structure. It is the only Médoc appellation to house estates of all five growths of the 1855 Classification.
One fifth of the vineyard area is organic or biodynamic. Wines are matured in cask for 12-24 months. Interestingly, a handful of estates follow the Right Bank method of blending at the end of the maturation period, Prieuré-Lichine and Marquis de Terme being two examples.
"Often called the most feminine of the Medoc appellations, Margaux at its best makes sculpted wines that age beautifully, with a finesse and aromatic richness that makes their intensity hidden rather than overt." -Jane Anson, Beyond Bordeaux
Plantings:
Cabernet Sauvignon 53%
Merlot 40%
Petit Verdot 4%
Cabernet Franc 3%
Haut-Médoc AOP
The Haut-Médoc, legally divided from the Médoc in 1935, contains some of the most famed communes of Bordeaux, but the broader AOC should not be overlooked. The appellation stretches over 30 miles from just north of Saint-Estèphe to the suburbs of Bordeaux. Soils across the Haut-Médoc are largely gravel with some pockets of deep clay. Though varied, it contains some truly great terroir. It is a red wine appellation, and it can produce full-bodied, deeply colored, firmly structured wines with flavors of black fruit and spice. Cru classé wines can be aged for 6-15 years. 
"And this is one of my real picks for appellations where the best value-for-your-money in Bordeaux is to be found, so taking the time to explore will be rewarded many times over." - Jane Anson, Inside Bordeaux 
Plantings:
Merlot 49%
Cabernet Sauvignon 44%
Petit Verdot 4%
Cabernet Franc 3%
Graves AOP
Situated to the south of the city of Bordeaux, the large Graves AOP stretches for 37 miles along the left bank of the Garonne. It is one of the oldest wine regions in Bordeaux. With two-thirds of the production being red wine, it is an appellation known for a profile of vivid fruit, silky texture, and hints of violet. The red wines of Graves are generally ready to drink within three to four years of bottling. 
Plantings of Red Varieties:
Merlot 59%
Cabernet Sauvignon 35%
Cabernet Franc 4%
Petit Verdot, Malbec and Carmenère 2%
Plantings of White Varieties:
61% Semillon
Sauvignon Blanc 32%
Muscadelle 4%
Sauvignon Gris 3%
Pessac-Léognan AOP
Within an area of Graves closest to the city of Bordeaux sits Pessac-Léognan AOP. Introduced in 1987, this appellation covers the best 10 communes of Graves AOC including all 14 cru classés. Both Graves and Pessac-Léognan see higher temperatures and higher rainfall than the rest of Bordeaux and thus their fruit tends to ripen earlier. There is a wide array of soil types from peyrosol gravel and sand to clay planosols and limestone, which explains why both high quality red and dry whites can be produced. The former tend to be close to an equal blend of Cabernet Sauvignon and Merlot, often cited as being balanced and rich but drinkable when young. The dry whites must see its Semillon blended with at least 25% Sauvignon Blanc and the best examples are serious and age worthy.
Plantings of Red Varieties:
Merlot 52%
Cabernet Sauvignon 43%
Cabernet Franc 3%
Petit Verdot, Malbec and Carmenère 2%
Plantings of White Varieties:
Sauvignon Blanc 79%
Semillon 21%
Moulis-en-Médoc AOP
Taking its name from 'moulin,' the French word for windmill, Moulis is a narrow band just four and a half miles long to the northwest of Margaux on the Left Bank. It is the smallest Médoc AOC. The most sought-after terroir sits in the northeast of the region on the Grand Poujeaux plateau (the highest point of the AOP at 34m). Gravel soils over clay-limestone produces elegant, structured, and complex wines. As you move southwest, more clay can be found creating wines with more power and rusticity.
Moulis is a region to watch not only because of its prized pockets of land that mimic some of its more famous neighbors in the Médoc, but also because of the increasingly vibrant village. Unlike others, the population is growing, particularly among the youth, which bodes well for a healthy wine industry in the years to come.
Expect the wines of Moulis to be full-bodied and round in structure with signs of oak maturation. In late-ripening vintages, the best can rival the wines of the more famous Médoc communes at a fraction of the price.
Plantings:
Merlot 52%
Cabernet Sauvignon 40%
Petit Verdot 4%
Cabernet Franc 4%
Listrac-Médoc AOP
Northwest of Moulis sits the appellation of Listrac and the oldest geological layer of clay-limestone subsoil in the Médoc. This soil base along with cool, clay topsoil explains why Listrac is often the last to ripen Cabernet Sauvignon and one that has historically been avoided in cooler vintages. However, with warming temperatures, increasing financial investment, and more planting based on soil type rather than fashion, quality and consistency are on the rise in Listrac. Today you'll find a heavier dependence on the earlier-ripening Merlot so as to avoid its old reputation for green, strongly tannic wines due to underripe Cabernet Sauvignon. Expect the wines to be medium to full-bodied with the fruit and finesse of St-Julien and the firmness of St-Estephe.
Listrac is a region of small farmers with 55% of estates owning fewer than 8 acres. White wines of the region, increasingly sought-after, are bottled as Bordeaux Blanc AOP.
Plantings:
Merlot 64%
Cabernet Sauvignon 31%
Petit Verdot 4%
Cabernet Franc 1%
Barsac AOP & Sauternes AOP
Situated to the south of Graves AOP on the left bank, the appellations of Sauternes and Barsac make two-thirds of the sweet wines of Bordeaux. The key to these prized sweet wine appellations is the development of noble rot. The damp, early-morning mists generated by the cool Ciron river flowing into the warmer Garonne followed by dry, well-ventilated afternoons create the perfect conditions. After many passes through the vineyards to handpick the botrytized grapes, the 132 producers in Sauternes and Barsac can create their world-class sweet wines due to the high concentration of sugar, acid, and flavor in the berries. While yields are highly regulated at just 25 hL/ha, many vintages see far lower yields. In fact, in 2019 Sauternes AOC yields averaged 10 hL/ha! The resulting sweet wines are golden in color, rich, and intense with flavors of peach, apricot, orange zest, and marmalade. These blends of Semillon, Sauvignon Blanc and Muscadelle can easily age for 10 to 30 years, with the best vintages able to age for 20 to 70 years. 
Sauternes AOP is allowable for the communes of Sauternes, Barsac, Bommes, Fargues and Preignac. Barsac AOP is only permitted for use by growers within that commune. Any red grapes planted within these appellations must be bottled as Bordeaux AOP or Bordeaux Supérieur AOP.
Plantings:
Semillon 50%
Sauvignon Blanc & Sauvignon Gris 45%
Muscadelle 5%
Saint-Émilion AOP
This large and varied appellation, which became a UNESCO World Heritage Site in 1999, is situated on the Right Bank and can produce tremendously diverse red wines. The heart of the region is a plateau of Astéries limestone with shallow soils capable of producing austere wines in youth but capable of brilliance with bottle aging. Other parts of this large AOP are dominated by clay-loam leading to powerful expressions; sand and sandy-clay creating fruity styles more accessible in youth; and even gravels near the Pomerol border producing some of the most elegant, complex, and age-worthy examples.  
In cooler vintages, Saint-Émilion can be austere and require bottle age, but the consumer is rewarded in hot years when freshness has been preserved alongside ripe, generous fruit and a round texture. Though Merlot still dominates the wines like its neighbor Pomerol, it is often the charm of Cabernet Franc that takes center stage in some of the region's best wines.
Saint-Émilion AOP and Saint-Émilion Grand Cru AOP cover the same geographical area. Their differences lie in minimum alcohol levels, yields, vine densities, and aging requirements. Additionally, as of January 1, 2023, every winemaker using Saint-Émilion Grand Cru AOP must have an environmental certification. Any white wine produced in the region is bottled under Vin de France.
Plantings:
Merlot 79%
Cabernet Franc 15%
Cabernet Sauvignon 6%
Pomerol AOP
Situated northwest of its Right Bank neighbor Saint-Émilion, this appellation can produce some of the most powerful, deeply colored, Merlot-dominant wines with seductive aromas and silky tannins. It is made up of three main soil types: clay, sand and gravel. Clay lends concentration and power; sand improves aromatic intensity; and gravel adds finesse. Most estates in Pomerol have some combination of these three soils leading to beautifully complex, age-worthy wines. It is a fraction of the size of Saint-Émilion, a mere 800ha compared to 5,311ha with just one-fifth the number of growers. Unlike the Médoc, Graves and Saint-Émilion, it has no classification system though the AOC still regulates yields, vine density, minimum alcohol, etc.  
Though Pomerol lacks the charming, cobbled streets of Saint-Émilion and beauty of its limestone plateau, this relatively uninspiring landscape can produce some of Bordeaux's most sought-after wines. The best will see violet, forest floor, and truffle aromas with time in bottle and can age 20-40 years.
Plantings:
Merlot 81%
Cabernet Franc 14%
Cabernet Sauvignon 5%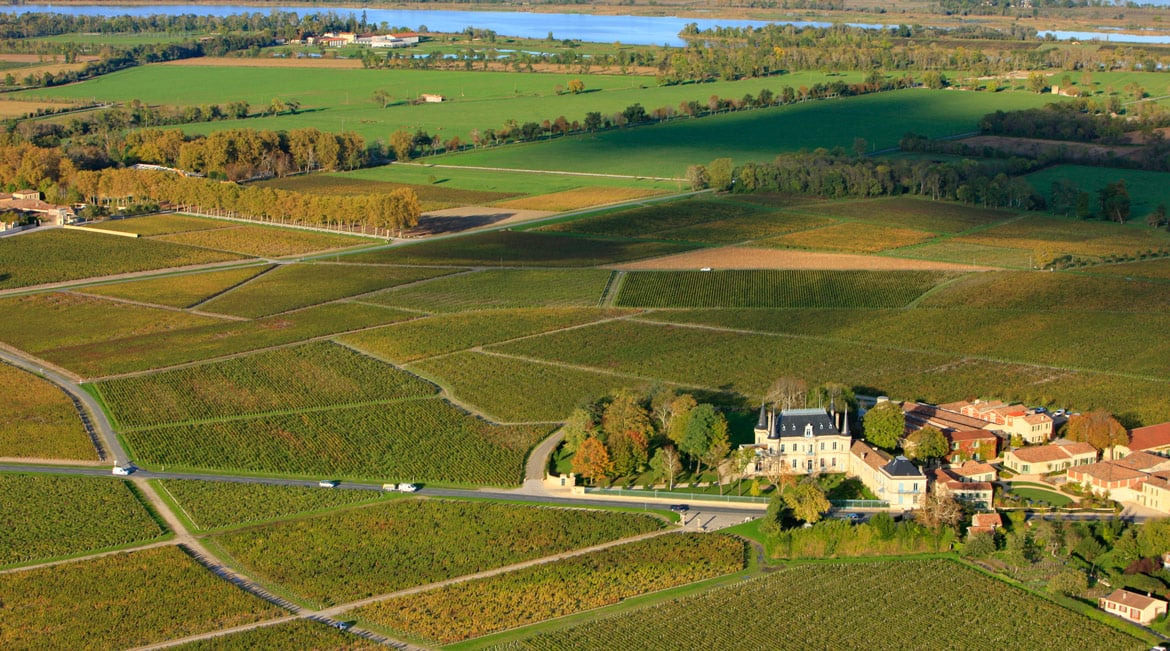 There are five Bordeaux wine classifications:
1855 Classification
This classification was established at the Exposition Universelle of 1855 in Paris at the request of Emperor Napolean III. The criteria for the classification were the reputation of the wines and their transaction prices. It only includes red wines from the Médoc, the sweet wines of Sauternes and Barsac, and one Graves red cru.
This classification remains unchanged, except for the promotion of Chateau Mouton Rothschild to Premier Grand Cru Classé (Médoc) in 1973.
The five premier crus or "first growths" of the Medoc include:
Chateau Haut-Brion, Pessac-Leognan AOC

Chateau Lafite-Rothschild, Pauillac AOC

Chateau Latour, Pauillac AOC

Chateau Margaux, Margaux AOC

Chateau Mouton-Rothschild, Pauillac AOC
Four other crus or "growths" exist in the Medoc classification with a total of 61 estates included.
The sole Premier Cru Supérieur of the sweet wines of Sauternes and Barsac is Chateau d'Yquem. Two other crus exist in the sweet wine classification with a total of 27 estates included.
The Graves classification
Established in 1953, there are 16 estates included in the Graves classification, all of which belong to the AOC Pessac-Léognan. There is only one classification level and it is not subject to revision.
The Saint-Emilion classification
There are three levels of this Right Bank classification which currently includes 82 estates. It began in 1954 and is revised approximately every ten years.
As of the 2012 classification, there are four estates classified as Premiers Grand Crus Classé A:
Château Angélus

Château Ausone

Château Cheval Blanc

Château Pavie
14 other estates are considered Premier Grand Cru Classés with an additional 64 Grand Crus classés.
The Crus Bourgeois du Medoc classification
This classifcation, established in 1932, is based on the quality and value of red wines produced in one of the eight Médoc appellations: Médoc, Haut-Médoc, Listrac, Moulis, Margaux, Saint-Julien, Pauillac, and Saint-Estèphe. Since 2010, the selection is published annually in September.
The Crus Artisans classification
Every five years, a list of "autonomous, small- and medium-sized estates at which the manager is actively involved in the operations of his/her vineyard, produces AOC wines, and sells the production that is bottled at the château" is generated based on quality and value of wine. This classification exists for the eight Médoc appellations: Médoc, Haut-Médoc, Listrac, Moulis, Margaux, Saint-Julien, Pauillac, and Saint-Estèphe. This designation, currently held by 36 estates, is noted on the label with "Cru Artisan."
MEDOC VIRTUAL TASTING

Featuring Mary Gorman Mc-Adams MW