Main Content Starts Here
Women of Binny's Spanish Wine & Food Demo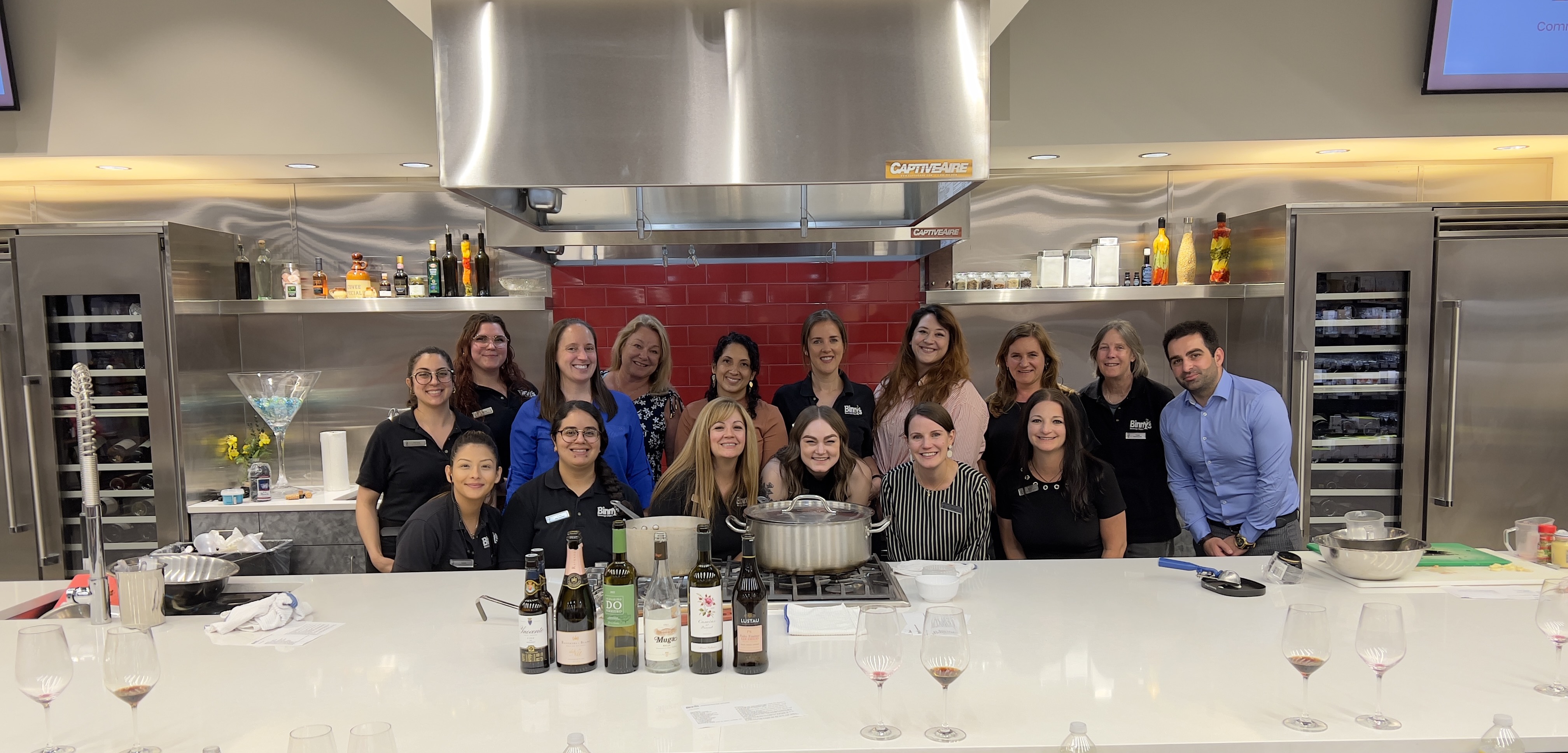 This week the Women of Binny's got together to explore the art of wine and food pairing. Scott Becker, Wine Manager and former chef, put together recipes for traditional Spanish tapas and guided the group through the kitchen. Together we prepped, cooked, and paired the courses with Spanish wines. We discussed the fundamentals of food and wine pairing and learned essential cooking skills and knife techniques. Below, we've provided the recipes for you to recreate at home, as well as the why's and why not's these pairings work.


First Course:
The first rule of pairing food and wine is matching the intensity of flavors. Fino Sherry tends to be dry with nutty flavors, so it pairs well with cheeses that have savory and nutty characteristics. It remains light and tangy when paired with cheese, while the fattiness from the olives softens the dryness of the wine.
INGREDIENTS:
Three-month-old Manchego

Garrotxa

Cana de Cabra

Arbequina olives
DIRECTIONS:
This is an easy one! Cut cheese into individual portions and plate with the olives.

Second Course: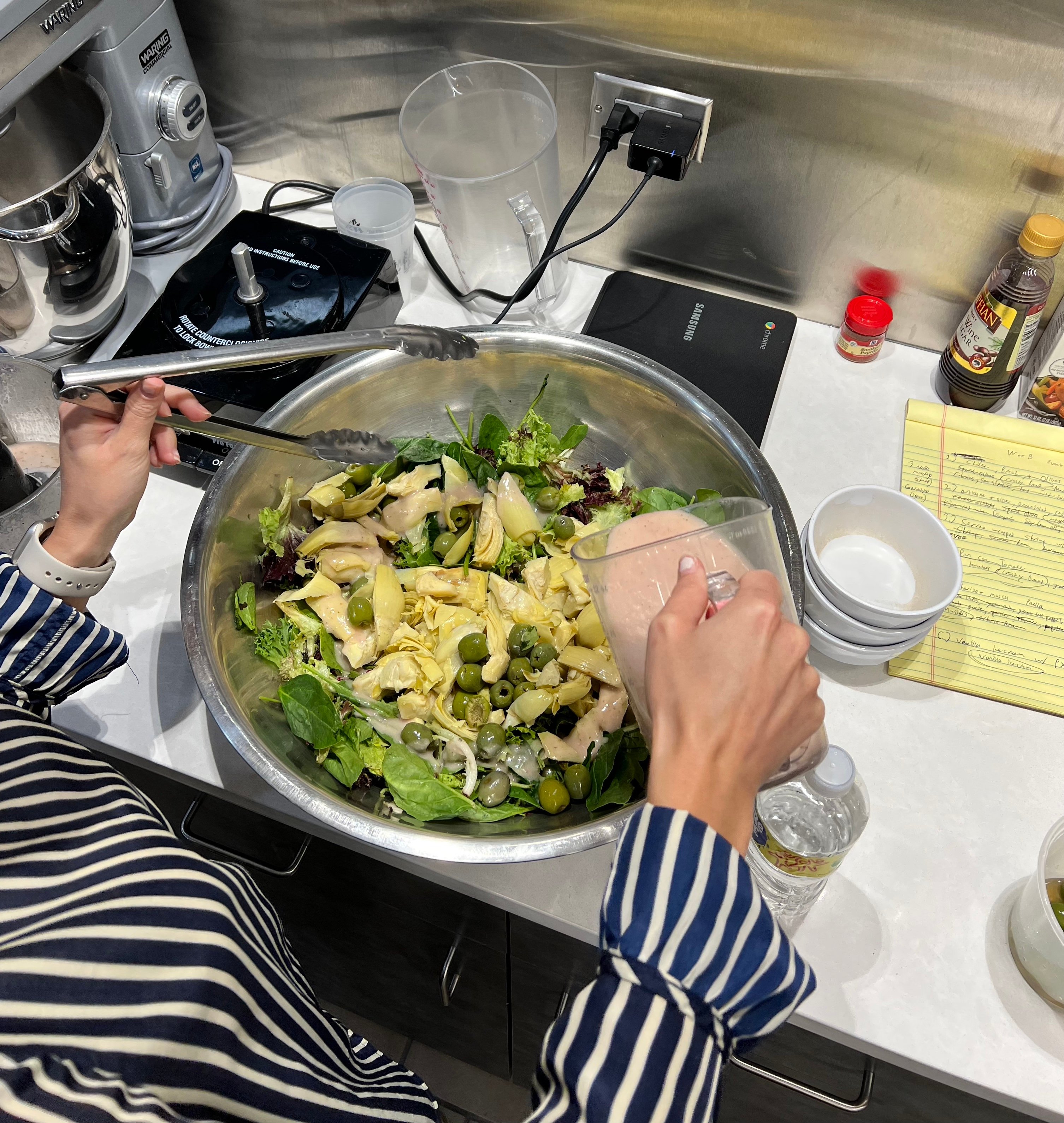 Green foods can be notoriously hard to pair with wine since they're usually high in acid with intense flavors, so you'll need a wine of equal or greater acidity and intensity of flavor. The acidity in the Raventos matches the acidity of the artichokes and the vinaigrette while complimenting the saltiness of the olives. We opted for rosé as it also helps highlight flavors in the red wine vinaigrette.
INGREDIENTS:
SALAD
Mixed greens

Castelvetrano olives
VINAIGRETTE
1 medium Shallot, sliced

½ cup red wine vinegar

2 Tbsp Dijon

2 cups soybean oil

2 tsp dried oregano

Salt and pepper to taste
DIRECTIONS:
Mix artichokes, olives, and greens in a large mixing bowl.

In a food processer, combine the shallot, vinegar, and Dijon.

With the food processor still running slowly drizzle in the oil. Be careful not to add the oil too quickly so the dressing doesn't break.

Remove the dressing from the food processor and whisk in oregano, salt, and pepper.

Drizzle desired amount of vinaigrette over the salad in your mixing bowl, mix contents until salad is coated to your liking.

Plate and serve.
Third Course: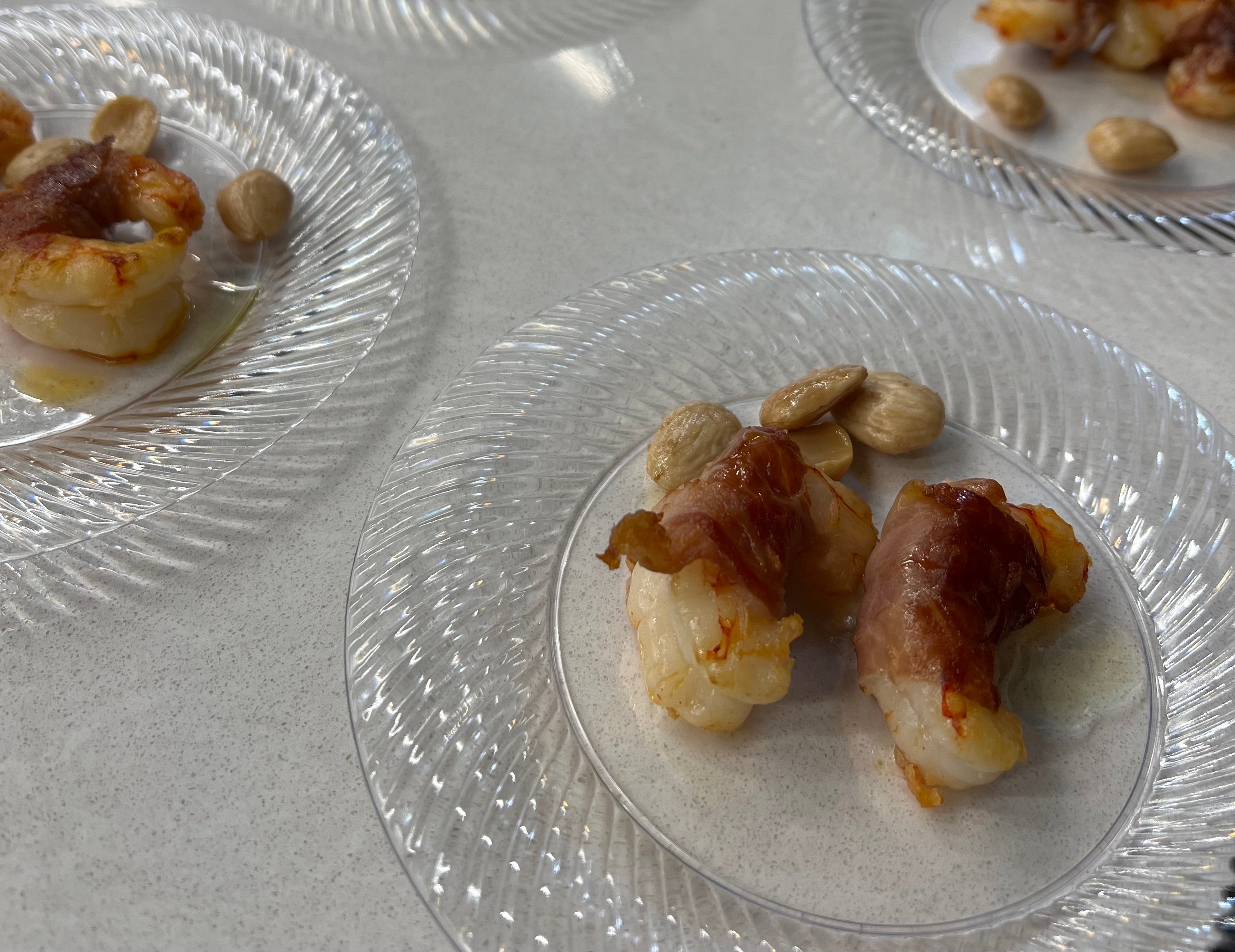 Shrimp are delicate so you want to choose a wine that won't overwhelm that component, at the same time you want to accentuate the saltiness and nuttiness of the almonds. Albariño is a light wine with subtle fruit notes and salinity that pairs well with every element of this dish.
INGREDIENTS:
Serrano ham

Raw medium sized shrimp

Marcona almonds
DIRECTIONS:
While shrimp is still raw, wrap each one with one piece of the Serrano ham.

Coat the bottom of a large pan with olive oil and set to a medium-high heat.

Once your pan is warmed and the oil is starting to bubble softly, add your shrimp.

Cook until the shrimp curl and start to form a "C" shape (C for cooked), then remove from pan and let cool on a serving dish. If your shrimp have curled enough to form an "O" shape, they are overcooked (O for overcooked).

Plate 2-3 shrimp with an equal number of almonds, top with a drizzle of olive oil, and serve.
Fourth Course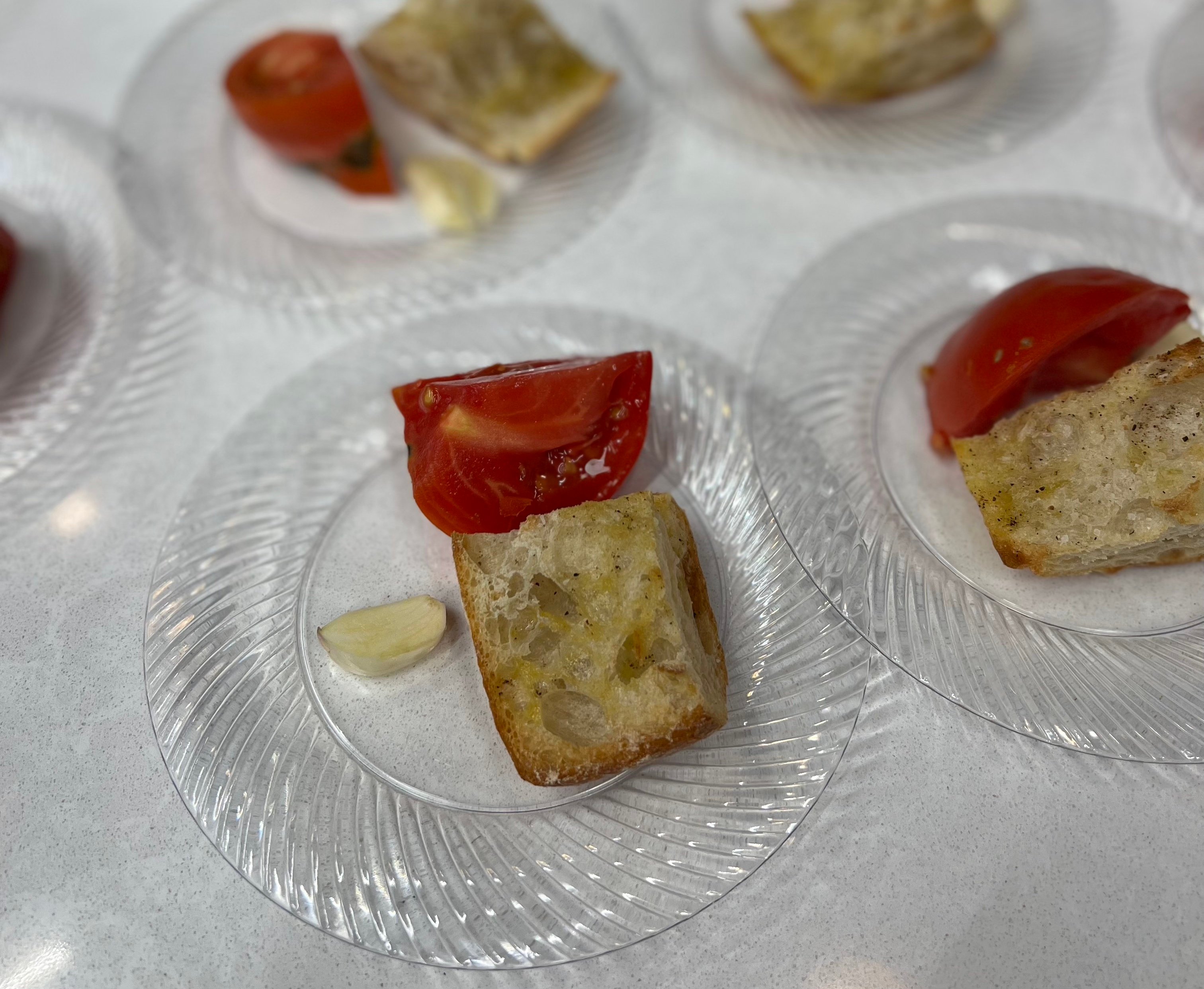 Like the greens from the second course, tomatoes in this traditional tapa are high in acid so you want a wine with equally high acid so as to not overpower them. The Muga Rosé has fresh, delicate fruit profile, and the versatility to pair with the garlic in this dish. This pairing was a group favorite of the night!
INGREDIENTS

:
Crusty bread, in this case the group used ciabatta

Large, fresh tomatoes

A head of garlic separated into cloves and peeled
DIRECTIONS

:
Heat oven to 350 degrees.

Slice bread and place on a baking sheet, brush a thin coat of olive oil on each slice.

Place bread in oven and cook for 5-10 minutes, until bread is crisp to your liking, then remove and let cool.

Plate bread, a large slice of tomato, and one garlic clove.

Rub garlic clove across bread to your taste, then rub tomato slice onto bread until the bread has softened slightly and turned pink in color. Season with sea salt. Enjoy!
Fifth Course: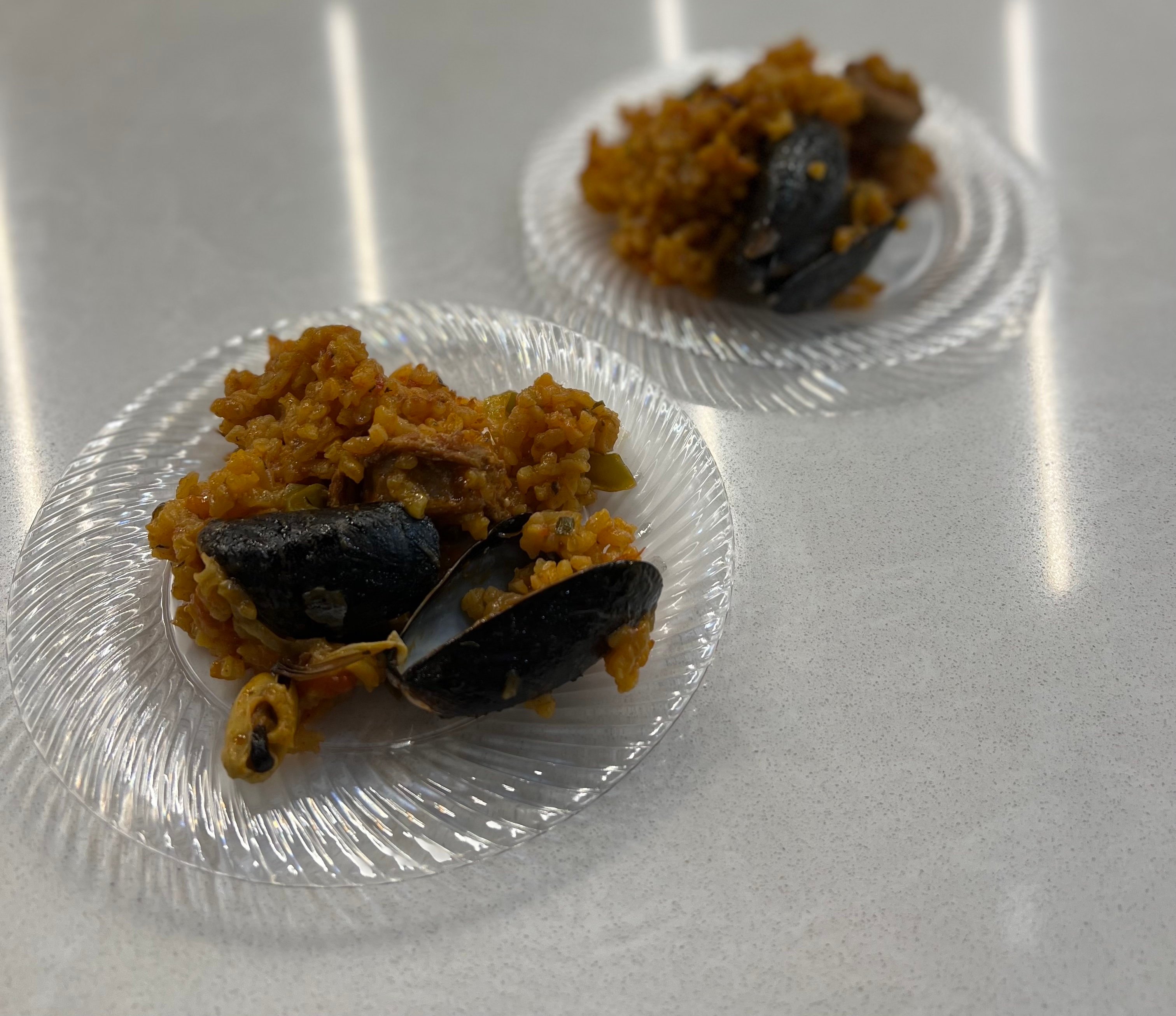 This dish is rich with fat and spice. It takes on a vibrant yellow color and has an intense aroma and flavor from the saffron, but it also has delicate elements with the mussels. The wine you serve will need acidity to balance the richness and keep your palate fresh, as well as a high level of fruitiness since the perception of fruit will fall due to the spice in the dish. You also want to consider tannin structure to bind to the protein and a concentration level that doesn't overwhelm the mussels. The Camins del Priorat is a blend of Garnacha, Syrah, Cabernet Sauvignon, Merlot, and Carñena, creating a wine that harmoniously pairs with the elements of this dish. It's important to note, the alcohol level in wine will accentuate the heat in a dish, if you or your guests prefer less heat then consider a lower alcohol red.
INGREDIENTS:
olive oil, as needed

4 chorizo links, sliced

1 onion, diced

1 green bell pepper, sliced

3 cloves garlic, sliced

4 plum tomatoes, chopped

4 oz tomato paste

¾

c Valdespino Inocente Fino Sherry

½

c chopped parsley

3 tbsp fresh thyme

1

½

tsp paprika

3 c Arborio rice

1 pinch saffron

6 c chicken stock

Seafood of choice, in this case mussels

Salt and black pepper to taste
DIRECTIONS:
In a large pan over medium heat, sauté the chorizo in olive oil until just starting to brown.

Add the onions, peppers, garlic, and tomatoes. Cook until browned.

Add the tomato paste and stir until the pan starts to brown/blacken.

Add the sherry and scrape the bottom of the pan to release any stuck on bits.

Add the parsley, thymes, paprika, and rice. Sauté until rice starts to turn translucent.

Add the saffron to the stock and steep until the stock turns a deep yellow color. Add enough infused stock to cover the rice.

Turn the heat down to medium and simmer, covered for 20-30 minutes. Do not stir once it starts to simmer.

Add your seafood to the pan and cover. Turn heat to low and cook until shellfish and rice are cooked. Season to taste.

Final Course:
Vanilla ice cream is sweet and fatty so the wine must be sweeter than the ice cream but not cloying, and with enough acidity to cut through the fat. The Sherry adds a freshness to the ice cream while also taking on caramel notes, acting almost like a lighter and boozier caramel sauce.
INGREDIENTS:
Sorry, nothing fancy here, the group used store bought ice cream. Dealer's choice!

Emilio Lustau Solera Reserva Pedro Ximinez Sherry "San Emilio"
DIRECTIONS:
Scoop desired amount of ice cream into a serving bowl.

Pour desired amount of Sherry over ice cream, leaving enough in your glass to sip as well.
We encourage you to try these pairings, perhaps with a group of friends, like Women of Binny's did the other night. Learn, experiment, and most importantly, have fun with it! Salud!