Main Content Starts Here
Wine Hotline Hits the Road: Illinois Sparkling Co.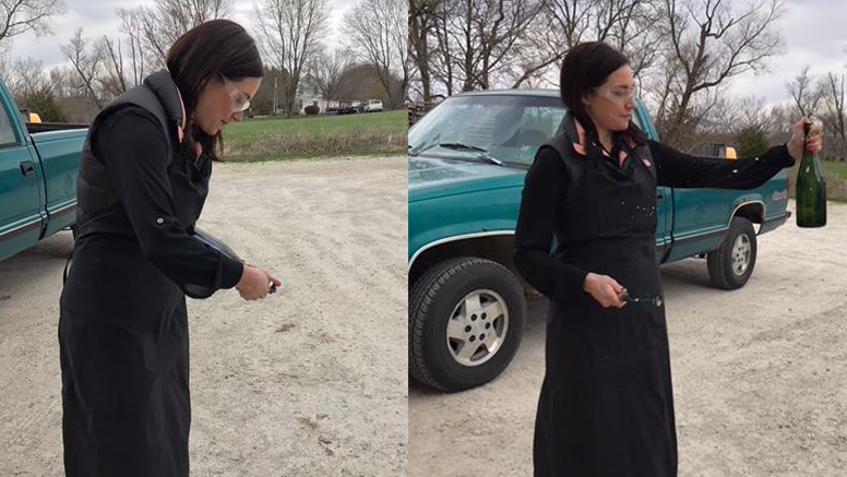 When one thinks of traditionally made sparkling wine the place of origin that comes to mind is rarely Illinois. But alas, expectations are shattered when you taste the product range from Illinois Sparkling Co. Life gets even better when you realize the quality to price ratio the wines offer. It's been a few years since the Wine Hotline made a visit to Peru, Illinois. Here's more info on our most recent visit.
We pulled up to Illinois Sparkling Co. winery on a Friday afternoon. A dirt drive led me to the relatively unassuming white building with a burgundy roof. The winery itself very much unlike any of the Champagne Maisons we've visited but more like a local craftsmen shop, the surrounding area, however, reminded us very much of the Champagne region with gently rolling hills and tree lined farms. Instead of the classic Pinot Noir and Chardonnay, Illinois Sparkling Co. is making bubbles using French-American hybrids most have never heard of. The are unique and absolutely delicious. We couldn't wait to get taste them. We entered the winery to find Mark Wenzel, owner and head winemaker, in the same black shirt he wears in the pictures on the brand's website. He introduced us to Sarah Wall, his assistant winemaker. Sarah was serendipitously hand selected by Mark to come aboard as his assistant and has been in that role for 4 years.
The tour began on the crush pad. Mark and Sarah led us through a tasting of base wines awaiting tirage. First was a varietal Chardonel, a hybrid of American Seyval and Chardonnay, a grape that has been gaining ground here in the Midwest. It was concentrated with zesty acidity, a perfect base for fizz, and awfully Chardonnay-like. Next, we tasted a base cuvee for a project Mark and Sarah are working on for POPS! here in Chicago. It was a rose and the fifth vintage of wines they are producing for the local hot-spot.
On the opposite side of the winery are the caves where the bottles go to age. Here in the dark, damp, cold cave the wines develop their creaminess alongside aromas of baked goods that compliment the citrus and stone fruit aromas of the base wine. Each and every bottle is laid by hand in the small cave. Before disgorgement, Sarah and Mark riddle each bottle, much like you would have seen in Champagne in the early 20th century before the advent of gyropallettes. This is true artisan production at work. Finally, it was time to taste the lineup. We spent quite a bit of time going through the wines. Mark and Sarah shared the creative process for each expression, which had such an interesting evolution to today's finished profile.
Illinois Sparkling Co Rose Demi Sec:
Deep, intensely colored rose that I super aromatic and fresh. Loads of red fruit aromas including ripe cherry and strawberry. This generous demi-sec offers perfectly balanced residual sugar with lively acidity. Perfect for the person that is looking for 'sweet but not too sweet'. We ended the day with some fun disgorging...