Main Content Starts Here
Whiskey Hotline: Celebrating Bottled-in-Bond on Leap Day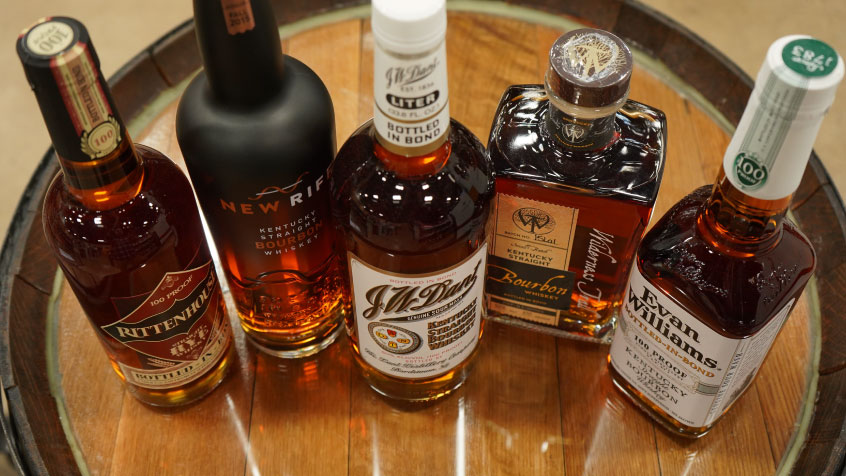 Once every 4 years we get an extra day to enjoy whiskey. So, which do we choose? Keeping with the 4-year theme we're reaching for a bottle of our favorite bottled-in-bond whiskey. In true American fashion the Bottled-in-Bond Act of 1897 was one of our nation's first food safety laws, ensuring that the consumer would get unadulterated whiskey. It dictates that the whiskey must be made by a single distiller, at a single distillery, in a single distilling season and aged at LEAST 4 years and bottled at 100 proof. Here's the Whiskey Hotline's top BiB picks to toast with on Leap Day.
24% rye mashbill and 100% delicious. This was our favorite new whiskey from 2019 and they're showing no signs of slowing down. Classic American oak character of vanilla and coconut on the nose balanced by a healthy dose of rye spice. Finishes long and balanced with lingering sweet brown sugar and caramel notes.
New Riff Kentucky Straight Bourbon
Another "new to us" brand from last year that holds its own with any bourbon on the shelf. On the nose, this high rye bourbon exudes lovely notes of baked cherry, baked apple, orange zest, cinnamon, vanilla nougat, and clove. A rich and chewy palate and a finish that starts with a big burst of cinnamon and oak spice then fades slowly into a black pepper, vanilla candy, toffee, and caramel soaked baked cherry and baked apples.
This budget friendly rye has long been an insider's pick. It's well balanced with a fat corn sweetness giving breadth to the leaner and spicy rye notes. The PERFECT cocktail rye.
A vanilla and caramel driven pour from start to finish. A touch of toasted oak and black pepper give balance to the sweeter brown sugar notes before a spice-laden finish.
The budget priced superstar of this list and a classic bourbon. Loads of cornbread, vanilla, anise and spice on the nose. Palate is full and oily leading to a long oaky finish. Solid pour from top to bottom. A perfect house whiskey.