Main Content Starts Here
What's Your IPA Style?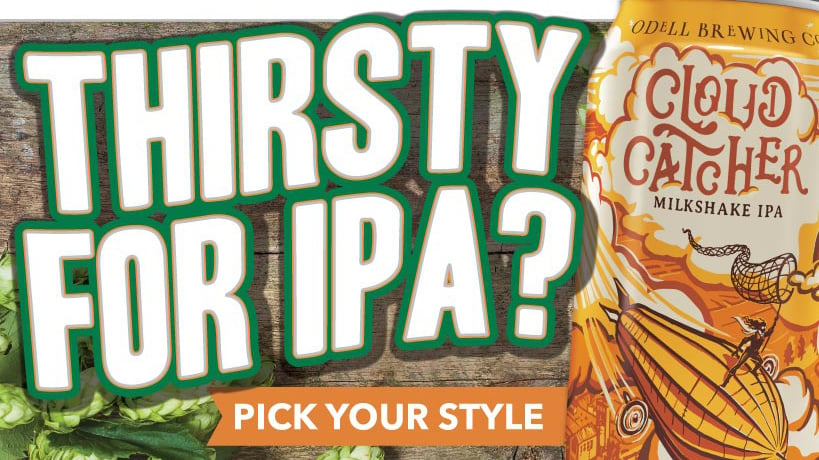 India Pale Ale – an old-school English beer style that American craft brewers made their own. West Coast, New England, Imperial, Black, White and Rye - the variations on this popular style are nearly endless. 2018 has been all about the haze. Here's three new favorites, and an outlier to boot.
MILKSHAKE
Odell Cloud Catcher Milkshake IPA
Milkshake IPA? Hazy like a New Englander, but even creamier and sweeter thanks to the addition of lactose. This can be a treacherous style, often resulting in over fruited, super sweet and murky messes. It should come as no surprise, Odell's stab at the style is quite drinkable. They let tropical hops do the talking, producing a super juicy IPA that's rich and creamy, but not over the top.
TROPICAL
Goose Island Paper Umbrella
This latest release from Goose was crafted and canned right here in Chicago. Billed as a tropical IPA, this 5% ABV brew drinks more like a pale. Lemon and pineapple on the nose are followed by notes of grapefruit and papaya on the palate. All said and done, an easy breezy warm weather crusher.
HAZY
Deschutes Fresh Haze
Hazy/New England IPAs are often described as looking, smelling and tasting like orange juice. Deschutes Fresh Haze delivers. This isn't merely unfiltered Fresh Squeezed. Creamier, less bitter and showcasing a different lineup of hops (Mandarina, Amarillo and Simcoe) – it's hard to believe there's no actual fruit juice in this can.
DOUBLE DRY HOPPED
Revolution Double Dry Hopped Citra Hero
Lots of hazy/New England IPAs emphasize that they are double dry hopped. Don't expect something soft and sweet here – this 75 IBU IPA sits sparkling in the glass. Brewed with five pounds of hops per barrel (Citra, Simcoe and Kohatu) – crisp and lean like a west coast IPA, but with the massive aroma of a New Englander.