Main Content Starts Here
Wine
|
September 23, 2022
What's New In Wine - Barrel to Bottle Tries Some Truly Unique Vino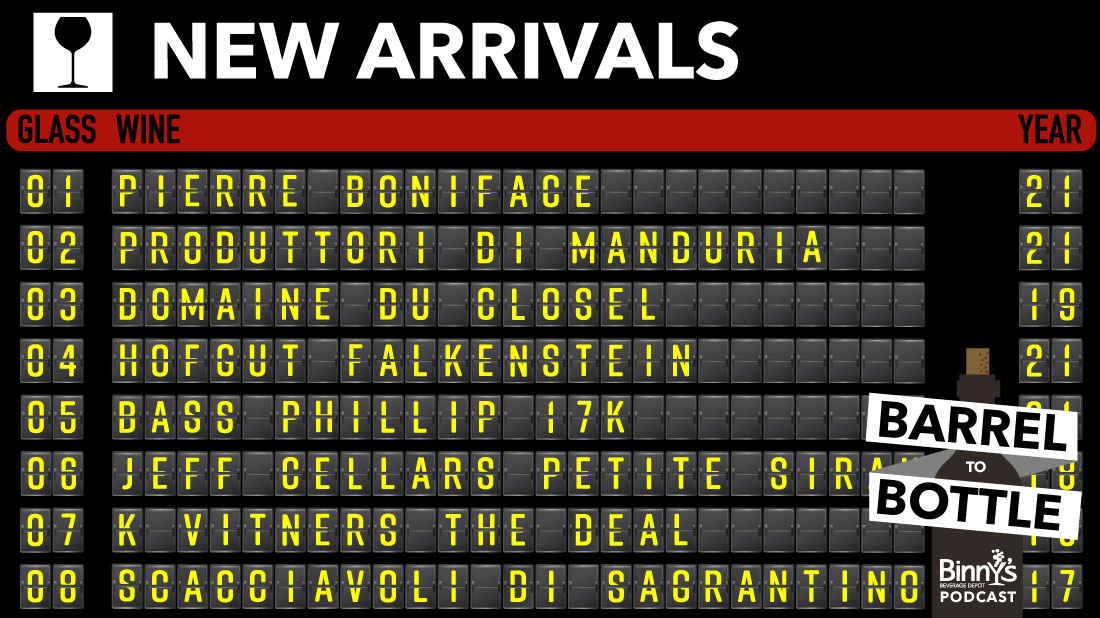 Binny's has a lot of wine. A LOT. This year, we're on pace to add over 4,000 new wines. That means you could come into Binny's every day for a year, buy a mixed case, and not taste the same wine twice.
There's no way around it though, some of this stuff is going to fly under the radar. We can't talk about all of it, so this week Chris put together a tasting of 9 wines that are worth checking out.
Drink along at home with the following wines:
Pierre Boniface Les Rocailles Apremont 2021 - The first wine is from Apremont in Southern France. It's very close to the Italian/Swiss border, and you can taste the alpine influences. It's a perfect food wine, particularly fondue.
Produttori di Manduria Zin Fiano 2021 - Apulia is in the heel of the boot of Italy, where it's very hot. It looks like a Cabernet bottle and it says the word Zin on the label. It's very confusing. Zin is a local Italian word for "sea urchin" which they eat in Apulia.
Domaine du Closel Savennieres Papillon 2019 – This is a 100% Chenin Blanc, but this is an appellation known primarily for dry Chenin Blancs. Sometimes Vouvray Chenin's will say they're dry, but they really aren't. This is a funkier wine, typical of the appellation.
Hofgut Falkenstein Niedermenniger Sonnenberg Riesling Kabinett Troken AP 9 2021 – This wine is fermented dry, as is the case for most of this producer's wines. This wine is fresh and grassy, but not in a gross way. It's like wildflowers and tallgrass.
Bass Phillip Bin 17k Pinot Noir 2019 – You've heard of Pinot Noir, but Australian Pinot Noir? This is an unfiltered wine from biodynamic growers. People assume Australia is a warm climate, but that's like assuming the US is a warm climate. Australia has a lot of different climates, including cool climates for Pinot Noir.
Jeff Cellars Petite Sirah Sweetwater Springs Vineyard 2018 – Pat likes this one because of the bitter, aperitivo-like dryness on the finish. It's a very big wine on first sip, then it kind of drops off.
K Vitners The Deal Syrah Sundance Vineyard 2019 – Petite Sirah and Syrah sound like they're related grapes, but they are not. Charles Smith is a bold personality who makes bold wines in Washington. This is a tannic wine, it's big and bold, the oak and tannins are in your face here as opposed to the previous wine.
Scacciadiavoli Sagrantino di Montefalco Passito 2017 – All of these wines are willfully obscure but this might be the most obscure. We're in Umbria, south of Tuscany and the grapes are dried before being made into wine. It's sweet, but it's also tannic. It's quite a journey.
Chris has one more surprise for today, but he didn't tell Alicia about it because he knew she would hate it. Fortified wine producers are trying to come up with new and exciting ways to enjoy their product. Cockburn'shas a new line of ports aimed at mixology. Chris is mixing up 2 parts ginger beer and 1 part Cockburn's Tawny Eyes, then top it with Angostura Bitters.
As always, if you aren't sure what is new at Binny's, we have plenty of wine consultants who love to geek out over esoteric stuff.
If you have a question for the Barrel to Bottle Crew, email us at comments@binnys.com, or reach out to us on Facebook, Twitter or Instagram. If we answer your question during a podcast, you'll get a $20 Binny's Gift Card!
If you like our podcast, subscribe wherever you download podcasts. Rate and review us on Apple Podcasts.