Main Content Starts Here
What's New in Spirits - Barrel to Bottle Tries the Latest Spirits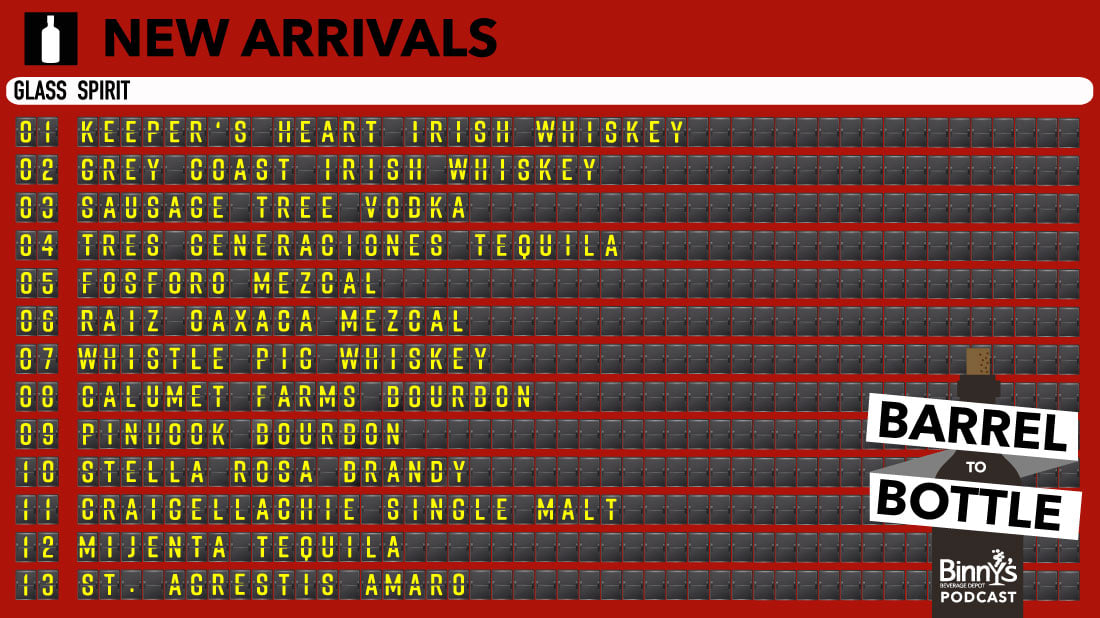 Once again, Pat was asked at the last minute to assemble a spirits podcast on a Friday afternoon. And once again, he assembled enough bottles for four podcast episodes.
Last week, we covered wines that are new to stores but might have fallen through the cracks because of the sheer volume of product we receive. The spirits category is no different; we see thousands of new products every year from Irish Whiskey, Tequila, Mezcal, Bourbon…the list goes on. We're going to set the timer for 50 minutes and see how much we can try this week.
Drink along at home with the following spirits:
Keeper's Heart Irish & Bourbon Blended Whiskey
Keeper's Heart Irish Single Malt Whiskey – Both of these come from the O'Shaughnessy Distilling in Minneapolis. The family started an Irish-style whiskey distillery and were able to hire Brian Nation from Middleton and David Perkins, founder of High West. These both have the fruitiness of the Irish whiskey, but well-integrated. If you're a bourbon drinker interested in Irish Whiskey, this seems like it would be a perfect introduction to that category.
Grey Coast Irish Whiskey – Pro Golfer Graeme McDowell is somehow involved with this whiskey. At least it's not a tequila, right?
Drumshanbo Sausage Tree Vodka – Pat brought this because it's called "Sausage Tree". Sadly, it does not taste like sausage. It's made from Irish nettles and is more like a gin than a vodka. If you like neutral vodka, it's not for you.
Tres Generaciones la Colonial Batch Reposado – Tres Generaciones is the higher end of the Sauza Tequilas. It's got a lot of agave on the nose, along with some cedar. It's woody but not in an oaky way.
Fosforo Tobalá Mezcal
Fosforo Tobalá Penca Mezcal – These Mezcals are from Puebla and not Oaxaca. Also, Jim Cramer is their global ambassador. BUY BUY BUY! Tobalá can't be cultivated, it only grows on rocky outcroppings and usually takes 12 years to fully mature. The Penca rests in glass demijohns with a cooked agave leaf, so it gives it some caramelized flavors.
Raíz Oaxaca Espadín Mezcal
Raíz Oaxaca Ensamble Espadín + Tobalá Mezcal
Raíz Oaxaca Cuishe Mezcal
Raíz Oaxaca Tepeztate Mezcal – Espadín is the most commonly cultivated agave for mezcal. It's predictable, with good yield and flavor. Espadín is a common entry level mezcal. Tepeztate mezcals are somewhat rare, because the maturation on that agave can take up to 20 years.
Whistlepig Smokestock Whiskey – This whiskey was made in collaboration with Traeger Grills. This is regular Whistlepig, proofed down with water that was smoked in a Traeger Grills.
Calumet Farm 16-Year-Old Kentucky Straight Bourbon – This is one of the best whiskies Pat has had this year. He was not a fan of their 14, it was lower in proof and very flabby. The 15 upped the proof and totally transformed it. That same whiskey is now 16 years old, and the proof is even higher. It's showing a lot of wood, but there's still fruitiness to balance it out.
Pinhook Vertical Series Bourbon War 7-Year-Old Bourbon 2022 – Pinhook started with a huge lot of MGP barrels. Every year, starting at 5, they are releasing a small amount of barrels until the bourbon is 12 years old. So if you collect these, you can do an eight year vertical.
Stella Rosa Smooth Black Brandy
Stella Rosa Honey Peach Brandy
Stella Rosa Tropical Passion Brandy – We've been getting requests for these brandies for over a year, and we finally have them in. Stella Rosa is known for their inexpensive, very sweet wines so it's not surprising that these are sweet brandies. Technically at 35% ABV, they are distilled spirits and not liqueurs. They're more like flavored rums or whiskies. A lot of people will like these.
Craigellachie 13-Year-Old Armagnac Finish – This is a new permanent addition to the Craigellachie single malt line-up. Craigellachie is distilled in copper, but it's very thin tubes so it shoots through there and maintains the Sulphur character. Also, their malts are fired with fuel oil kilns, instead of forced hot air.
Mijenta Añejo Tequila – This is a very soft, subtle tequila. Even though it's aged for 18 months, the wood does not dominate at all.
St. Agrestis Paradiso Aperitivo
St. Agrestis Inferno Bitter
St. Agrestis Amaro – We are finally talking about these because they're finally in stores. These are very sweet and easy drinking, but they're also very delicious. They're also not wine-based so they'll stay fresh for a long time.