Main Content Starts Here
What's New in Beer and Cider - Barrel to Bottle Cracks Some Cold Ones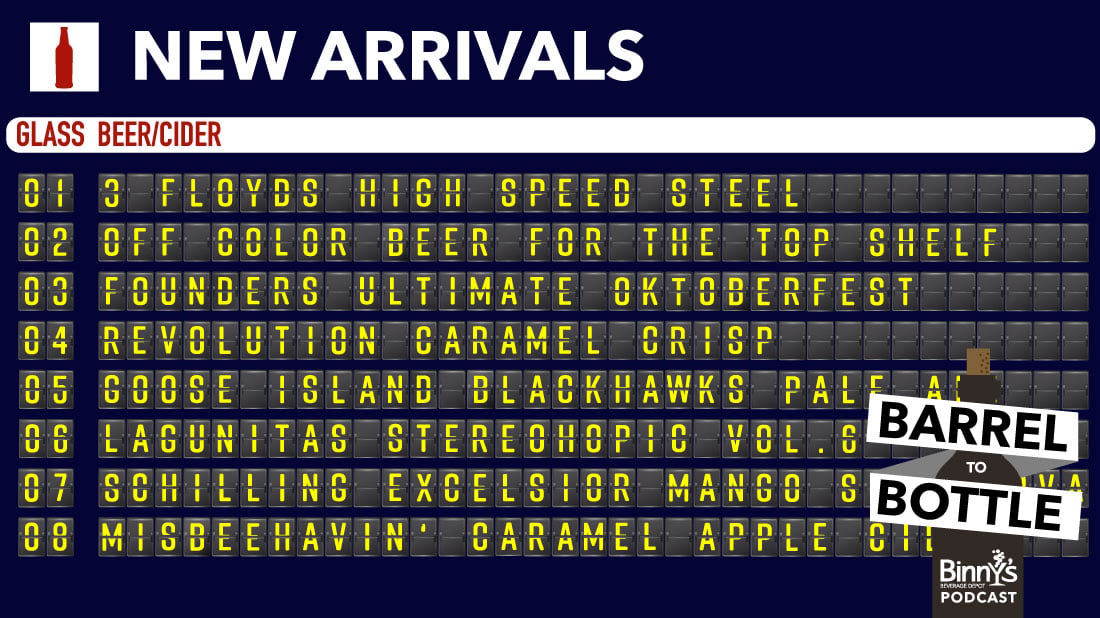 We've done new wines and new spirits, so obviously we're following the rule of threes and doing an episode on new beers (and ciders). This category is very different though. New beers and ciders come and go so quickly. In craft beer, it's "sure this is great but what have you got that's new?"
There's constant turnover as more and more breweries have abandoned the concept of year-round and seasonal flagships. But Roger was undeterred and found six beers and two ciders that should be sticking around all year or will be brewed again next year as a seasonal.
Drink along at home with the following beers and ciders:
3 Floyd's High Speed Steel – This is 3 Floyd's collab with metal band Municipal Waste. As usual, 3 Floyd's is cagey about what ingredients are in their beer. It's a lager, that's basically all we know. It's a pretty classic German lager profile, and 3 Floyd's loves German lagers in addition to heavily hopped IPAs. Roger did get them to admit that there are Elixir hops in this beer, which is a French hop variety.
Off Color Brewing Beer for the Top Shelf – We covered Vienna Lagers in a recent episode, so you should know already that they're all the rage. Off Color's latest "Beer for" beer is a Vienna Lager with maple syrup. Because Canada. Roger rails against adjuncts, but he's all about high quality, judiciously used adjuncts. That's what Off Color does with their adjuncts. This isn't a sweet beer by any means. The maple syrup is very subtle.
Founders Ultimate Oktoberfest – Something you won't find too often is a barrel-aged Oktoberfest. This probably should have been Über Oktoberfest, but that name was probably taken. This is a 10% ABV beer after the barrel aging process.
Revolution Caramel Crisp collaboration with Garrett Popcorn – Garrett Popcorn has been renting space in the building Rev owns, so this collab idea has been floating around for a while. They brewed multiple batches to get the recipe just right, landing on 450 pounds of their caramel popcorn. This is another beer that isn't too sweet either, and you can actually taste the popcorn in there, not just the caramel. You can drink this while eating Garrett Popcorn.
Goose Island Blackhawks Pale Ale – Unfortunately, the White Sox beer is no more but a Blackhawks beer which has been in the works for a while is finally out. This is an ale for lager drinkers, easy to crush while watching a game.
Lagunitas Stereohopic vol. 6 – It's time now for our annual Stereohopic tasting. Surprisingly, more people have been asking for "local" West Coast IPAs - which we have plenty of, from venerated West Coast breweries. StereoHopic uses the same base every time, but features a different duo of hopes. This volume is Altus and Simcoe.
Schilling Excelsior Mango Supernova – Schilling either created or popularized the "Imperial" Cider category with their Excelsior line. This one is a huge 9.1% cider with mango, and it hides it very well. It's not too sweet, it's not too tart.
Misbeehavin' Caramel Apple Cider – This beer is an apple desert in a can. It's once again not too sweet and not too acidic. The first time Roger tried this cider, he asked Misbeehavin' if we could give them some Binny's Handpicked barrels. They took those barrels, aged this cider, entered it into FOBAB and won gold last year! The barrel-aged version is next level, and we will have more of it coming soon.
If you have a question for the Barrel to Bottle Crew, email us at comments@binnys.com, or reach out to us on Facebook, Twitter or Instagram. If we answer your question during a podcast, you'll get a $20 Binny's Gift Card!
If you like our podcast, subscribe wherever you download podcasts. Rate and review us on Apple Podcasts.