Main Content Starts Here
Top Ten New Wine Arrivals for Summer!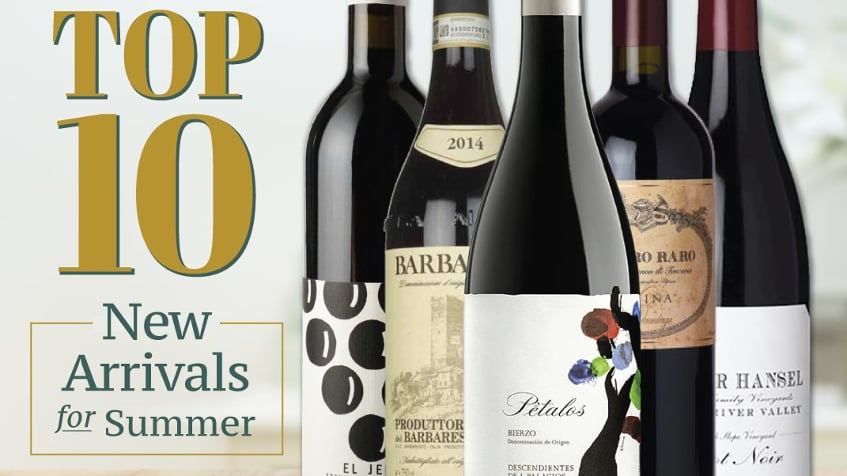 Every day our buyers are tasting with winemakers and deciding which wines to stock on our shelves. Only a select few make it through the doors, and fewer bottles still make the cut. Below are the Top Ten New Arrivals. All are Binny's approved and ready to enjoy!
2015 Domaine Santa Duc Cotes du Rhone Vieilles VignesA bold value red made by a superstar estate. Domaine Santa Duc is world famous for its Gigondas. But savvy wine buyers seek out the estate's Cotes-du-Rhone. Though rooted in modest and less expensive appellation, the vines for the CdR VV are 50 years old. Though older vines yield less, the fruit is dense with flavor. Making this a relative bargain.
2017 Chateau Trinquevedel Tavel RoséFor many producers, rosé wines are an afterthought. Not so in Tavel, where rosé wines are the sole focus. That singular focus just about ensures that Tavel roses are among the very best. The Trinquevedel proves the point with its potent mix of intense red fruit and aromatic herbs. This is the ideal rosé for those who say they drink only red wines.
2016 Palacios PetalosSpain's answer to pinot noir. Comprised largely of mencia from recently rediscovered Bierzo. The region's sunny yet cool hillside vineyards yield some of Spain's most vibrant and intense reds. Fresh raspberries, rose petal hints, and a dash of exotic spices. Long and vibrant, this is the perfect summer red.
2015 Ferraton Pere et Fils Crozes Hermitage La MartiniereSpot on cool climate syrah from an underrated estate. Domaine Ferraton is an insider's wine if ever there was one. Owned by Michel Chapoutier since 2004, the domaine remains a distinct estate apart from the Chapoutier line, yet enjoys the same attention to detail. The 2015 Martinere is a case in point with its vibrant berry fruit, black pepper notes, and lavender finish. Textbook Northern Rhone syrah.
2016 Chapoutier Domaine Bila Haut L'Esquerda Cotes du Roussillon VillagesCultivated in the sunniest corner of France, crafted by one of the world's greatest winemakers, and always drinks like three times the price. Overflowing with brambly blackberries, black pepper, and violets - the Bila-Haut is a stunning blend of brute power and fine flavors. It's not only a collector's wine. At this price it's within the reach of all budgets. Pure decadence.
2014 Produttori del Barbaresco BarbarescoA hidden gem. This cooperative of conscientious growers make it a policy to use only the finest fruit from its numerous members. This ensures a ready supply of affordable fine wine - no easy task given how difficult it is to cultivate nebbiolo. Berries, licorice, tobacco smoke, mint, and exotic spices - it offers a breathtaking range of flavors. Its price makes it a steal.
2015 Walter Hansel Pinot Noir South SlopeHere's a California pinot that enjoys the Grand Cru treatment. Hansel cultivates his vineyards with biodynamic methods, which is labor intensive and expensive. And he uses indigenous yeasts for fermentation, a risk that requires more time. And of course time is money. Somehow Hansel keeps prices down while crafting some top-notch pinots. And wine lovers are all the better for it.
2015 K Vintners El JefeA wine as outsized as its dred-locked creator Charles Smith, who had honed his palate for fine wine while living in Europe. His palate, in turn, impressed French expat Christophe Baron of Cayuse. Baron had encouraged Smith to try winemaking, and Smith has proved his rare skills many times over with world-class wine after world-class wine. The 2015 El Jefe is his latest achievement.
2014 Felsina Maestro Raro Cabernet SauvignonMade by the same estate who crafts one of Tuscany's best Chianti Classicos, the Maestro Raro proves that Italy is a top source for world-class cab. Bold black fruit, savory tobacco, and dark chocolate hints. Outstanding.
2015 Dominus Estate Napa Valley RedChristian Moueix had served as director of winemaking for $1500-a-bottle Chateau Petrus. He had nothing to prove. Yet in 1983 he established Dominus, and brought his know-how to Napa. Today, his estate and its cabs are among the world's finest. The 2015 vintage earned 100 points, and offers a blend of Old World charm and New World power. It's pure perfection.