Main Content Starts Here
Top Ten Deals from the August Wine Sale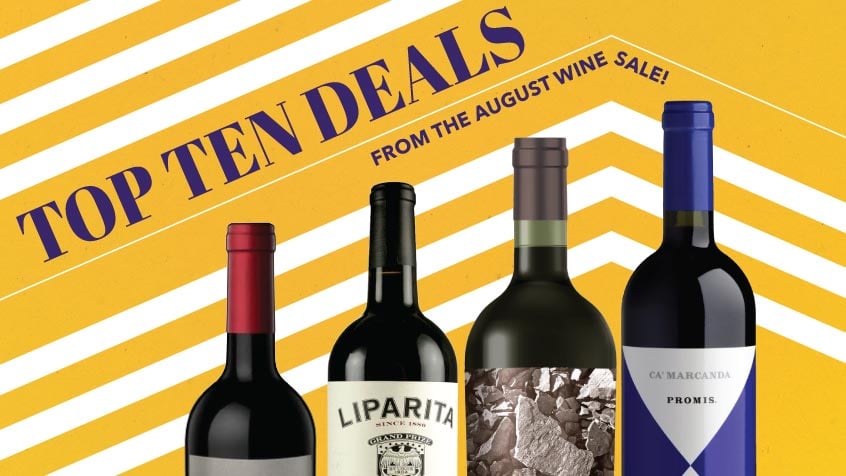 With 38 locations in the Chicagoland area, Binny's is your one stop shop for all your beverage needs. Below are some of our best wine deals from our August Wine Sale. All are ready to enjoy tonight!
Santa Julia Cabernet Sauvignon Reserva
$9.99 $7.99 w/Binny's Card
A vibrant cab that only Argentina can yield. In Argentina's cool and sunnny vineyards, caberne gains a distinctive brightness that singles out the country's cabs from others. And Santa Julia practices organic viticulture to ensure as pure expression as possible of their fruit. The 2016 Cabernet Reserva is rich and ripe, with chocolate and cherries on the palate, with subtle oak notes and baking spices on the finish. One of the wine world's best bargains.
$10.99 $8.99 w/Binny's Card
New Zealand is the ideal setting for sauvignon blanc, and the 2017 Arani is as punchy and as flavorful as they come. What's more, New Zealand remains one of the least spoiled settings for the vine, which in turn yield some of the world's most purely expressed wines. Apricots, lemons, and a savory edge - this is a textbook Kiwi white, and one of the best summer sippers on out shelves.
$13.99 $10.99 w/Binny's Card
This red proves why Australia's Barossa Valley is one of the wine world's greatest treasures. In the Barossa, you'll find a treasure trove of old shiraz vines. Those old vines yield remarkably ripe wines that can stand shoulder to shoulder with anything from the Old World. Anything! Black orchard fruit, spice on the attack, with a violet note emerging with time - this opulent red has it all. This is a bargain for what's in the glass.
Chateau Fleur Haut Gaussens Bordeaux Superieur
$13.99 $11.99 w/Binny's Card
Bordeaux enjoyed a stellar vintage in 2015. Even modest producers beyond the Grand Cru estates enjoyed favorable conditions that were ideal for the vine. Those modest producers in turn crafted ripe and flavorful wines with those telltale flavors that Bordeaux enthusiasts love - and at a price that any wallet can afford. Black cherries, mint suggestions, cocoa hints - you'll find all in this sharply priced red. A steal.
Scala Dei Black Slate Escaladei
$19.99 $14.99 w/Binny's Card
Spain's answer to the sumptuous reds of the southern Rhone. Chateauneuf du Pape is, of course, where grenache first gained fame. Yet it is upon the schist slopes of Priorat where grenache finds its most dense and black expressions, as the 2015 Escaladei proves. Red fruit and floral hints on the nose. Currants and berries on the attack, with violets and baking spices unfolding with time. Lush, seamless, and opulent. Pure pleasure.
$21.99 $19.99 w/Binny's Card
Spain's answer to pinot noir, crafted by one of Europe's finest winemakers. Comprised largely of mencia from recently rediscovered Bierzo. Those elevated, sunny yet cool vineyards yield some of Spain's vibrant, most pure reds. Fresh cherries and raspberries, rose petal hints, and a dash of exotic spices. Long and vibrant, this is the perfect summer red.
Liparita Cabernet Sauvignon Napa Valley
$27.99 $18.99 w/Binny's Card
Little Napa Valley wine is made. Only 4% of all California wine is from Napa, and what's made often commands a premium. Which makes the Liparita "Pure Napa Valley Wine" doubly rare: a Napa cab that ANY wallet can afford. It's an old school California cab, where purity of the fruit flavors come to the fore. Blackberries, savory herbs, exotic spices, and all framed by dark chocolate - this Napa cab value is hard to beat.
Angelo Gaja Ca'Marcanda Promis
$39.99 $36.99 w/Binny's Card
Hard to believe that only 70-odd years ago the Bolgheri was a backwater. But those gravel beds and cool Mediterranean breezes in turn favor the formation of dense, intensely flavored Bordeaux blends with a poise and persistence that can rival the finest Grand Crus of the Left Bank or the Premier Grand Cru Classe wines of the Right Bank. The 2015 Promis is everything you can hope for: red and black berries, floral hints, alpine notes, and a finish that seems to never end.
Domaine de la Janasse Chateauneuf du Pape Chaupin
$79.99 $69.99 w/Binny's Card
A monument to southern Rhone grenache. The sunny and windswept region known as Chateauneuf-du-Pape will test most varietals. Yet there stout and hardy vines of grenache often thrive for decades on end and even see 100 years of life. Those that see a century will yield thoroughly ripe berries whose density and concentration of flavors are almost unmatched. The 2016 Chaupin is crafted with fruit sourced from century old vines, and displays the purity and concentration of flavors that only old vine grenache can yield. Sinfully decadent.
Chateau Langoa Barton Saint Julien
$89.99 $79.99 w/Binny's Card
Sandwiched between Pauillac and Margaux, St-Julien and its wines blend the best of both. Combining the density of a Pauillac and the perfume of a Margaux, the reds of St-Julien are perhaps the most complete of all the Left Bank reds. The 2009 Lango Barton is a case in point, displaying a seductive perfume without any loss of concentration and depth of flavors that one should expect from a textbook St-Julien. This is Bordeaux at its very best.