Main Content Starts Here
Top Ten Cigars of 2021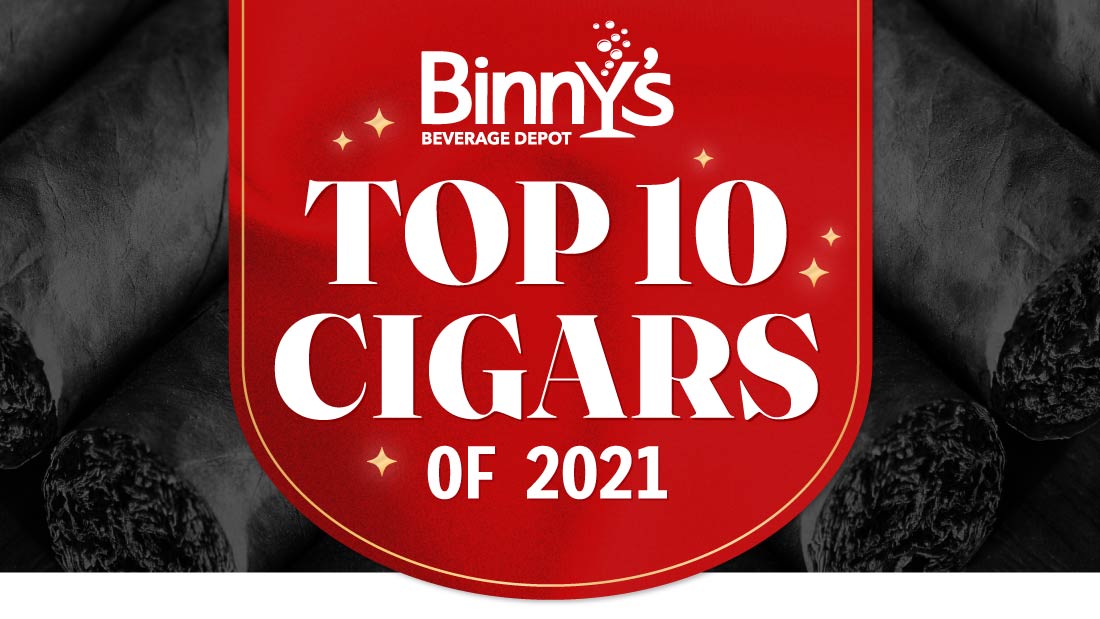 It's that time again – when we announce our Top 10 Cigars of the year. 2021 was buys for cigar manufacturers, and we were delighted to see so many great new cigars grace our shelves at Binny's. Each year, we ask our cigar consultants, managers and store associates for their favorites, and after hours of research, smoking, and deliberation, we are proud to present our Top 10 Cigars of 2021.
1. Undercrown 10 Toro - "A stick worthy of celebration and priced for any occasion. The San Andres wrapper over a Connecticut broadleaf binder makes this a "doubly good double maduro." It smokes similarly to the super-premium Liga Privada T72. Superb draw and burn with notes of molasses, pepper, and dark chocolate, none of which overpower the natural, vegetal earthiness that smells like you're smoking it right in the tobacco curing barn."
- Todd, Binny's Lake Zurich
2. Espinosa Murcielago - "This beautiful looking cigar with a bat on the band offers a dark, oily wrapper, blue-ish smoke rises as it ignites. Quick black pepper and tannin on the draw, followed by rich earthy tobacco flavor. This experience is savory, mellow 2/3 leads to a pleasing dark rye toast. This complex smoke pairs nicely with a dark roast coffee, porters, stouts, or your favorite whiskey."
- George, Binny's Mokena
3. Henry Clay War Hawk Toro - "Not your Dad's Connecticut! This cigar starts with a slight sweetness with some white pepper. Notes of a light cocoa, cedar with an earthiness throughout. Hints of citrus complete this beautifully constructed cigar."
- Philander, Binny's Evergreen Park
4. EPC Pledge Prequel - "Like a candy bar with the sweet dialed down but the savory turned up to 11. This medium-full, Connecticut Habano draped beauty will leave you awash with notes of caramel, nougat, and dark rich cacao. With supporting notes of baking spice, oak, and soft black pepper, you won't need to save room for dessert! Pair it with a robust rye or rich rum to elevate your relaxation."
- Tom, Binny's North Riverside
5. Alec Bradley Kintsugi Gordo - "The Kintsugi starts off on the milder side with notes of cocoa, leather and earth. The strength increases in the second half now adding notes of sweet chocolate, flowers and spicy hot cocoa. Both the draw and burn were good. We chose the Kintsugi for its complex balanced blends of sweetness and spice."
- Marilyn and Steve, Binny's Des Plaines
6. Deadwood Leather Rose - "The Deadwood Leather Rose is loaded with aromatic tobaccos right out of the cellophane, reminiscent of pipe tobacco. The smoke is loaded with cocoa, dried fruit, spice, and hints of sweet leather and wood. As the cigar burns, flavors get more noticeably woody and peppery with a sweet almost hickory BBQ sauce note on the backend. Fans of the Deadwood line should love this addition, and it offers enough of a smoking experience that any cigar lover would appreciate."
- Tony, Cigar Merchandiser
7. Alec Bradley Gatekeeper Toro - "In collaboration with one of the most recognized master blenders Ernesto Perez Carillo. The gatekeeper offers Ecuador Habano Wrapper and Dominican/Nicaragua for binder and filler. Salted caramel, peppery throughout, with woody and cherry towards the end. Two thumbs up for the Rubin brothers for this project. Good draw, very consistency, nice and firm burn."
- Pablo, Binny's Willowbrook
8. Avo Syncro Caribe Special Toro - "Maybe it's the slightly oily and veiny appearance, or perhaps it was the colorful modern yet classic band which screams warm weather. First thought, I'm not usually drawn to a 6x60 vitola, but this offering from AVO captured my attention. This medium to full bodied medley of Dominican, Ecuadorian and Nicaraguan tobacco delivered keen leathery notes of cocoa, white pepper and cedar held together with a complimenting nutty consistency. For the bonus – a beautiful, even burn. Pair this with your favorite Caribbean rum or a cup of espresso. Salute!"
- Allan, Binny's Hyde Park
9. Espinosa Laranja Ecuro Robusto - "Yet another brilliant blend by Erik Espinosa. The man's a genius! Last year his Laranja Reserva Toro was Binny's #2 cigar. This year he returns with a worthy sequel. He replaced the Brazilian "orange" wrapper from the original with a naturally sweet maduro Mata Fina leaf from the same country. Binder and filler are Nicaraguan. Another difference is that instead of making the cigar at his La Zona Factory, he enlisted some help from A.J. Fernandez, and the cigar was made at A.J.'s San Lotano Factory in Nicaragua. The result is expert construction, with an impeccable draw and an even burn. It's a full-bodied smoke that is medium-full in strength. You get earth, you get espresso, you get chocolate, oak, citrus, molasses, you get some of A.J.'s signature spice. In the end, you get tobacco at its finest! Truly an excellent smoking experience. I couldn't recommend this enough. I'd also recommend any of Espinosa's other blends. I celebrate the man's entire catalog."
- Ron, Binny's Plainfield
10. Rocky Patel No. 6 Toro - "Immediately after removing from the cello, you'll notice a sweet tobacco aroma that when lit translates to honey, vanilla and something like cracker jack popcorn. This smoke is a great medium bodied choice that doesn't disappoint."
- Benn, Binny's Naperville
Narrowing down our vast selection of cigar accessories wasn't easy, but the top three are a small sampling of our favorite items of the year. Our top three accessories demonstrate the best of form, function, and style. From classics like the Colibri V-cut to new feats of engineering in the saber, we want to celebrate the accessories along with the cigars.
Four Star Society Colibri Cutter - "The matte finish not only makes this cutter feel nice, but it also helps secure a nice grip for easy cutting. The optimal weight helps keep it stable while holding it in your hand to make a clean, effortless cut."
- Erick, Binny's Geneva
Vertigo Saber Lighter - "They finally came up with a V cut and lighter all in one. It's lightweight, fits in the hand nicely, and the dual flame doesn't burn the foot of your cigar. The price is affordable whether you're an average smoker or a pro. The selection of colors are good as well; it will fit anybody's taste."
- Rich, Binny's Algonquin
Colibri V-Cut Black On Black - "The Colibri V-Cut is one of my top choices for accessories, with its crisp cut and durability – with the many sticks that I have cut, it has never dulled. The V-Cutter design fits nicely in anyone's pocket and hands which makes it an overall great product for young and older cigar smokers."
- Shannon, Binny's Crystal Lake