Main Content Starts Here
Top 10 Cigars of 2022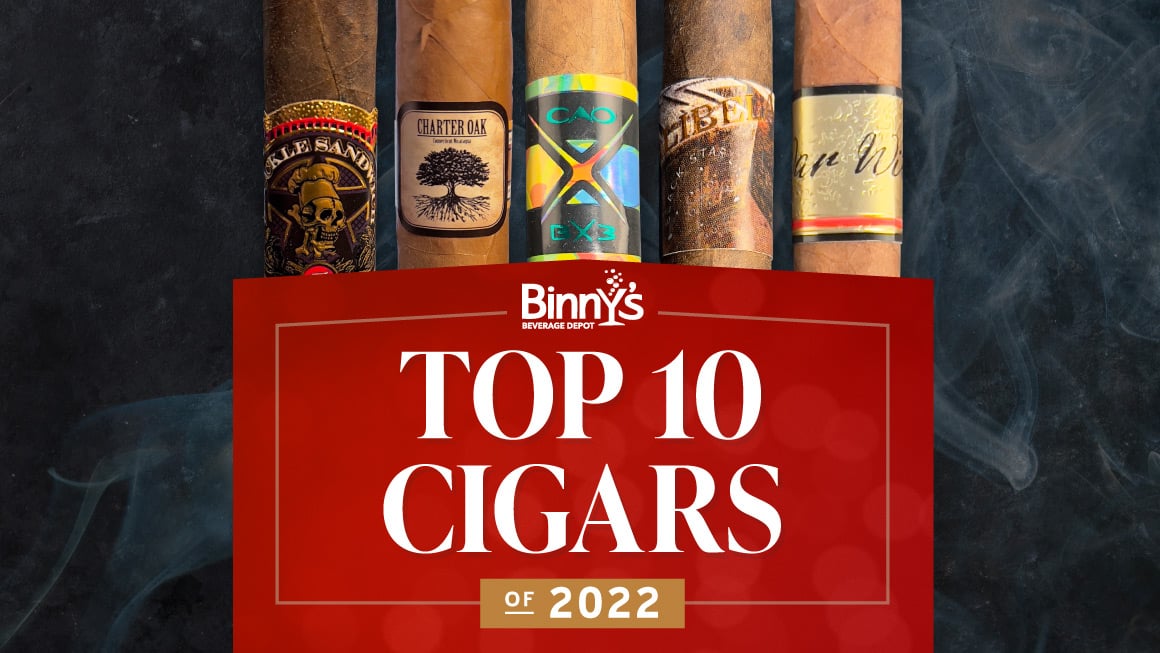 It is time once again to roll out the red carpet and spotlight out favorite cigars of the year. We have tirelessly been tallying the votes and sifting through hundreds of suggestions from our dedicated staff to bring you The Binny's top 10 cigars of 2022.
1. CAO BX3 Toro - "The Cao BX3 Toro features tobaccos from four different Countries (Brazil, Nicaragua, Mexico and Honduras) including tree types of tobaccos from Brazil itself. This Amazing cigar is packed with layers and layers of flavors such brown sugar, fresh roasted coffee beans, earthy, black pepper with a little hint of molasses. This is an excellent medium to full cigar."
- Pablo T., Willowbrook
2. Cavalier Geneve BII - Viso Jalapa Toro - "Dark chocolate, peanut butter, slight hints of pepper is what comes from the BII Viso Jalapa. Paired with a nice, aged rum this cigar hit on all levels. Great smoke for under $10."
- Frank J., Oak Brook
3. Black Star Line Dark War Witch Corona - "Black Star Line Cigars debuted at Binny's February of 2022 and did not disappoint. This is the first Black owned cigar brand featured at Binny's. The Dark War Witch corona from that line is a piece of heaven. A full bodied and full-flavored Nicaraguan puro. Delightful notes of chocolate, cedar, baking spice (mainly cinnamon for me) and some earthy tones. Pure Perfection."
- Philander, Binny's Evergreen Park
4. Foundation Charter Oak Connecticut Toro - "A smooth mild-bodied smoke with notes of almonds, cashews, cedar, and vanilla. Connecticut Shade wrapper, Sumatra binder and Nicaraguan filler provides a delightfully smooth smoking experience that's perfect any time of day and won't put a dent in your wallet. "
- Eddie R., Schaumburg
5. Knuckle Sandwich Maduro Robusto - "A collaboration between Espinosa Cigars and celebrity chef/foodie Guy Fieri has yielded another gem from Erik Espinosa. Made with the help of AJ Fernandez at his factory in Nicaragua, this cigar sports a velvety dark Ecuadorian Sumatra Maduro wrapper and binder/filler from Nicaragua. The construction and performance of the cigar is flawless. No touch ups needed here, buddy! Some flavor notes include rich chocolate, spice, fruitiness, and a savory natural sweetness. You should buy more than just one. 'Nuff said."
- Ron R., Plainfield
6. Nica Rustica Adobe Toro - "More refined than the original "Rustica," this stick is the most flavorful cigar at its price point. It out-punches its weight class. Upon light up, the zing of pepper you can feel on your tongue from the habano wrapper leaf comes to life in the smoke. A surprisingly creamy mouthfeel reveals the layers of pepper, new leather, sweet cedar, allspice-cinnamon hints—all on top of a base that remains on your palate long after exhaling—like zesty pasta or parmesan-crusted bread. Amazing."
- Todd V., Lake Zurich
7. Plasencia Cosecha 149 La Vega - "I truly enjoyed this stick. Pre-lit draw yielded flavor notes of toasted bread, molasses, and cocoa powder. first 1/3 hints of black pepper, mesquite, which quickly smoothed to a toasted oak followed by a late bitter. The second 1/3 allowed that cocoa to re-emerge final 1/3 was mellow and smooth, I enjoyed it down past the last band."
- George S., Mokena
8. Drew Estate 20 Acre Farm Toro - "The 20 Acre Farm is not your average Connecticut cigar. This medium-bodied cigar takes the smoker on a flavor journey! Expect notes ranging from cedar, cinnamon and pine to sweeter flavors like cornbread, sugar cookie and baked apples. This cigar is fun to smoke and pairs very well with a variety of spirits- Tequila, Mezcal and Sotol are obvious choices for this profile."
- Jay F., Evanston
9. Four Star Society Saggio - "If you are looking for a cigar with an abundance of taste, the Saggio by Espinosa is the cigar for you, and it can only be found at Binny's!"
- Kevin A., Bolingbrook
10. Black Star Line Lalibela Toro - "'Lalibela' pays homage to the churches of Ethiopia which are carved within the earth. This is vividly displayed on the cigar's beautiful band. Perfectly named especially since cigar smoking is considered spiritual in many cultures. Like the Lalibela church, this full-bodied Mexican San Andres wrapped Nicaraguan cigar is loaded with a rich "earthy' taste held together with a bold balance of pepper and sweet anise on the backend. If that isn't enough, the man behind the Black Star Line brand is a proud Chicagoan—South Side! Pairing this smoke with a pour of Macallan 12 yr. (Sherry Cask) is simply divine. Feeling daring, pair it with a licorice stick vodka martini—thank me later."
- Allan R., Hyde Park