Main Content Starts Here
Top 10 Cigars of 2020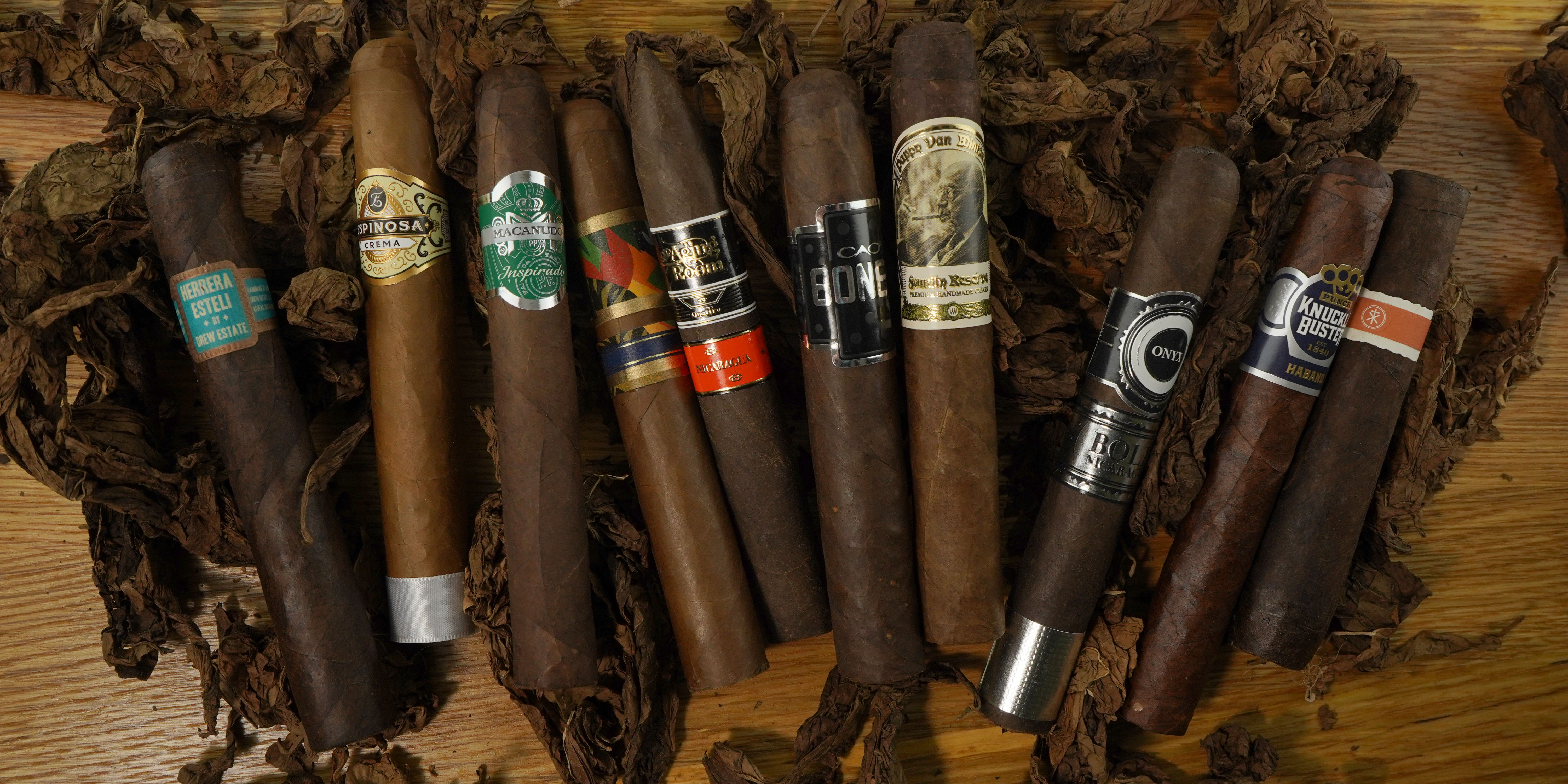 2020 was not a very typical year for many reasons, but we did have some great cigars to help us through. After hours of deliberation and hundreds of cigars smoked by our staff, we are proud to announce the Binny's top 10 cigars of 2020.
1. Herrera Esteli Brazilian Maduro Toro - Notes of dried cherries and subtle hints of chocolate describe this blend from Drew Estate's master blender Willie Herrera. The Brazilian Mata Fina wrapper gives a punch to this cigar that is undeniable, but the broadleaf binder from the Connecticut river valley gives the subtle notes of dark chocolate that balance the punch with a softness that is palatable for even novice smokers. This cigar will pair well with most bourbons, a fine aged rum or a barrel aged stout.
-Frank J. Oak Brook
2. Espinosa Laranja Reserva Toro - Woody, spicy and creamy cedar all combine to create a velvety smoke. Medium to full, this Brazilian wrapped, Nicaraguan cigar may be lighter in color but it is far from light when it comes to flavor and strength. Well balanced with a great draw make it easily our #2 choice.
-Erik V. Geneva
3. Macanudo Inspirado Green Toro - The Macanudo Inspirado line has done it again! Four years ago the original Inspirado revolutionized the Macanudo Brand, and the new Macanudo Green is no exception to this progress. The Inspirado Green is a Brazilian wrapped cigar, featuring an Indonesian binder, and Colombian and Dominican fillers. This results in a medium strength cigar that manages to be both rich and smooth. The cigar starts with rich notes of coffee and cocoa, that winds down into a soft, pleasing spice, before finishing with a subtle sweetness. The Inspirado Green certainly is another fine feather in Macanudo's cap!
-Josh C. Niles
4. Trinidad Espiritu Toro - AJ Fernandez does a great job on a Nicaraguan puro that delivers barnyard and red pepper in the first third. Second third you get some gram cracker, cedar with a hint of tobacco. Final third, strength gets from a medium to slightly full with settle notes of Plum, citrus, vanilla, and toast. Enjoy with your favorite bourbon.
-Eddie R. Schaumburg
5. Aging Room Quattro Nicaraguan Maestro - I chose the Aging Room Nic Maestro because of the complex flavor, full strength, and smooth draw. This cigar once recommended did not stay in stock. Probably one of the most complete cigars we carried last year.
-Philander G. Evergreen Park
6. Cao Bones Maltese Cross - CAO Maltese Cross Has a smooth yet robust woody flavor, with a good pull with the punch cut. with a beautiful white ash while smoking.
-Darrell N. Elmwood Park
7. Pappy Van Winkle Barrel Aged Toro - The Pappy Van Winkle Barrel-Fermented Toro cigar is a complex smoke having a blend that contains Kentucky-style hickory smoked tobacco. This Kentucky fire-cured leaf brings lots of charred oak flavor to the table as it is before the tobacco is then aged/fermented in Pappy Van Winkle bourbon barrels. This adds another layer of roasted oak to the blend which makes this a rich and thick but medium bodied smoke.
-Jimmy C. Downers Grove
8. Onyx Bold Toro - Spicy at beginning, mellows to a roasted coffee and dark chocolate with espresso and peppery finish. Nice sized ash: milder than you'd think. Pairs well with bourbon.
-Marylin A. Des Plaines
9. Punch Knuckle Buster - Sweet, spicy, and smooth. With notes of espresso, pepper, and cocoa taking charge throughout - the Knucklebuster is premium flavor at a budget-friendly price.
-David B. Bloomington
10. Roma Craft Neanderthal - The Neanderthal is a full-flavored medium strength cigar. I find that its bold nutty flavors compliment both rye whiskey and rum very nicely as It plays well with the spice profile of the spirits. I get notes of coffee, black pepper, leather, and an interesting mineral note on the retro hale. I enjoy the aesthetic of the flat cap; a wide punch offers a perfect draw every time and my smoking time is usually around 45min-1hr15min which is exactly what I like.
-Jay F. Evanston
A new edition to the list this year we asked our consultants to vote on their favorite cigar accessories. Here are the top 3 Cigar Accessories of 2020.
1. Colibri V-Cut - The solid construction and ease of use makes the Colibri V-Cut an easy choice. The sharp blades and smooth operation give you with a flawless, deep v cut, creating almost as much surface area as a straight cut without damaging the cap of your cigar. The open back allows you to V cut a torpedo as well as a rounded cap.
-Mark B. Montgomery
2. Vertigo Eloquence - Being a man that understands and appreciates value, it was easy for me to fall in love with the Eloquence Lighter from Vertigo. This metal four-torch lighter is wind resistant and has a very nice presentation. It's easy to use and refill with is single action ignition and fuel window. Plus, the fold out cigar punch on the bottom is perfect for people who don't want to carry a cutter with them. With Lotus behind the Vertigo Brand, this 2 for 1 value is a no brainer.
-Chris K. Arlington Heights
3. Alec Bradley Baby Bump Ashtray - The Alec Bradley Baby Bump is one of the absolute best ashtrays that we at Binny's carry. With four notches and a deep basin, the Baby Bump is perfect for smoking friends or for relaxing by yourself. And with a trendy-decorated ceramic body, the Baby Bump excels at both indoor and outdoor smoking. Pick one up and you won't be disappointed!
-Josh C. Niles