Main Content Starts Here
There's Nothing Wrong with Screw Tops - Barrel To Bottle Shatters Wine Myths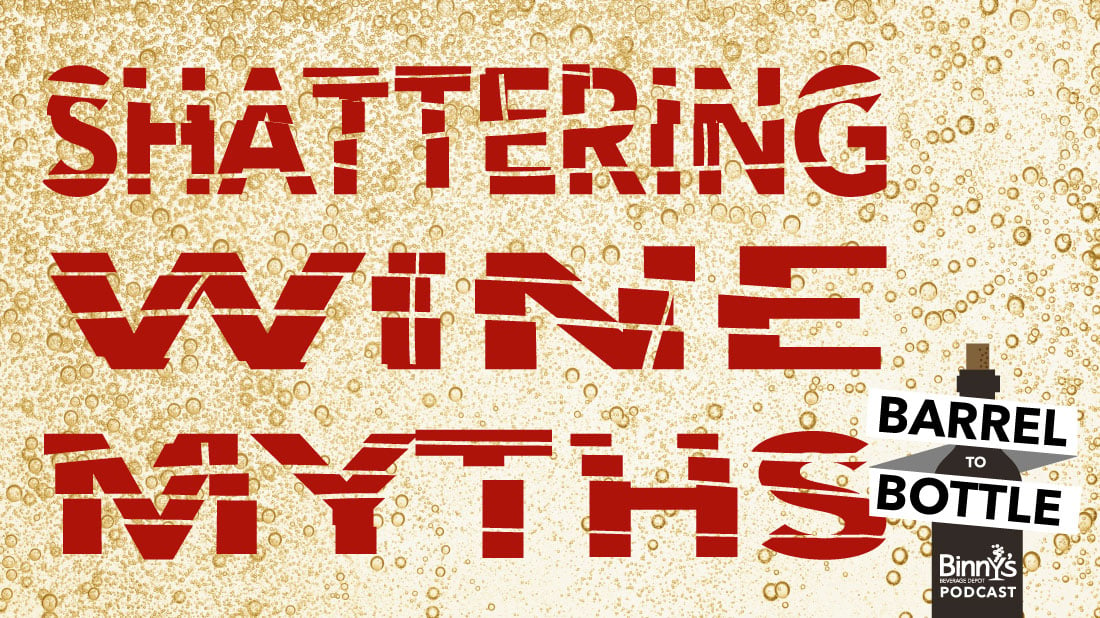 There are a lot of guidelines and rules around drinking wine that may or may not apply anymore and Lincoln Park wine manager Ben is here to smash them. Or confirm them.
Myth #1: Only Bad Wine Comes in Screw Tops, Boxes or Cans – FALSE
People assume screw tops mean it's a bad, cheap wine but that is not true. Initially, screw tops were introduced to try to combat the raging Corked Wine issue. Crossbarn by Paul Hobbs is under a screw top and it's delicious.
Myth #2: Don't Overfill Your Glass – TRUE
It's wise to leave room in your glass so that you can swirl the wine around and gather the aromas.
Myth #3: Red Wine with Meat, White Wine with Fish – FALSE
This is a completely outdated concept and does not really consider modern cuisine. There are many red wines that go with fish and there are many white wines that go with meat. The Stadt Krems Gruner Veltliner Kremstal would go great with red meat.
Myth #4: Serve Red Wine at Room Temperature, Serve White Wine Cold – FALSE
Ben would encourage people to drink their red wine colder and their white wine warmer.
Myth #5: Don't Cook with a Wine You Wouldn't Drink – TRUE
The idea is that people assume that since you're only cooking with a wine that it can be something cheap. Ben wouldn't necessarily braise an entire pot of short ribs with a higher end wine, but if he needs a couple of splashes, he will use a wine he'd want to drink like the Vietti Barbera d'Asti Tre Vigne.
Myth #6: Only Drink Wine from the Best Vintages – FALSE
A good vintage these days usually means warm weather, which produces soft, luscious wines. But tasting a winery's vintages from year to year is a great way to understand the flavor of the vineyard.
Myth #7: The Older the Wine the Better It Is – FALSE
Most wine you buy is meant to be drunk young. It's not going to improve with age, it wasn't made to be aged. Older wine isn't necessarily better, it's just different. That's the case with the Chateau Peyrabon Haut Medoc 2009.
Myth #8: More Expensive or Higher Scored Wines are Better – FALSE
Many critics claim they taste blind, but it seems unlikely. Some critics say that you need to know the wine you're drinking to fully appreciate it.
Myth #9: Fine Wine is Always Dry, Never Sweet – FALSE
Americans love sugar, except in wine. The fastest way for Ben to kill a sale is to tell the customer it's "a little sweet". Laurent-Perrier Harmony is perfect example.
Myth #10: Champagne is Only for Celebrations – FALSE
Champagne is one of the most versatile food wines. It goes with just about everything.
If you have a question for the Barrel to Bottle Crew, email us at comments@binnys.com, or reach out to us on Facebook, Twitter or Instagram. If we answer your question during a podcast, you'll get a $20 Binny's Gift Card!
If you like our podcast, subscribe wherever you download podcasts. Rate and review us on Apple Podcasts.