Main Content Starts Here
The Women of Binny's Explore Argentina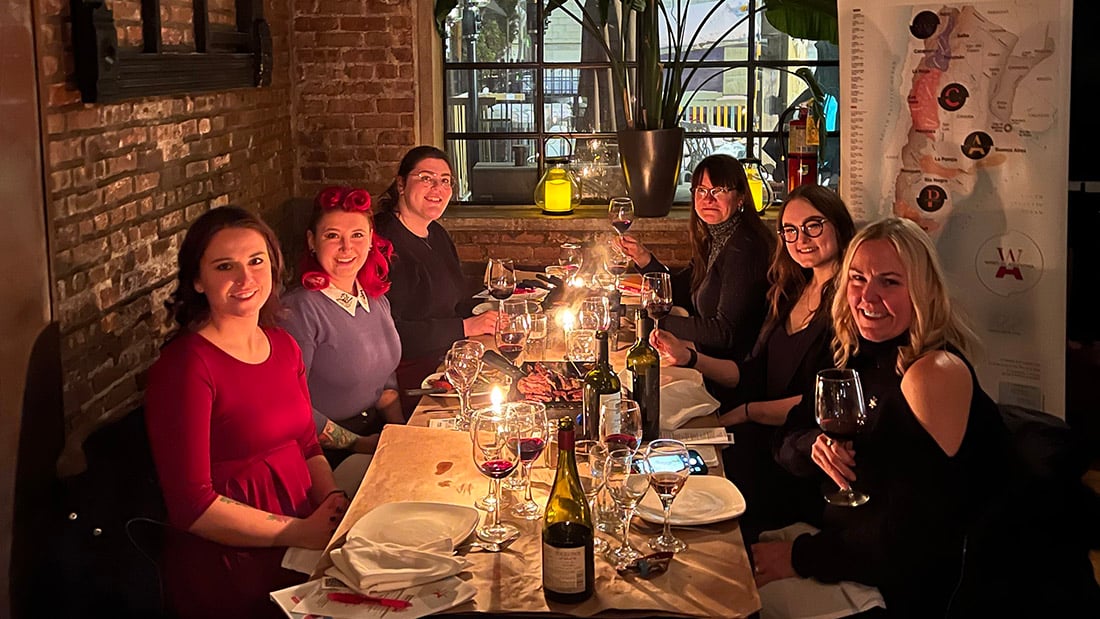 The Women of Binny's Explore Argentina
The Women of Binny's organization serves to foster community, education, and leadership; embracing the work we love and the roads that led us here.
Last week some of these women braved the elements to sit down with Veronica Kathuria, a Certified Specialist of Wine and the Wines of Argentina Area Manager for the U.S. and Canada, to wine and dine and discuss the surprisingly (to some) expansive world of Argentinian wine and the women who work with them. So, let's break it down by course and discover the wines and the women behind them.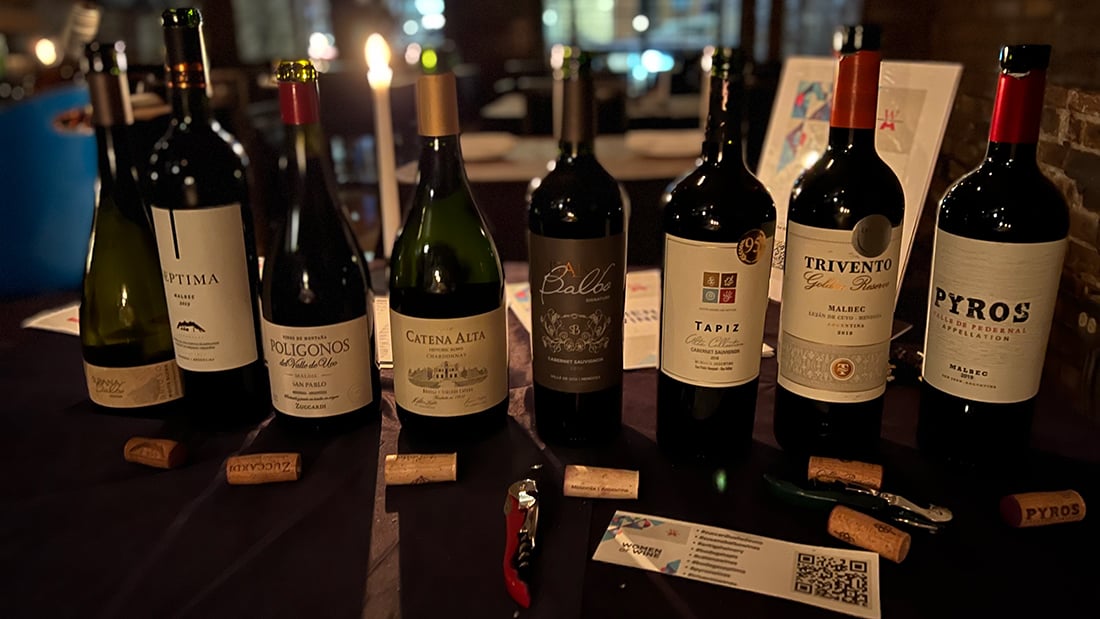 Dinner was hosted at an Argentinian restaurant in Chicago called Folklore, that serves up authentic Argentinian dishes in a cozy candlelit atmosphere. The first course was an Antipasto of Charcuterie (or Shark Coochie if you're fancy) and Berenjena en Escabeche; a cold dish made with pickled eggplant and a lot of garlic. These were paired with the Zuccardi Serie A Torrontes and Wapisa Sauvignon Blanc.
Behind the Zuccardi we have Laura Principiano who graduated from the National University of Cuyo as an Agricultural Engineer and began working at various wineries within Mendoza. She then joined the Zuccardi team in 2009 to form part of their Research and Development team. Laura's expertise has resulted in the Zuccardi Serie A Torrontes which is 100% torrontes and sings with white flowers, citrus zest, bright acidity, and a lasting finish. This is a great social wine, meaning you don't need food with it, but it's also a keen pairing for vegetables, seafood, and other "delicate" pairings.
With Bodegas Tapiz, the parent label of Wapisa, we have founder and owner, Patricia Ortiz. Patricia's background is actually in the medical field as a doctor and psychologist. Founded in 2017, Wapisa may be most recently known for Patricia's experimental underwater wine aging process, which she started in 2020 with the Wapisa Malbec blend. The Wapisa Sauvignon Blanc is 100% sauvignon blanc bursting with tropical citrus notes, lime and grapefruit and mouthwatering acidity.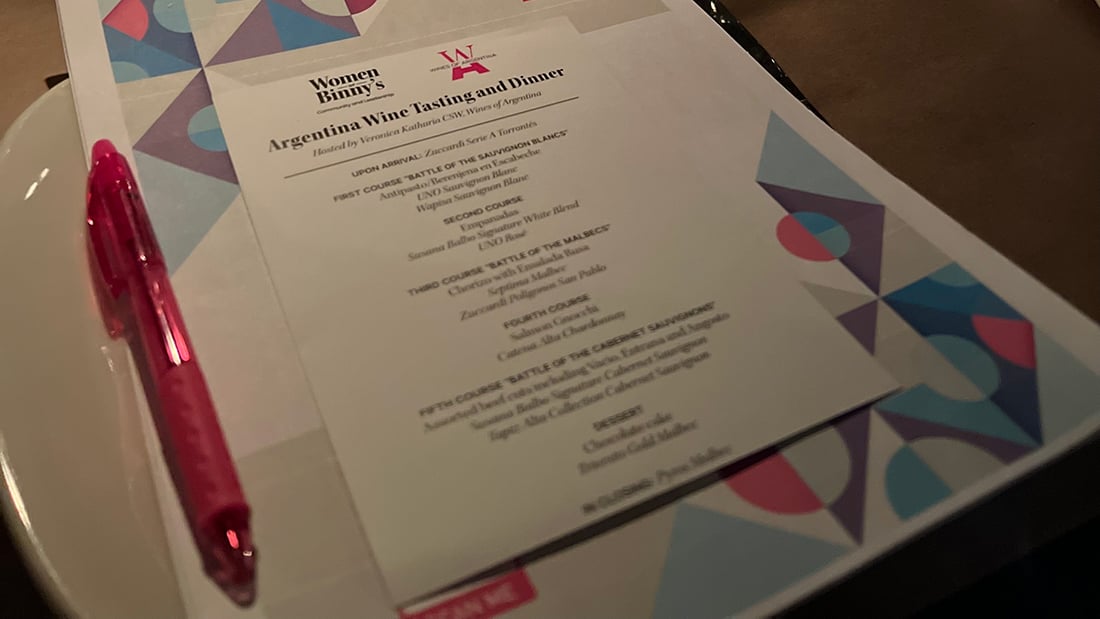 The second course was various empanadas served with Susana Balbo Signature White Blend. With over 40 years in the industry, Susana is most known for being the first female winemaker in Argentina. She started her career in a small-town Salta, Cafayate, where she took over winery operations at the Sucesion Michel Torino winery. She started Susana Balbo Wines in 1999 where she remains today, collecting accolades and awards such as the "Woman of the Year" by Drink Business Magazine. The white blend is 42% semillon, 33% sauvignon blanc, and 25% torrontes; fresh floral notes, with stone fruit, this wine is medium bodied and can hold its own against heavier dishes and spice.
Following the empanadas was a battle of the malbecs; Septima Malbec and Zuccardi Poligonos San Pablo Malbec, paired with charred chorizo and ensalda rusa. Paula Borgo, one of the two winemakers responsible for the Septima Malbec, has worked harvests in Argentina, the Unites States, and Spain, giving her experience with a variety of techniques that she has applied to her work with Bodega Septima since joining in 2004. Since 2010, she has been the head winemaker and manager for Bodega Septima. The Septima Malbec was fruit forward with notes of plum and cherry, a slightly floral finish, very clean and bright. The Zuccardi Poligonos San Pablo Malbec was made by the previously mentioned, Laura Principiano, and was pulled from a line of wines Zuccardi produces that reflects and celebrates the people of the region. The Poligonos is lively and a little zesty, notes of red fruits, juicy acidity, and soft tannin structure.
Up next, a choice between gnocchi or salmon, both paired with the Catena Alta Chardonnay. Dr. Laura Catena is the managing director of Bodega Catena Zapata as well as the founder of the Catena Institute of Wine, which aims to preserve the malbec varietal as well as elevate Argentinian wine. She lives in both Mendoza and San Francisco, where she volunteers as a street physician with the Department of Public Health. In case you weren't impressed enough, she's also taken the winery to new heights collecting several awards since becoming the managing director; including Most Awarded Winery in the world by Vivino Wine Style Awards, World's Most Admired Wine Brand by Drinks International, and has collected several 100-point ratings for Catena wines. The woman is to be admired and so is her chardonnay. Clean with crisp minerality thanks to the high elevation and cooler climate; apple, white peach, and tropical fruit notes make for a fuller bodied wine balanced with crisp acidity on the finish.
For the last course, assorted beef cuts with Susana Balbo Signature Cabernet Sauvignon and the Tapiz Alta Collection Cabernet Sauvignon. We've already discussed both Susana Balbo and Patricia Ortiz so we'll focus on the wines. The Balbo Signature Cabernet is a blend made up of 95% cabernet sauvignon and 5% malbec to soften the wine. This is a dark wine with notes of black fruit, pepper, and tobacco. The tannins are big but balanced with beautiful acidity and allow for the wine to stand up to pairings such as a platter full of cuts of beef, lamb, or pork. The Tapiz Alta Cabernet is 100% cabernet sauvignon, due to their proximity to the mountains, this cabernet is intense and easily ageable. Plum, coffee, vanilla, and chocolate all culminate in a long, smooth finish. Another big wine perfect for bigger meats, stews, and barbecue.
Finally, to finish a lovely meal, chocolate cake and Trivento Gold Malbec. Winemaker Magdalena Viani joined the Trivento team in 2014 and now oversees the production of terroir wines. Her love of wine began early on when she would spend summers with her uncles who lived at a winery. Her passion translates into the wine she makes, intense red fruits, raspberry, blackberry, and plum. Full bodied with big tannin balanced with bright, juicy acidity. Yes, this is not a dessert a wine but the bitterness of the chocolate in the cake and the forwardness of the red fruit notes in the wine make for a surprisingly cohesive pairing.
To sum up, Argentine wine is synonymous with malbec but there is so much more to explore and so many talented women behind the labels we see every day on the shelves. I strongly encourage you to pick up one of the wines talked about here today and pair it with your own five course meal. Or a bag of microwave popcorn, you do you. Just enjoy it.