Main Content Starts Here
Wine
|
September 26, 2018
The Wine Hotline Hits the Road: Bordeaux - Rethinking Sauternes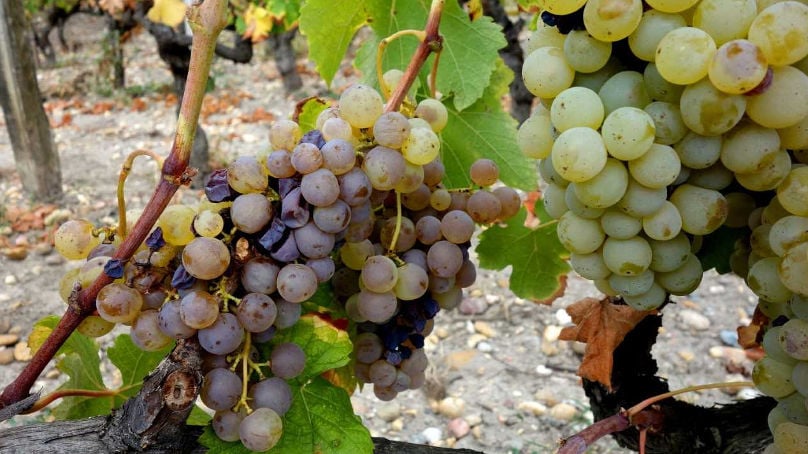 Sauternes has the unfortunate distinction of being a wine everyone loves, but few people actually drink. It suffers from the perception that wine must be dry to be fine. When it is drunk, it's often paired exclusively with desserts, relegated to the end of the meal at restaurants with the cordials and liqueurs.
It's pure magic that any Sauternes is produced at all. Conditions have to be just right late in the season for the noble rot to form: Botrytis cinerea, a fungus that shrivels and concentrates the grapes, resulting in the distinct flavors and aromas of Sauternes. The grapes are then harvested by hand over multiple passes through the vineyard, sometime grape by single grape. One producer, Rayne-Vigneau, said that it takes three grapevines to make one bottle of Sauternes.
The two producers I visited recently, Rayne-Vigneau and Sigalas-Rabaud, are actively trying to change the perception of Sauternes as a dessert only wine. People at both chateaux said they were not trying to make sweet wine per se - there are much easier ways to make wine loaded with sugar. Rather, their goal was to make balanced, aromatically complex wines that, much like a German Spatlese or Auslese, happen to have sweetness. For all these wines, the key is acidity, which allows the wine to retain sweetness without being cloying. That acidity is what really makes the wine work with food.
Sauternes is actually a poor pairing with many desserts as it can be quite tricky matching sweet to sweet. Moving it to the table for the main course, Sauternes shows off as an incredibly versatile food wine that can pair with fish, lobster, poultry, white meat, and anything salty or spicy.
Sauternes, like off-dry Riesling and Chenin Blanc, can work with a variety of foods that would otherwise be difficult to match. Something like BBQ, that can range from sweet to spicy to tangy all in the same bite, can pair very nicely with a refreshing glass of chilled Sauternes. It's perfect with salty cheeses as well. Try it with french fries or potato chips. A Chicago-style hot dog and a glass of Yquem would be about as perfect a pairing as I can imagine.
Or forget pairing altogether. Sauternes is one of the most pleasurable wines to enjoy all on its own.
This is a guest blog post by Ben M., Wine Manager at Binny's Lincoln Park.