Main Content Starts Here
The Secret's Out: Brickstone Dark Secret Aged In Binny's Hand Selected Whiskey Barrels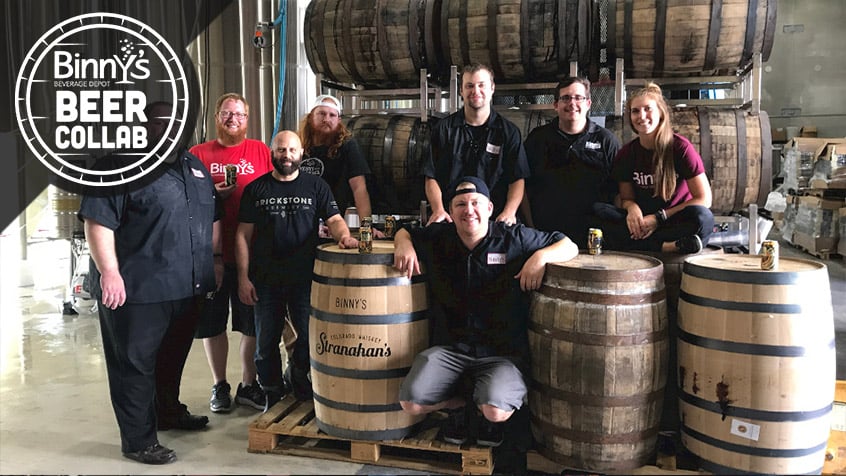 When it comes to imperial stout, we see a lot of pastry stouts these days. This category includes stouts modeled after all manner of desserts, and we've seen everything from cookies to whole chocolate cakes dumped into beer. When we approached Brickstone about doing a collaborative brew, we wanted to go back to basics. Their Dark Secret imperial stout is proof that an imperial stout can be dessert like and decadent, without being overly sweet.
As far as unconventional ingredients, the only adjunct here is dark Belgian candy syrup. Normally reserved for big Belgian ales like Quadrupels, it's one of the secret ingredients that makes this beer so tremendous. The chocolate flavor here is off the charts, yet it contains no actual chocolate. Three different varieties of chocolate malt make up three of the nine grains in Dark Secret's massive mash bill.
We've had the pleasure of working on quite a few collaborative brews, and some of the most memorable are the ones where we get our hands dirty. While the majority of Brickstone's beer is brewed in their production facility, this batch of Dark Secret was brewed across the street in Brickstone's original brewpub brewhouse. That meant dumping bags of grain by hand, stirring the mash and shoveling spent grain into 55 gallon drums – those are some lucky farm animals.
When it came time to put this brew in oak, we came down with Stranahan's and Maker's Mark barrels. After nine months in barrels, these tremendous beers are finally ready to enjoy. Maker's Mark is a wheated bourbon, and the barrels imparted a good amount of vanilla and caramelized oak. Stranahan's is an intriguing American whiskey. It's often mistakenly referred to as bourbon, but it's more akin to an American single malt. Those barrels imparted lovely fruity notes and hints of sweet spice.
A big thank you to all our friends down in Bourbonnais. With results this delicious, we'll be back with a bunch more barrels sometime soon.