Main Content Starts Here
The Best Wines for Valentine's Day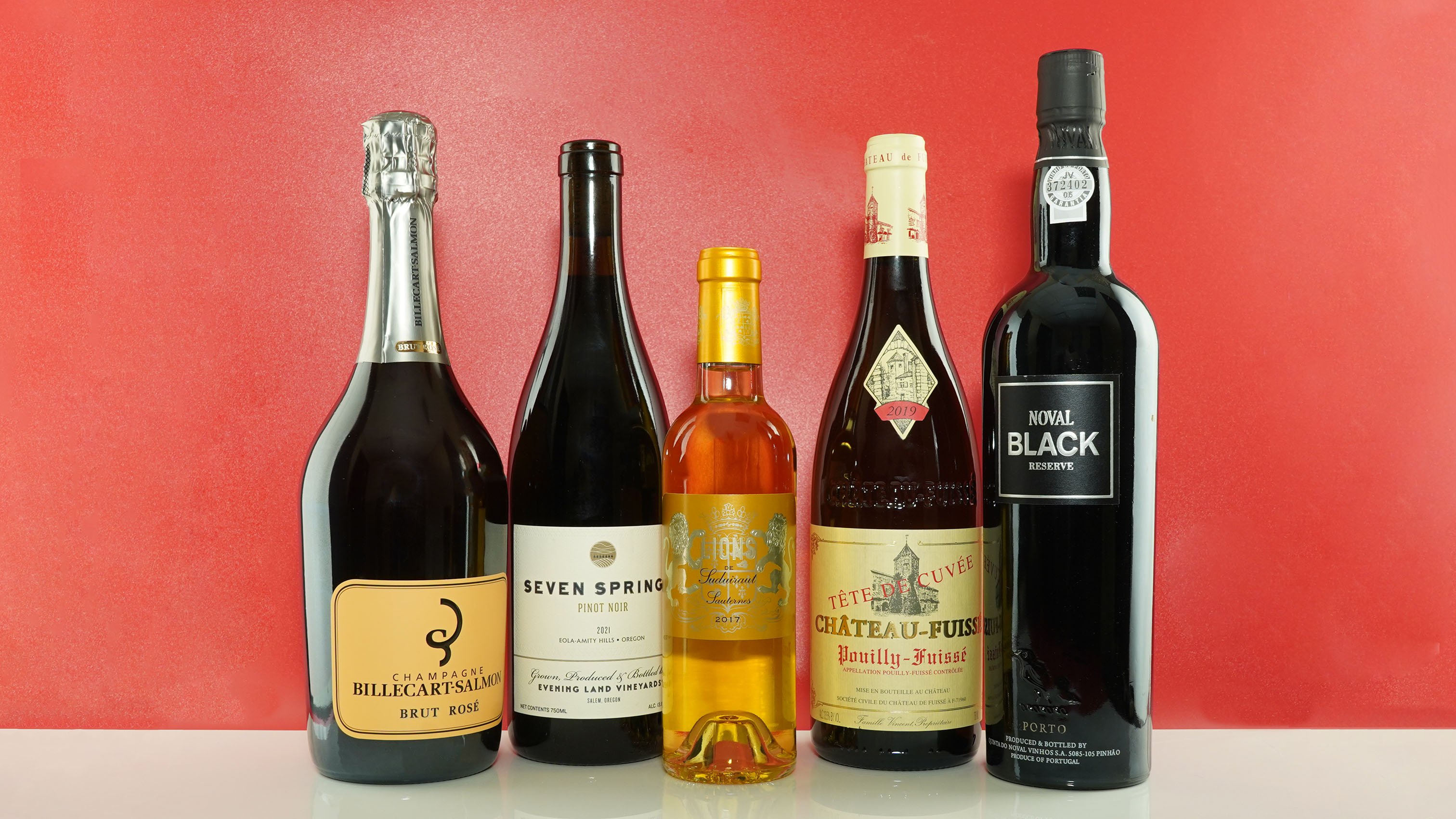 Valentine's Day is just around the corner. With thousands of wines in 45 Illinois locations Binny's Beverage Depot is your #1 go to source for all your Valentine's Day needs. Searching for a Rose Champagne? Hoping to find a red wine for the wine lover in your life, or the perfect dessert wine to enjoy with chocolate? Below are what we suggest to give as a gift or to share and savor with your beloved on Valentine's Day.
Rosé Champagne
A celebration calls for a bottle of sparkling wine. A celebration of love? A bottle of rose Champagne, of course! The best, such as the Billecart Salmon, Laurent Perrier's Cuvee Rose Brut, and Andre Clouet's Brut Rosé offer subtle red berry/citrus flavors (think pink grapefruit or blood orange), a more creamy texture than their lighter colored counterparts, AND an effervescence to match. A rare combination of color, texture and vivacity that is utterly sensual in its appeal, a sparkling rose is the ideal drink to celebrate with your valentine.
Dry Rosé
It's a tale as old as time: you prefer reds while your better half prefers whites. Happily for you two, dry rose wines happen to combine the best features of both. They're made by allowing the grape skins to impart more flavor and color to an otherwise clear juice, but only just long enough to absorb a little bit of all that stuff that makes a red wine a true red. Our suggestion? The Whispering Angel Rosé. Its ethereal floral aromas and heavenly orchard fruit flavors are the perfect prelude for a night of romance.
Chardonnay
A full-bodied chardonnay is more than any other white varietal a physical experience and one to be shared and savored with your loved one! A good village wine from a stellar producer like Louis Jadot's Meursault Les Tillets or Bernard Moreau's Chassagne-Montrachet are sure bets, as are the Pouilly-Fuisse wines from Chateau Fuisse and Domaine Ferret. But don't forget California, a go to source for world class chards. Full-bodied, with tropical notes, citrus hints, and a mineral driven finish that doesn't seem to end - a California chardonnay like those from Sandhi is one of the wine world's greatest shared pleasures.
Pinot Noir
What would a Valentine's Day List of Wines be without pinot noir? Alluringly aromatic and brimming over with vibrant cherry notes and exotic baking spices, a finely crafted pinot noir is silky seduction in a bottle. The reds of Burgundy are the benchmark - especially this silky Chambolle-Musigny from Louis Jadot, this aromatic Volnay from Bouchard Pere et Fils, or this vivacious Marsannay from Domaine Bart. Those from the New World can be just as riveting - an Oregon pinot like the Evening Land Seven Springs or a New Zealand pinot like Greywacke can stop you in your tracks. And coastal California pinots like the Flowers or Talley Vineyards are fast becoming a great source of heady, perfumed pinots. A fine pinot noir is guaranteed to be love at first sip.
Port
What would a romantic meal and evening be without port? Supe-ripe, rich, and bursting with black fruit notes, exotic spices, and coffee/chocolate hints - port is one serious indulgence. Ruby ports such as the Noval Black are all about fruit flavors. Tawny ports like Taylor Fladgate's 10 year designation offer a mellow blend of baked fruit and spicy wood hints. And a young vintage port like Fonseca's is an altogether otherworldly experience not to be missed! Whatever style you choose, enjoy it with any chocolate dessert or even as dessert. It's the perfect end to a romantic meal - or the ideal philter for the night to come.
Sauternes
An explosion of orchard fruit flavors drizzled with honey and a squeeze of orange - all are telltale flavors of a fine Sauternes. Which requires a Herculean effort to make. Only a few sites in the world can yield fruit fit for wines like Sauternes. What's more, you must pass through the vines numerous times and harvest the fruit berry by berry just at the right moment. Yet for its enthusiasts the sweet wines of Sauternes are worth all the effort. A Sauternes is a labor of love, and a half-bottle of the Lions de Suduiraut will excite any palate.
Top Picks for Valentine's Day