Main Content Starts Here
The Best of 2022 - Barrel to Bottle Binny's Buyers' Picks pts. 1 & 2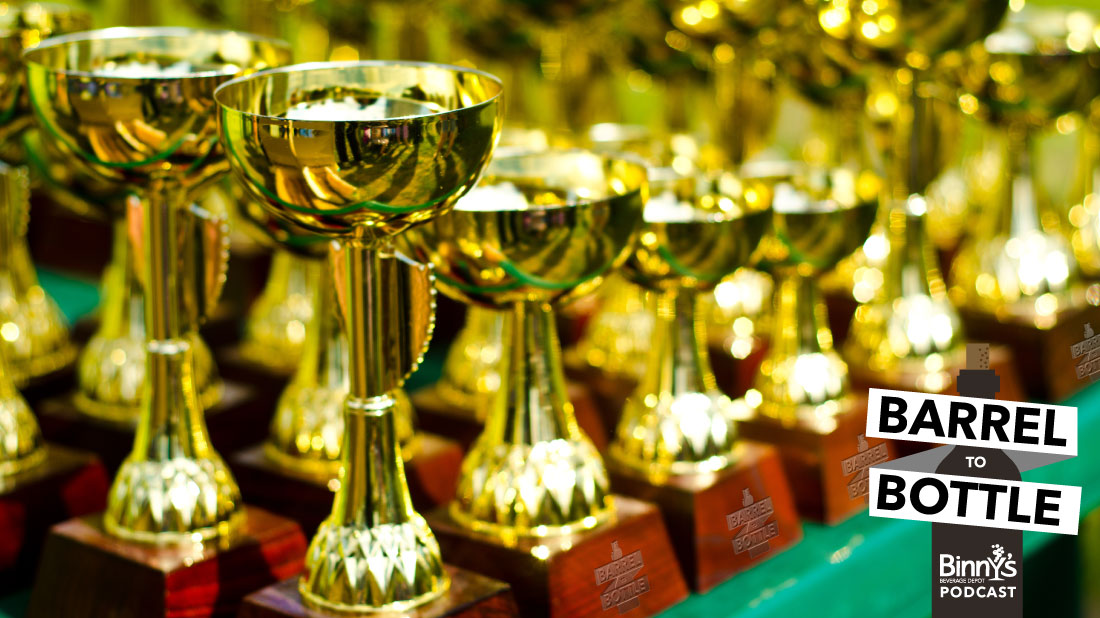 We're back with part two of our yearly Binny's Buyer's Picks episode.
part 2
Bill, Wine Buyer:
Alion, 2018 – Vega Sicilia makes this wine with grapes purchased from other vineyards, but they have their pick of whatever grapes they want. Vega Sicilia was the first winery in the Ribera Del Duero, even before it was a region. You could age this wine for ten years, but you could also enjoy it right now.
Clark & Sheffield 10 Year Old Tawny Port ­– This port comes from the Croft Port House and it's $19.99. That is an insane deal. The great thing about Tawny Port is that you can open the bottle and it will keep for at least a month, maybe longer in the fridge.
Mike Baba, Wine Buyer
Cliff Lede Claret 2019 – Cliff Lede offered this item as a Binny's Vineyard Direct wine, which came as a surprise. Clarets are a Bordeaux blend, with four of the five typical grapes. It's an elegant wine that pairs great with holiday food.
Mark Senal, Wine Buyer
Inspiration 1818 Brut by Billecart – True champagne at this price is not easy to find these days. Billecart is also usually about double this price. It's easy-drinking, but has the complexity you want in champagne.
Kyle, Beer Buyer
Goldfinger – Kyle's choice this year is not a beer but an entire brewery. He's been really impressed by what Goldfinger, out in Downers Grove, has been churning out. They're dedicated to only making lagers.
part 1
It's December, which means we're once again talking with Binny's category buyers about what they were most impressed with this year. These people taste everything, so this is the best of the best for 2022.
Jeff, Spirits Buyer:
Bardstown Bourbon Company Collaborative Series Goose Island BCBS Barrel Finished Bourbon – You don't see a lot of bourbon finished in stout barrels, usually because it sucks. Once a barrel gets emptied of beer, you need to get it to a distiller immediately. It helps that a 12-year-old bourbon is going into these barrels. Get this while you can. Another one of Jeff's favorites for the year was the St. Agrestis Negroni, a ready-to-drink cocktail. If you think about these high end RTDs as price-per-cocktail, it's a really good price.
Douglas, Beer Buyer:
Goose Island Bourbon County Brand Stout 2022 – Shockingly, Douglas is once again picking Bourbon County Stout. On the other hand, why wouldn't he pick it again? It's available and it's consistent. And now it's back in four packs. Honorable mentions for Douglas this year include the Eagle Park Ekto Cooler, which is an FMB. Its surprisingly good.
Barbara, Wine Director:
La Croix Ducru Beaucaillou Saint Julien 2019 – Barb probably tastes about 50 wines a week. That equates to roughly 2500 wines a year, so it's no surprise that she chose a Bordeaux. This is an impeccable wine, but another reason she chose it is because this isn't even the main wine this chateau produces.
Jack, Cigar Buyer:
Oliva Serie V 135th Anniversary – This one comes in a gorgeous, highly lacquered box. It looks like something Macallan would put out. It's a medium-bodied cigar, but if you're a regular smoker you might want to have a sugary beverage nearby while you smoke. A runner up for Jack is the Weller Cohiba, a cigar aged in Weller Barrels. It's tater bait, but it's also good.
Brett, Specialty Spirits Buyer:
Porchjam Distilling Cheramie Rum – Brett usually rolls in with a ton of picks but this year he only has one. Cheramie Rum is distilled in New Orleans. It is made with fresh cane sugar juice. It's picked, squeezed, and raced to New Orleans before it starts to ferment too much. It is essentially an Agricole rum but can't be called that. In addition to that though, Brett is really excited about consumer demand for non-additive tequilas. The Whiskey Hotline has been banging the drums on this for a while.
If you have a question for the Barrel to Bottle Crew, email us at comments@binnys.com, or reach out to us on Facebook, Twitter or Instagram. If we answer your question during a podcast, you'll get a $20 Binny's Gift Card!
If you like our podcast, subscribe wherever you download podcasts. Rate and review us on Apple Podcasts.