Main Content Starts Here
The Beer Buzz Hits the Road: Sierra Nevada Beer Camp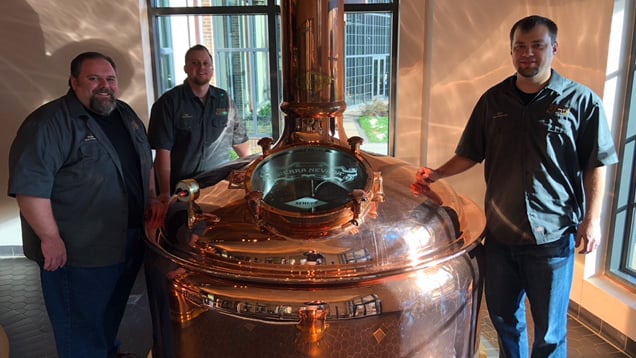 Back in 2014, the Binny's Beer Team had the pleasure of attending Sierra Nevada's Beer Camp #110 in Chico, designing a spicy IPA that came to be known as Ryeday the 13th. Fast forward to 2017, we were pumped to return to camp, this time in Mills River, North Carolina.

Sierra's Mills River campus is one of the most impressive we've ever seen and as we toured their expansive brewery, it quickly became clear that positive environmental impact was of the utmost importance. For their extensive efforts in environmentally conscious planning, Sierra's Mills River facility became the first production brewery in the U.S. to be Platinum LEED certified. Wanna learn more about what we saw on our tour? Click here.

As for designing a beer – three years and 100 beer camps later, IPA is still king. Our group was particularly interesting in the hazy New England variety, so we set our sites on designing one with a nod to the High Country. We took a trip to Riverbend Malt House in Asheville to select some locally grown and malted grain for our double IPA. After crunching a few kernels, we made our selections, including a particularly delicious heirloom rye.

As for hops, we were particularly interested in the tropical characteristics of newer experimental and Southern Hemisphere hops. (To up the tropical ante we decided to add some guava puree to the mix). Of the thousands of craft breweries in the United States, one of the things that sets Sierra Nevada apart is their commitment to whole leaf hops. Hop pellets and extracts are often a less expensive route, but Sierra remains a firm believer in the quality of these bulky bales. We tore into a bunch, rubbing cones between our hands to release resins. It was hard to narrow down our favorites, but in the end, we went with Simcoe, Strata, Idaho 7 and Nelson Sauvin.

With naming and labeling finally all ironed out, Sierra brewed up a fresh batch and sent it our way. The wait is finally over, the Hillz Have Haze has finally arrived. On draft now at our Lincoln Park Taproom –come give it a try and let us know what you think.

A big thank you to all the folks at Sierra Nevada and our fellow campers.

Cheers!
Sierra Nevada Beer Camp #210 – Hillz Have Haze!