Main Content Starts Here
Thanksgiving Pairings - Barrel to Bottle Talks Turkey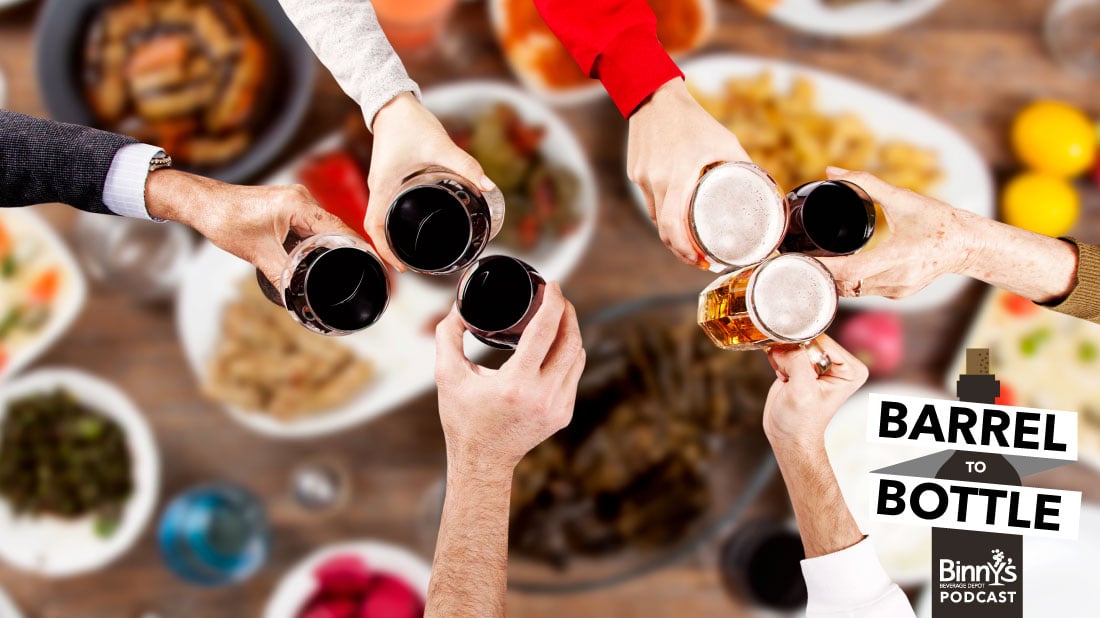 What are you drinking for Thanksgiving? We've got recommendations for spirits before, during and after dinner, beers that pair with a wide range of dishes and wines to pair with specific types of guests at your dinner table.
Every year, Pat is forced to try to pair spirits and food and this year is no different. But if you think about how much you're eating, you need something potent, and probably before dinner. Pat has recommendations for before, during and after dinner.
Check out Pat's Thanksgiving Picks:
Huber's Starlight Distillery Bourbon Finished in Armagnac Barrel #21-2315 Binny's Handpicked – Pat hasn't tried this one since the Whiskey Hotline picked it months ago. It has some mushroom earthiness, and of course mushrooms are a famous part of Gascony cuisine.
Huber's Starlight Distillery Bourbon Finished in PX Sherry Barrique #22-2060 Binny's Handpicked – We're moving in a different direction with a PX Sherry-finished bourbon. This would be great with many different pies and other deserts as PX is a little sweeter.
Riaz Oaxaca Cuishe Mezcal - A lot of Pat's suburban dad friends are smoking turkey for Thanksgiving this year, so thinking outside the box, the thought was to pair with a subtly smoky mezcal. Another option would be a pechuga mezcal.
Koval Cranberry Gin Liqueur – This is the most obvious, lay-up holiday pick of all time but that doesn't mean it's not great. We've talked about this one before, because it's excellent at the holidays.
Amaro Montenegro – It wouldn't be a Pat Brophy holiday special without amaro. Pat ONLY brought two in today. Montenegro is one of our best-selling Amari, it's a great starter amaro and you've probably seen it on the backbar of many bars and restaurants.
Cappelletti Amaro Alta Verde – This is an Alpine-style amaro, which means it's heavy on the wormwood. It's got a green/yellow tint to it. It's very bitter, but that's exactly what you need after a big meal.
Roger is thankful for Earl Grey tea and also, medical science. Greg is thankful for Roger pointing out all the West Coast IPAs that are back on shelves. Breweries are making them again.
Check out Roger's Thanksgiving Picks:
Allagash Tripel – This one pairs great with a lot of different vegetable dishes, specifically the classic green bean casserole. While this beer is 9% abv, it's also easy to drink and very effervescent. It's perfect for the rich dishes on Thanksgiving.
Allagash Curieux – This is the Tripel, aged in bourbon barrels and then blended with the fresh Tripel. It's not bourbon dominate though.
Schilling Excelsior Imperial Apple - Hard cider was a popular drink in colonial America. Apple trees were plentiful, it was easy to make, and the water wasn't always safe to drink. Hard cider is great on its own or mixed into a Stone Fence.
North Coast Old Stock Ale – Roger loves talking madeira whenever the topic of American holidays comes up. Old Stock is his pick because it's the madeira of beers. It has some madeira qualities; it pairs with everything on the table and it's something you can cellar.
Greg is thankful for listening to some wine people and trying pet nats. Alicia and Chris disagree, vehemently. They have four wines to specifically pair with the kind of drinkers you might have at Thanksgiving dinner.
Check out Chris and Alicia's Thanksgiving Picks:
Caruso e Minini Inzolia 2021 – This Sicilian white is fresh and easy-drinking. It's for grandma, and anyone else who doesn't drink expensive wines. There's a lot of fruit, along with mouth-watering acidity.
Anthill Farms Pinot Noir North Coast - This is a "Big Tent" expression of Pinot Noir, the classic Thanksgiving pairing. If you're only buying one red wine, this works perfectly for old and new world drinkers.
Ridge Geyersville 2020 - This wine is for that guest who comes with a bottle of wine and only drinks that wine; Silver Oak, Caymus etc…you can confidently give that person this wine and it's also much better.
Domaine Drouhin Pinot Noir Cuvee Laurene 2019 – This is Alicia's pick for the good wine that she's stashing under the table, then serving cheaper stuff to guests.
Dr H Thansich Bernkasteler Graben Riesling Spatlese 2019 – This is an 8% abv Riesling, which means relatively high residual sugar. It has a nice acidic balance though. If it's too sulphury, you can decant, and it will blow off. Chris does not stash wines; he usually treats his family to several very good Rieslings. It will go with both sweet and savory dishes.
If you have a question for the Barrel to Bottle Crew, email us at comments@binnys.com, or reach out to us on Facebook, Twitter or Instagram. If we answer your question during a podcast, you'll get a $20 Binny's Gift Card!
If you like our podcast, subscribe wherever you download podcasts. Rate and review us on Apple Podcasts.