Main Content Starts Here
Sweet on Moscato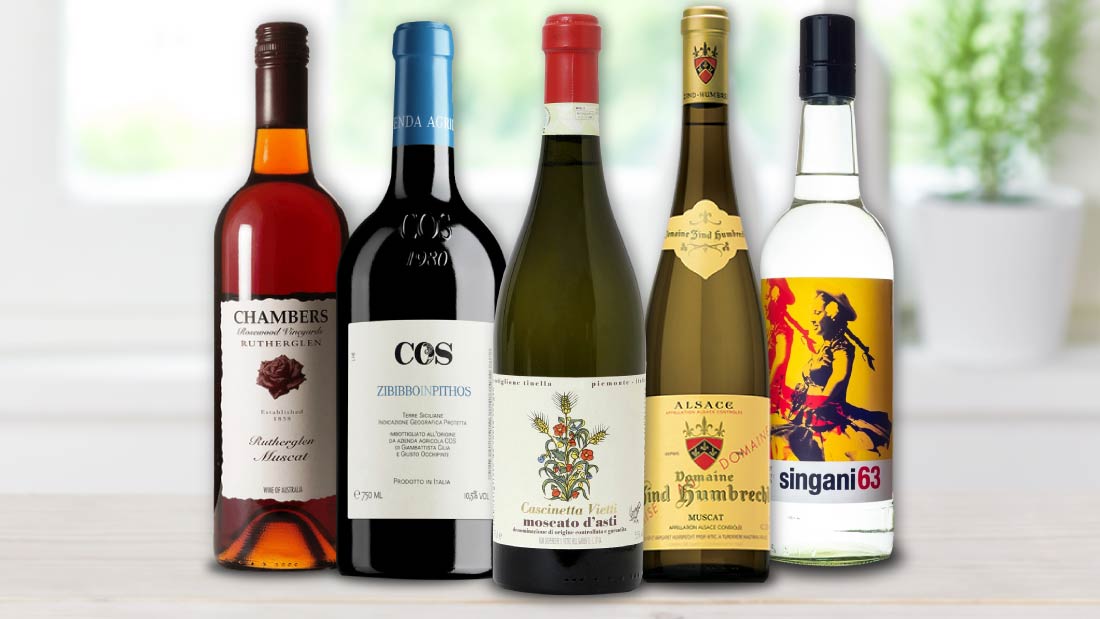 Off-dry, effervescent, and with bursts of exotic fruit notes and just a touch of alcohol, a Moscato wine is all about pleasure. Its telltale flavors of ripe peaches, orange zest, tangerines, and even rose petals are unmistakable even to the uninitiated. And that's undoubtedly its appeal - shamelessly overt, fragrant, and even heady, a Moscato is a flirt and a crowd pleaser. Inexpensive, everyday examples like Barefoot Moscato are easy to find, and are often a budding wine enthusiast's first sip of wine - it was the gateway drug for many seasoned wine enthusiasts. But the Muscat vine has travelled far and wide, with stunning examples both sweet and dry found throughout the world. If you're head over heels for Moscato, then give the following examples a try:
An Italian Classic
Crafted in northwestern Italy, a Moscato d'Asti is the model to which many producers aspire. Asti itself is a hilly region, offering crisp expressions from more high-altitude vineyards as well as richer, more weighty examples from the valley floors. Those from Vietti, one of the great estates of the Piedmont whose Barolo and Barbaresco wines sell for a small fortune, are an especially fine example, with finely etched flavors, a crisp texture, and a finish that seems to never end.
A Dry Run
Take a flight from Asti to Sicily and what you'll find is another take on Moscato. There, you'll find not only dessert wines made with Moscato but also a version fermented dry. Known as Zibibbo in Sicily, a dry Moscato will feel more weighty and full on the palate while revealing all the flavors that only Moscato can express. Made with organically cultivated fruit and fermented in amphorae, the COS Pithos is one of Italy's hidden gems.
Tres Chic
Sicily isn't the only source for dry Muscat. Those from Alsace can be riveting. For there the Vosges mountains, which run from north to south, act as a rain shield that prevents westerly storms from deluging Alsatian vineyards, leaving in turn a sunny setting for Muscat vines to yield super-ripe fruit. Domaine Zind-Humbrecht is one the world's finest estates, and their dry Muscat a world class example. It undergoes malo and aged on its lees - both impart richness onto the final wine.
A Decadent Treat from Down Under
From southeastern Australia, where the unforgivingly fierce summers would bake the fruit were it not for the cold air tumbling down the Victorian Alps in the evening - that respite of cool air helps preserve freshness and energy. Fermented to a point then fortified, the resulting wine is liquid gold, a mind-boggling balance of luxuriantly rich plum pudding flavors offset by orange citrus notes and a floral finish that leaves you wanting more. As for the price? Well, think of this as one of the wine world's most undervalued treasures.
The Very Essence of Muscat
We'd be remiss if we didn't mention distilled expressions of Muscat. From mountainous slopes in Bolivia, the Singani 63 is reminiscent of another South American spirit, pisco. But because it's distilled from Muscat, the Sungani is more fragrant, more aromatic, and more fruit driven. It likely would have remained a local sipper were it not for director Steven Soderbergh, who while directing a film in Bolivia, chanced upon a sample of Sungani and was so taken by it decided to import it into the United States.