Main Content Starts Here
Scotchy Scotch Scotch - Barrel to Bottle Tries Handpicked Scotch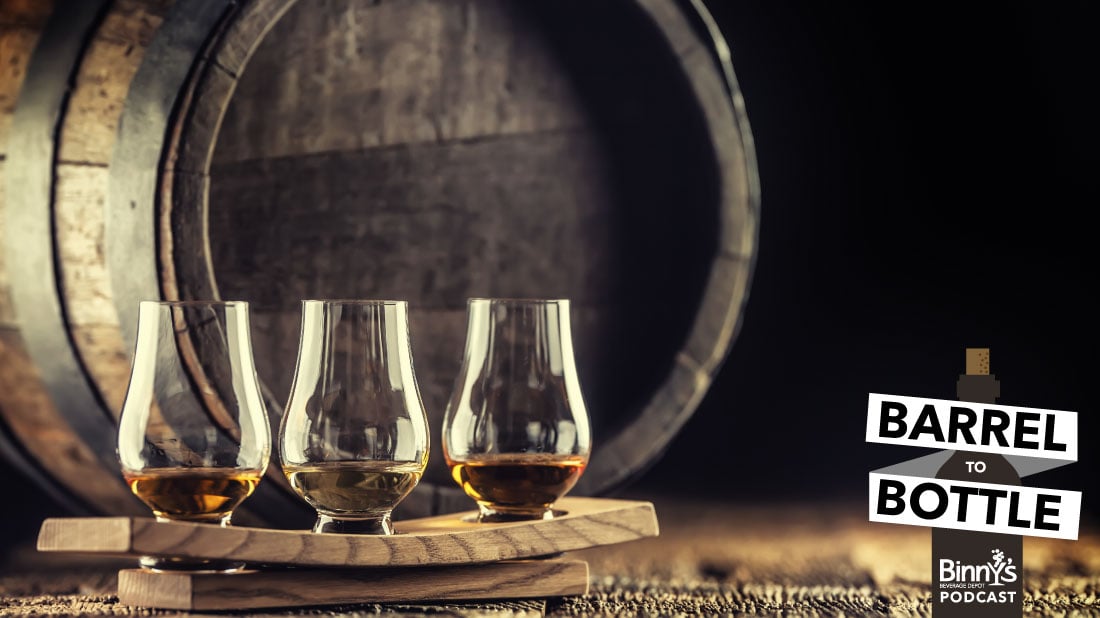 Pat loves Scotch. Scotchy Scotch Scotch. We haven't done an episode on Handpicked Scotches in a while, so to recap the process: Brett, and sometimes Pat and Joe, travel to Scotland once or twice a year and visit as many distilleries as possible every day. If it's at an independent bottler, the entire day is spent crawling around in barrel warehouses picking casks they want to try.
Binny's has carefully cultivated relationships with independent bottles going back nearly twenty years. What they taste in Scotland gets narrowed down to around 30 candidates. They sample those 30 samples again back home and then choose which casks they want to buy. Because of these relationships, Binny's gets access to some special stuff.
Drink along at home with the following Handpicked Scotches:
Signatory Mannochmore 11 year old Dechar/Rechar Hogshead # 7611 Binny's Handpicked 2010 – Mannochmore is exactly the type of distillery the Whiskey Hotline looks for, because it is otherwise not available in the US. It's likely aged in a bourbon hogshead based on color. The sweet honey flavors pop out right away, like honey drizzled fruit. It's fresh and lively but there's still barrel character.
Signatory Mortlach 14 year old Hogshead # 709084 Binny's Handpicked 2007 – Mortlach is a favorite of the Whiskey Hotline and we've sampled their 12-year on the podcast before. This could be a sherry hogshead, or mixed staves. Mortlach has some quirks in its distillation process; distilled 2.81 times due to varying still sizes, also partly distilled in the Wee Witchie and a Worm Tub condenser. Those quirks tend to make their whiskies meatier, but in this it's brighter and fruitier.
Signatory Pulteney 13 year old First Fill Bourbon Bourbon Barrel # 800114 Binny's Handpicked 2008 – Pulteney is known for their Maritime Malt, which will give it a little bit of salinity but it's pretty toned down in this particularly expression. There is still something here akin to salted caramel or saltwater taffy. It has a lot of wood, since it's aged in a first fill bourbon barrel.
Signatory Craigellachie 12 year old First Fill Bourbon # 306163 Barrel Binny's Handpicked 2009 – We've tried Craigellachie before on the podcast. It tends to be sulfuric because of the gas-fired kiln malts and the worm tub distillation. It's a viscous, unctuous whiskey.
Signatory Glenlivet 15 year old First Fill Sherry Butt # 900788 Binny's Handpicked 2006 – You can tell by just looking at this that it is not a typical barrel finish, it is much darker than anything we've tried so far today. There are a lot of classic, sherry-aged notes in this Scotch like sweet brown spice and leather. This is your grandfather's single malt.
Gordon & Macphail Tamdhu 25 year old Refill Hogshead # 6496 Binny's Handpicked 1996 – This was matured in a refilled sherry hogshead. It smells like an old, sherried whiskey. Because it was a refilled sherry hogshead, it is not one-dimensional. This is complex and elegant but not precious. It's 25 years old and only $300. A bottle of 25-year-old from another distillery would cost 10 times that amount. This is a steal.
Signatory Whitlaw 8 year old Refill Sherry Finishing Butt # 108 Binny's Handpicked 2013 – Whitlaw is the name for casks that Highland Park sells to independent bottlers. We're getting into the peaty whiskies now, but this one is very subtle. Highland Park peats their whiskey, but not all the malt they use is peated. The peaty here is more earthy than smoky. Don't dismiss this one just because it's not as old as the other bottles today.
Benromach 9 year old First Fill Sherry Hogshead # 719 Binny's Handpicked 2011 – This is one of two Benromachs, which are Original Bottler picks. That means they're bottled at the distillery by the distillery. Benromach's goal was to make Speyside single malts as you would have found in the 50s and 60s. There are a lot of different ways to make sherry, which means sherry barrels can impart many different flavors. Unless otherwise noted, it's usually Oloroso though. There's more peat here, but still not a lot.
Benromach 11 year old First Fill Bourbon Barrel # 595 Binny's Handpicked 2010 – Peaty Scotches will lose their peat concertation the more they age. So cask will have a lot of influence on the finished product. This is more of a classic Benromach; earthy and fruity but not as sweet.
Signatory Staoisha (Heavily Peated Bunnahabhain) 7 year old Dechar Rechar Hogshead # 10770 Binny's Handpicked 2014 – Bunnahabhain is famously one of the two Islay distilleries that does not peat their whiskies. They peat some of their blended Scotch that goes to Spain but not the US. Anything that says "Staoisha" or some other goofy Gaelic name means it's heavily-peated. This is more of a classic peated Scotch.
If you have a question for the Barrel to Bottle Crew, email us at comments@binnys.com, or reach out to us on Facebook, Twitter or Instagram. If we answer your question during a podcast, you'll get a $20 Binny's Gift Card!
If you like our podcast, subscribe wherever you download podcasts. Rate and review us on Apple Podcasts.