Main Content Starts Here
Rosé Wines - Barrel to Bottle: Rosés For All Seasons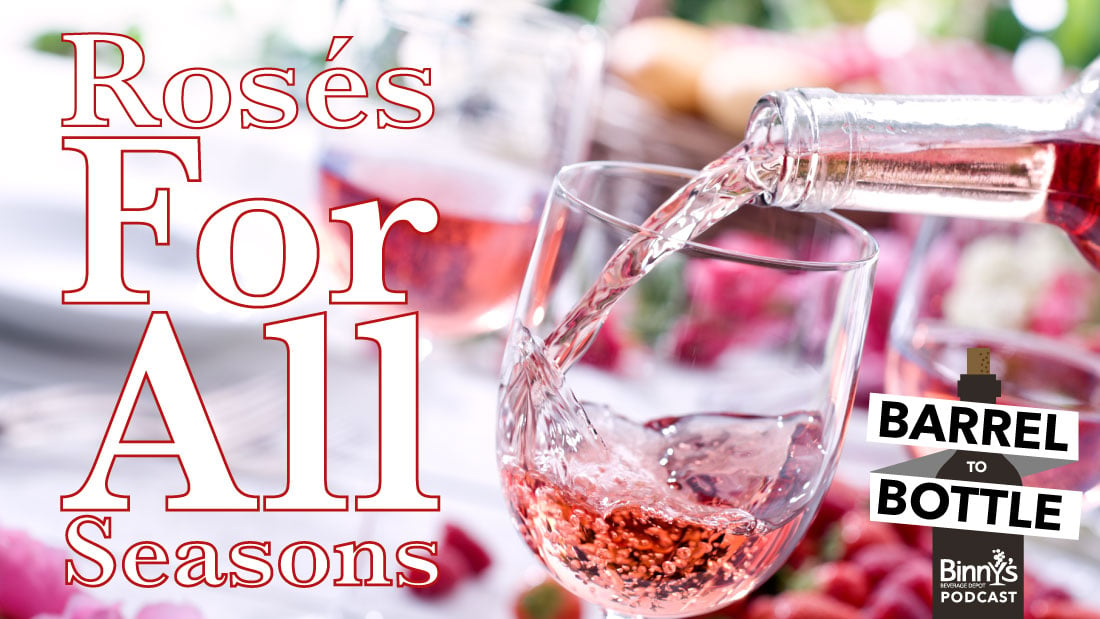 Rosés are popular, in fact they're one of our most popular items. They're often gone before you know it. Some people drink Rosés year-round, while some prefer to drink them when they weather gets warmer. Lincoln Park wine manager Gabe is back with four bottles of Rosé and a box. Out of spite, he selected Rosé because Alicia is not a fan.
Gabe likes Rosés year-round because they deliver everything. They're usually low in alcohol and quaffable but sometimes they're fruity and sometimes they aren't. Sometimes there's acidity, sometimes there isn't. We have Rosés from all over the world, except California.
First up is a boxed Rosé. We proved a while back that there are some great boxed wines out there.
Quadrum Rosé 2021
was a wine Jenna wanted to do for our boxed wine episode, but it was not in stock at the time. Not only is this a good wine, but it's also an incredible deal at $17.99 for the equivalent of four bottles.
Cuvelier Los Andes is a 100% Malbec Rosé coming from Argentina. This winery has more French influence in their wines, especially in their Rosé. It's lighter and fainter but it's still very intense and structured.
Guigal is a favorite producer at Binny's because they offer the entire breadth of the Rhone. Their Rosé is usually grenache forward and probably from older vines than anything else we've had today. More and more well-established wineries have started making vineyard decisions specifically for Rosés. They're no longer just accidents or run-offs that are fermented into Rosé.
Gabe selected the Ravines Rosé because it's from the Finger Lakes region. It was a clever mind game because Alicia is from that area of New York. This wine sees four hours of gentle skin contact and unlike the other wines, is aged on fine lees for about six months.
Provence-style is a phrase that gets kicked around a lot in wine. So, what is a Provence-style Rosé? Typically, it's light in color, not a lot of tannins and a little more acidity. But you can also have Rosés that are more fruit-forward. Domaine Ott is one of the icons of Provence. If you're looking for ultra-premium Rosés, it's Domain Ott.
The Rose section at your local Binny's will be changing daily in May and June. More from France, Spain and the Willamette will be arriving throughout the next few weeks. Most of them are meant to be drank now, but there are 2020s and 2019s that are still fresh and delicious.
If you have a question for the Barrel to Bottle Crew, email us at comments@binnys.com, or reach out to us on Facebook, Twitter or Instagram. If we answer your question during a podcast, you'll get a $20 Binny's Gift Card!
If you like our podcast, subscribe wherever you download podcasts. Rate and review us on Apple Podcasts.