Main Content Starts Here
Confessions of a Mixologist: Rattle Skull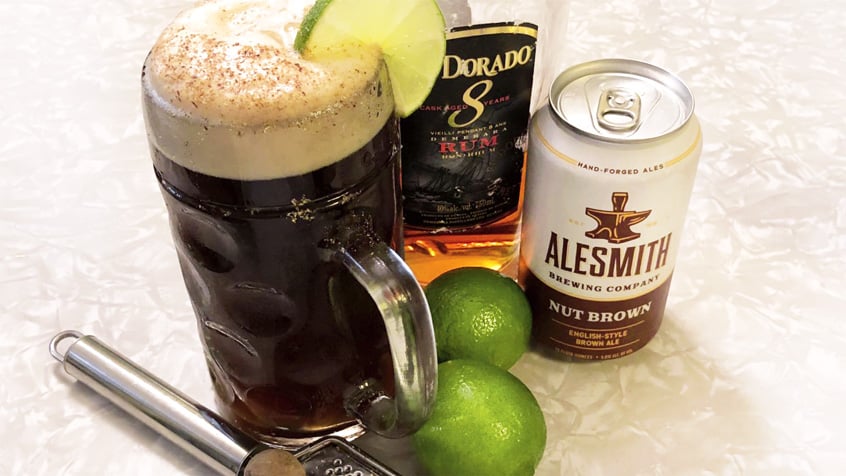 Beer cocktails don't get much attention these days. Probably because craft beer has morphed into an adjunct-laden playground where new releases are already tantamount to a cocktail, straight out of the bottle. The Rattle Skull really has no pre-made corollary and is certainly worth whipping up on a cool autumn or winter's night. Consider employing it as a welcoming cocktail for your beer loving friends over the holiday season (it's great way to kick off Thanksgiving) or as the perfect nightcap to enjoy by a cozy, comforting fire. This is old school, potent and packed with rich warming flavors. It always elicits raves from craft beer and cocktail fans alike.
Rattle Skull
INGREDIENTS:
SIMPLE STEPS:
In a large beer mug or Nonic pint glass combine rum, lime juice and simple syrup. Stir. Top with beer poured down the middle of the glass to create a big, fluffy head. Quickly grate nutmeg (in desired quantity, I like a hefty dose) over the head while it is in full bloom garnish with lime wheel. Serve immediately. Repeat if you dare. Skull rattling guaranteed.
Simple Syrup
INGREDIENTS:
1 cup natural brown sugar such as Muscovado or Demerara

1 cup water
SIMPLE STEPS:
Combine water and sugar in a small saucepan. Bring to a boil. Remove from heat and cool. This will supply plenty of syrup for many a Rattle Skull. If you have extra put it in a jar and store it in the fridge for future use.