Main Content Starts Here
Pepper & Egg Sandwich: A Chicago Classic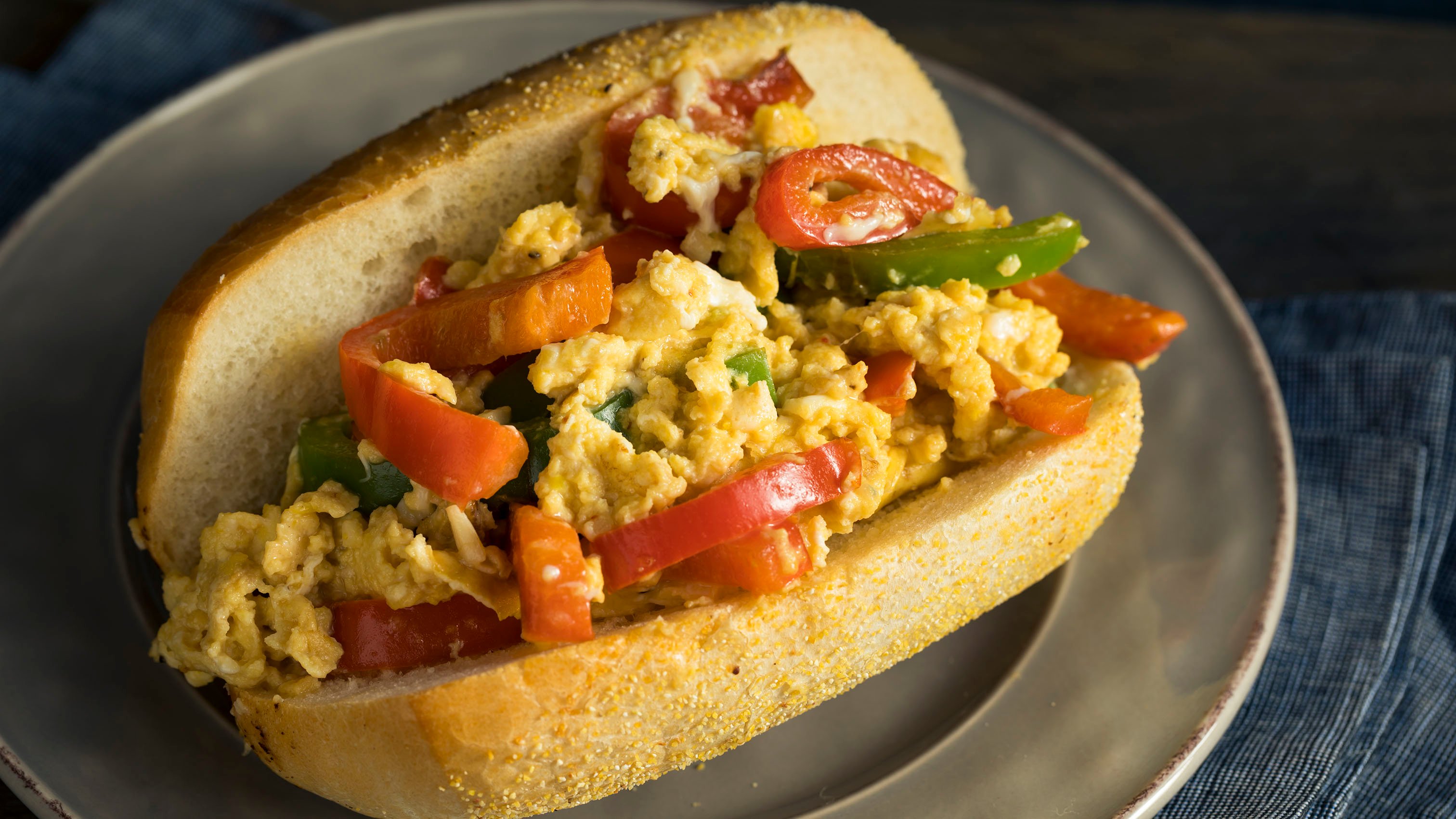 'The pepper and egg sandwich is a simple pleasure that has deep roots in Chicago's Catholic community. It appears on the menus of hot dog and Italian beef stands as a meatless Friday special every spring during lent. This hardly seems like a food of deprivation, nor does a skillfully batter dipped and fried cod sandwich, although perhaps it is when up against a monster sized and soaking wet Italian beef. But the humble ingredients and fast, easy preparation of this Chicago mainstay belie the richness and depth of flavor that can be achieved with a couple of eggs and a crisp green bell pepper.
Not to mention the immense latitude modern Lenten rules afford observant diners. One can stay within accepted parameters even when choosing to add mounds of shredded mozzarella, cheddar or provolone or spooning on sinfully piquant giardiniera (another deeply engrained culinary love affair of Chicago's).
And how about this headscratcher for the uninitiated – You can have these meatless delights dipped in beef jus, just like you might a good old Italian beef, without so much as raising a priestly eyebrow, or so we are told. That is a pretty wide berth (dare we say a loophole big enough to drive the Popemobile through), but apparently, meat juices and gravies are approved despite being tantamount to and derived from meat. Go figure!
We suppose this is the kind of thing that should be greedily accepted rather than questioned. Afterall this is one of those years when St. Patrick's Day falls on a Friday. Under these circumstances the meatless decree can be waved in favor of wolfing down mounds of corned beef and cabbage. Who would question that?
Be that as it may, there are no rules restricting the consumption of these hearty and nourishing sandwiches to a certain day of the week or time of year, for that matter. Yes, it's nice to look forward to their traditional season but the fact is, you don't have to wait for restaurants to offer them, since they are so easy to make at home.
They can be whipped up in no time for a tasty breakfast or satisfying lunch anytime. They are simple perfection in their basic form but as mentioned above, they can be embellished - red pepper flake and maybe even some grated parmesan stirred into the egg is great, top with the melty cheese of your choice and run it under the broiler, add spicy, crunchy giardiniera or even give it a dip in beef jus. Whatever you do, take time to enjoy this Italian/American classic – a Chicago classic.
Try with classic Czech or German Pils, sparkling wines or sauvignon blanc.
Makes 2 sandwiches.
Pepper & Egg Sandwich
INGREDIENTS:
1 tablespoon olive oil
1 green bell pepper, cut into ½" strips
salt, to taste
freshly ground black pepper, to taste
2 cloves garlic, minced
½ tsp. dried oregano
red pepper flakes (optional)
1 tbs unsalted butter
4 large eggs
2 tbsp heavy cream
2 French rolls or 2 five-inch pieces of French bread, split for a hinged sandwich
⅔ cup shredded mozzarella (optional)
Hot giardiniera (optional)
DIRECTIONS:
Heat olive oil in a medium skillet over medium heat. Add peppers. Season with salt and pepper to taste. Sauté for 8 minutes, stirring occasionally, until tender. Add garlic and oregano, sauté another 2 minutes until garlic is fragrant and soft.
If you want to add mozzarella, preheat a broiler while the peppers are cooking.
Turn heat under skillet to low. Whisk together eggs and cream, season with salt and pepper to taste. Add a pinch of red pepper flakes (if using).
Melt butter in the pan with peppers, add egg mixture. Let eggs set for about 30 seconds, then stir scraping up large curds of egg from the bottom. Repeat forming large fluffy curds until eggs are mostly set but still glisten with moisture.
Divide pepper and eggs between the rolls and serve immediately with giardiniera, if desired.
If adding cheese, top each sandwich with 1/3 cup of shredded mozzarella. Place on a sheet pan and broil until cheese is melted.