Main Content Starts Here
New and Exciting IPAs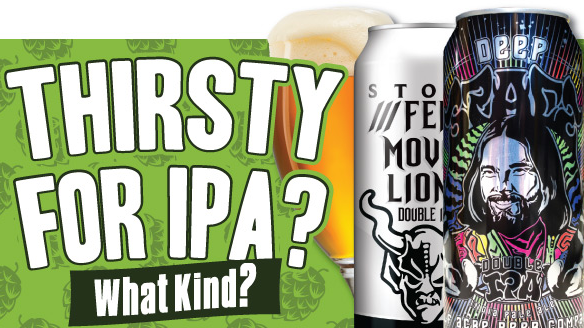 The relentless wave of IPAs keeps rolling in. Session, Sour, Double, Hazy, New England, Milkshake… we make sense of all the haze and call out our favorites. This week we're excited to announce the return of a local classic, along with two fresh new faces.
Here's an IPA you don't see every day. A period of conditioning with white oak spirals transforms Cigar City's Jai Alai into an IPA like no other. The nose is piney and herbaceous, accented by hints of vanilla and coconut. Surprisingly soft on the palate, the spirals impart an intriguing dichotomy of sweet vanilla bean and bold oak tannin. A treasured stand out in the IPA scene – grab it quick before it's gone.
One of our favorites from Half Acre is finally back! Deep Space is the amped up imperial version of their taproom classic - Space IPA. A solid malt backbone imparts a touch of caramel sweetness, keeping its massive 10% ABV well hidden. Super fruity with notes of lemon, strawberry, peach and pine. A resinous delight.
Wondering where this DIPA was born and brewed? You can pinpoint it exactly with three words - ///fear.movie.lions Stone's favorite new hop (Loral) is back again, imparting its signature floral herbaceousness to both the aroma and finish. Mosaic hops add a touch of tropical juiciness to the mix, but in the end, this hazy DIPA concludes with a long dry finish. Inspired by the hazy IPAs of the East Coast, this might be unfiltered, but it's still got some West Coast teeth.
Brickstone's entry into the hazy game is a strong one. Haz'D Juice bursts with tropical aromas - with pronounced mango, papaya and tangerine. Citra, Mosaic and Huell Melon deliver big juicy fruit across the palate, with bright grapefruit and guava taking the lead. The finish is soft and fruity, with notes of passionfruit and honeydew melon.