Main Content Starts Here
New & Notable: A Dazzling Dozen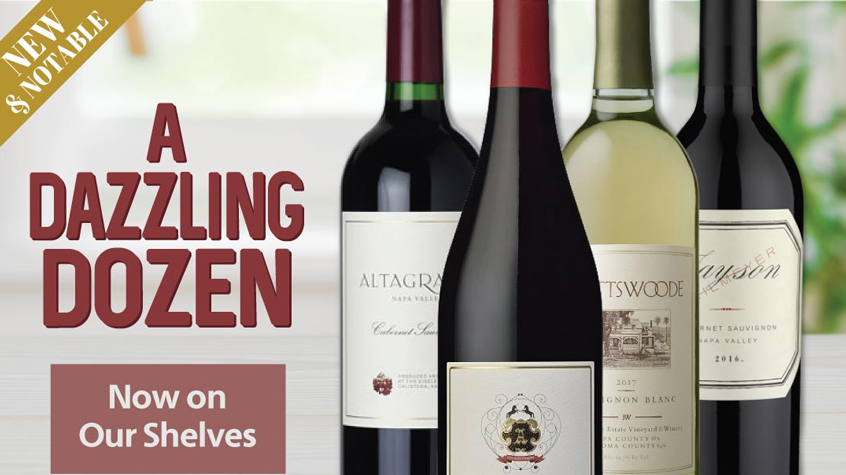 Every day our buyers are tasting with winemakers and deciding which wines to stock on our shelves. Only the best bottles make the cut. Below are a dozen delicious new arrivals. All are Binny's approved and ready to enjoy!
2015 Maison les Alexandrins Crozes Hermitage
Another winner from one of the Rhone Valley's rising stars. Maison les Alexandrins is a joint venture owned by Rhone Valley royalty - the Perrin Family of Beaucastel fame and Nicolas Jaboulet of the venerable estate now owned by the Frey family. This happy marriage gave birth to the 2015 Crozes Hermitage, a syrah based red bursting with fruit, exotic spices, and a long lavender finish. This is a classic Northern Rhone red in the making.
2016 Casa Castillo Vino de Finca
A muscular yet polished red that sells for half of what it's worth. Comprised largely of fruit sourced from old-vine mourvedre, the 2016 Vino Finca is a densely flavored red that somehow displays an uncommon grace and poise found in more refined reds. Whole cluster fermentation with natural yeasts is a more costly and time consuming Burgundian technique that encourages more vibrant and fresh flavors - which you'll definitely find in this bottle.
2015 Felsina Berardenga Chianti Classico Riserva
A staff favorite and perennial best seller. Felsina is without question one of Italy's finest estates. Unlike their neighbors who chose to blend cab and merlot into their Chiantis, Felsina focused primarily on sangiovese. It was an expensive decision that would bear fruit only after years of patience. This 2015 red proves that they made the right choice. Tart cherries, savor tobacco, and exotic spice notes mark this red as a benchmark of its type.
2017 Spottswoode Sauvignon Blanc
A sumptuous yet vibrant sauvignon blanc whose grace is matched only by its ripe orchard fruit notes. Reminiscent of a top notch Bordeaux Blanc (Chateau Haut Brion???), the 2017 Spottswoode sauvignon blanc is fast gaining cult status. No surprise - made by the same team that crafts the Napa cult wine Spottswoode Cabernet Sauvignon, this sauvignon blanc somehow combines the honey richness of a grand cru chard with the racy energy of a top notch Sancerre.
2014 Paitin Barbaresco Sori Paitin
An alluringly aromatic red crafted by one of Italy's upcoming estates. Barbaresco is one of the world's greatest wine regions. Because of its warm sandy soils and cooler climate, a Barbaresco wine often offers a more perfumed nose than even Barolo. Red cherries, exotic spices, fine tobacco, and the alluring scent of rose petals - you'll find all in this stunning red.
2015 Famille Perrin Gigondas Clos des Tourelles
A top notch Gigondas from one of the southern Rhone's newest ventures. Famille Perrin is a dreamteam of the Perrin family of Beaucastel fame and Nicolas Jaboulet of the venerable northern Rhone estate Domaine Jaboulet. This dynamic duo work their magic on clusters sourced from Gigondas, the source for some of the most fragrant expressions of grenache. The 2015 Clos des Tourelles is a hallmark example: vibrant red fruit, lavender and violet hints, with baking spices in the finish. A silky, sexy red.
2016 Bouchard Pere & Fils Gevrey Chambertin
A savory pinot noir from one of Burgundy's greatest estates. Though they own one of the largest clutch of vineyards in all of Burgundy, Bouchard prefers more expensive, manual methods when crafting their wines. Their Gevrey Chambertin is textbook pinot - red orchard fruit, forest floor notes, with hints of spice and rose petals in the silky finish. A wild, sensuous red.
2016 Jayson Cabernet Sauvignon by Pahlmeyer
A California classic from one of Napa's first maverick producers. Despite a successful career in the law, Jayson Pahlmeyer decided instead to smuggle some contraband vines into Napa Valley and craft some cabernet sauvignon instead. Fortunately he wasn't caught, and his caper proved an enduring success. His 2016 Cabernet Sauvignon is yet another iconic Napa cab: bold black fruit framed by dark chocolate, with a savory tobacco note emerging in the long and luxuriant finish.
2016 Domaine de la Janasse Chateauneuf du Pape Chaupin
A monument to grenache. The sunny and windswept region known as Chateauneuf-du-Pape will test most varietals. Yet there stout and hardy vines of grenache often thrive for decades on end and even see 100 years of life. The 2016 Chaupin is crafted with fruit sourced from century old vines, and displays the purity and concentration of flavors that only old vine grenache can yield. Sinfully decadent.
2016 William Fevre Chablis Les Preuses
Undoubtedly the largest landowner in Chablis, and one of the appellation's top three estates. Restored to its former glory by the late Joseph Henriot, former CEO of LVMH, Fevre spares no expense in either the vineyards or the cellar. Their Chablis wines are benchmarks, steely and muscular chards infused with citrus and orchard fruit as well as herbal and mineral notes. The 2016 Preusus is a cellar treasure for the chard enthusiast. This is white wine at its finest.
2016 Bouchard Pere & Fils Meursault Genevrieres
A benchmark chardonnay from the largest landowner in Premier Cru Meursault Genevrieres. Bouchard Pere & Fils is one of Burgundy's largest and most dynamic operations. Yet Bouchard manages their collection of vineyards as a smaller domaine. The estate's gentle techniques in the cellar yield sumptuous yet vibrant chards like the 2016 Genevrieres, an opulent white bursting with honey notes and orchard fruit flavors. World class.
2015 Altagracia Cabernet Sauvignon by Araujo Estate
For many wine enthusiasts, vineyard site is all. And Napa's Eisele Vineyard is among the world's finest. A large measure of Altagracia's fruit is sourced from Eisele, which lends a concentration and intensity of flavors that only the finest vineyards can achieve. What's more, Frederic Engerer of Chateau Latour is involved with winemaking duties. This is a cult wine in the making, and one of Napa's Grand Cru wines.