Main Content Starts Here
Man, It's a Hot One - Barrel to Bottle Hot Sauce Pairings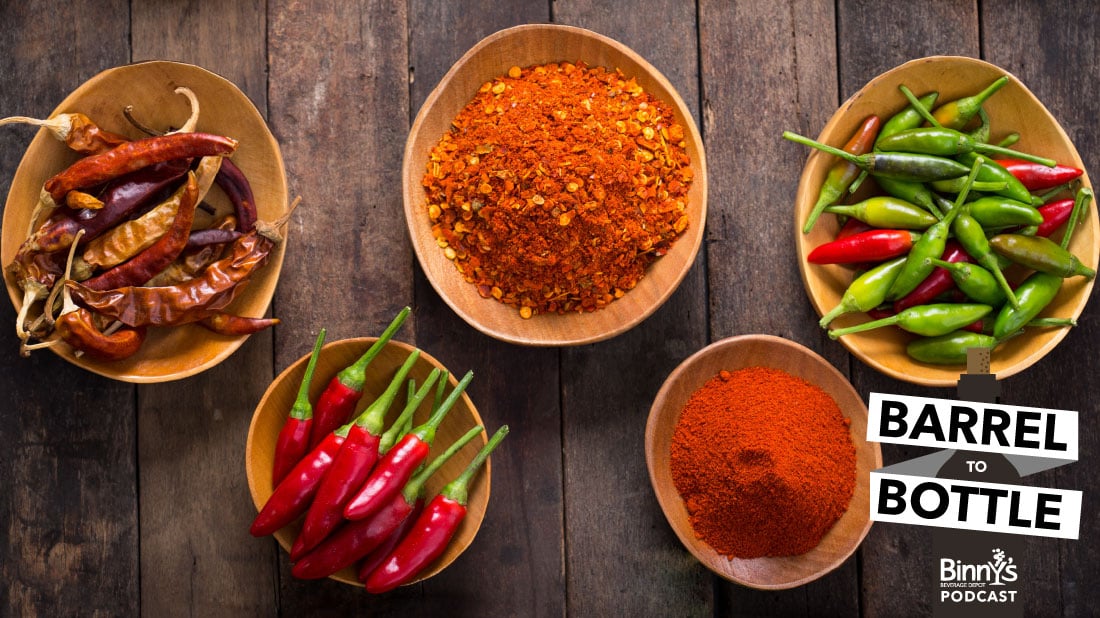 The Barrel to Bottle Crew has never shied away from spicy food, so it's kind of hard to believe it's taken us this long to do a hot sauce episode. Jenna recently attended a hot sauce festival, which Greg was prevented from going to by his significant other, and she brought back a slew of sauces, then added some of her own, along with one from producer Jim.
The plan is simple: crack open a selection of beers, wines and spirits and sample sauces from mild to hottest and attempt to find which, if any of these beverage alcohols pair with spicy, vinegary, fruity, garlicky hot sauces.
Avery's Island Rascal is a Belgian Wit with passionfruit. So it has tropical passionfruit but also orange and coriander. Vienna Lagers, like Roaring Table's, are similar to Oktoberfest beers but not quite as malty or heavy. They also pair great with food, especially Mexican food. Finally today, the classic Bell's Porter, which is not as hoppy as some other American porters and therefore ideal for spicy foods.
When you're pairing wine with spicy food, you usually go for white and off dry with just a little sweetness. We'll be pairing a Dry Creek Chenin Blanc from 2021. If you want a red wine to pair with spicy food, go for something fruity, light bodied and that you can chill like the Banshee Pinot Noir. The third option is a bubbly Brachetto-Moscato blend, Elio Perrone Bigaro. It has the sweetness to offset the spice.
Pat is not feeling this episode at all, so he brought a bunch of bull***t, specifically three amari. His first pairing is something he thinks might work, Mezcal. Vamanos Riendo undergoes three distillations, including one with fruit in the still. Pat wanted a token whiskey, so he went with Sweetens Cove, which is a blend of Kentucky and Tennessee whiskies. Finally from spirits, we've got three amari to choose from; Fernet Branca, Cappelletti Amaro Alta Verde and Barrel-Aged Malört.
If you have a question for the Barrel to Bottle Crew, email us at comments@binnys.com, or reach out to us on Facebook, Twitter or Instagram. If we answer your question during a podcast, you'll get a $20 Binny's Gift Card!
If you like our podcast, subscribe wherever you download podcasts. Rate and review us on Apple Podcasts.