Main Content Starts Here
Maker's Mark Private Select Barrel Release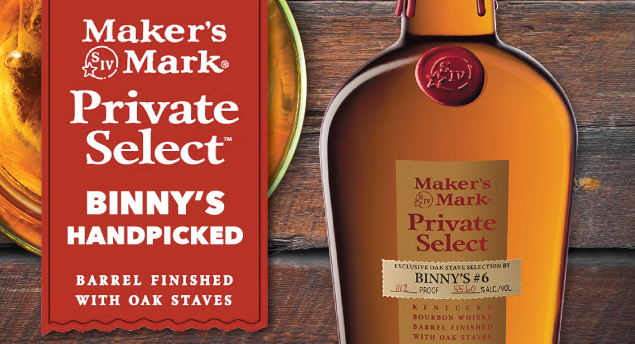 If one thing is certain here at Binny's, it's that we love our handpicks. We were delighted to hear that Maker's Mark introduced a Private Select Barrel program. The Whiskey Hotline immediately packed their bags and headed south.
Maker's Mark Distillery
Maker's Mark Distillery started production in 1954, releasing their first product in 1958. A unique mashbill using wheat rather than rye as its small grain, and a milling process that treats the wheat much more gently than typical milling, yields a round, sweet, soft yet rich bourbon of very high quality. This is what Maker's did exclusively for decades, one mashbill, one process, one aging regimen inconsistently produced barrels. Until 2011, that is, when Maker's Mark 46 was introduced. The concept here was to take base Maker's and introduce seared French oak staves to it as a finishing method. A great deal of experimentation took place to arrive at the correct combination of staves, time, and finishing temperature to reach what is now on the shelf. Other products such a bottled Mint Julep, a barrel strength bottling, a lower proof bottling and even white dog direct from the still have subsequently been introduced. And now Private Select.
Maker's Mark Private Select
Private Select is a riff on
Maker's 46
with additional staves added into the barrel of whiskey for several months as it finishes and bottled at barrel strength. Our process was pretty simple. Taste bourbons finished with all the stave variants, then combine them to craft a unique product, picking which staves would be included in the barrel while finishing.
Maker's 46 (46) uses French oak staves baked in an infrared oven, designed to add baking spice, vanilla, and a dried fruit character.
Baked American Oak (P2) is the only American oak used, baked in a conventional oven at low temps for a longer time period. This one is all about the vanilla, but nuanced, as there is a wood element that adds complexity to the vanilla sweetness.
Seared French Cuvee (Cu) is a grooved version of 46, baked in the same infrared oven but for a bit less time. The grooves add surface area promoting more wood exposure, and the edges of the grooves also cook more intensely. Again, vanilla is the focus here, but fatter and richer, butterscotch and caramel pop to mind, we also pulled citrus peel from these.
Roasted French Mocha (Mo) is another 46 variant, this time same stock seared at higher heat. It adds, well, mocha. This one is pretty straightforward, we also pick up light mint and black cherry.
Finally, Toasted French Spice (Sp) is a variant that utilized high temp conventional cooking, followed by low temp infrared searing. The intent here is to add an intense spice character and some amount of dryness not typical in Maker?s, we get a lot of cedar, tobacco, menthol, and some astringency.
Using these staves as a palette, time to begin making a private selection. Since we were able to pick two barrels, we chose to go in two different directions. Our first attempt yielded an extremely fat, sweet vanilla bomb (3-P2, 3-46, 2-Cu, 1-Mo, 1-Sp). We liked it but it was touch flabby, so we took out a 46 and replaced it with a Cu, and voila! Just enough extra complexity to the vanilla theme to make a winner - delicate and complex.
Congratulating ourselves on our high level of skill in quickly making a beautiful, soft unique Maker?s we assumed that our spicy variant would come at the same rapid pace. Not so fast. Building the spice selection really revealed the subtlety and complexity of the process. We?ve had experience creating Scotch blends so know the care with which aggressive components such as peated and heavily sherried whiskies need to be used to harness their character without letting them dominate. Mo and Sp proved to be these components. A number of attempts steered us towards the concept of creating a backbone of vanilla with P2, 46, and Cu upon which to add the spice and flavor of the two more aggressive components. Our second to last combo was 1-P2, 1-46, 2-Cu, and 3 & 3 on Mo and Sp. We were quite pleased with the outcome, a pushy, dry chocolatey, minty delight. Only concern was body was somewhat sacrificed for the aggressive spice. Wanting to keep this a riff on 46 rather than a complete deviation we took one last shot, trading out an Sp for an additional 46. This was a home run, just enough balance to carry the spice we were looking for but undoubtedly Maker?s.
Maker's Mark Binny's Private Select Barrel #37 Binny's Handpicked Batch #2
(3-P2, 3-46, 2-Cu, 1-Mo, 1-Sp)
Big fat, sweet vanilla brown sugar nose. Wheat in the background, but this really is a sweet vanilla bomb, plus corn, brown sugar and cherries. On the palate, this bourbon has a nice rich viscosity. Dark cherries on the tongue along with cinnamon spice and clove. A pleasant, complex and easy drinking bourbon.
Maker's Mark Binny's Private Select Barrel #38 Binny's Handpicked Batch# 6
(1-P2, 2-46, 2-Cu, 3-Mo, 2-Sp)
Cinnamon and clove, brown sugar and toffee jumping out of the glass. Big rich warm bourbon on the tongue, great texture. The spice is layered right up front in this bourbon, but the backbone is just as integral here. Fat rich toffee and cherry notes holding up the pleasant spice character in the bourbon. The finish is quite lengthy. Cinnamon, pepper, and anise ride highest here, but a pleasant sweetness lingers just beneath the surface.
Check out the Whiskey Hotline for updates on new whiskey, tastings, sales and more!