Main Content Starts Here
Libations for Thanksgiving!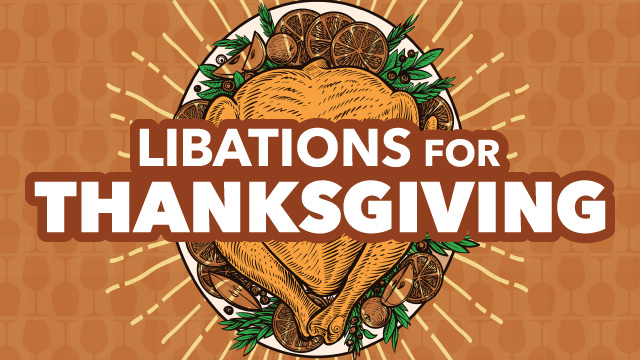 Thanksgiving dinner is a marathon of decadent dishes. We asked our Barrel to Bottle podcast team to curate a list of complimentary brews, spirits, and wines including some much needed palate refreshers. For a deeper dive, we paired each recommendation with a classic Barrel to Bottle podcast episode. Let's raise a glass to good eating, good drinking and a joyous Thanksgiving!
Laurent Perrier Cuvee Rose Brut NV
This has always been one of my favorite rose Champagnes ever since that fateful day I was introduced to Champagne. What's cool about Laurent Perrier is, not only are they the largest female and family controlled Champagne house, they are also in charge of Delamotte, Salon, De Castellane, and Oudinot. The Rose is produced through the saignee process, aged for a minimum of five years, and consistently pulls top scores from critics. Cooler still, the bottle is styled after the bottles of the 16th century. This is one of those amazing expressions of rose Champagne you can drink before, during, and after your Thanksgiving feast. I simply adore it, and I know you will, too.
Episode 14: Bring on the Fizz! A guide to Champagne
Our value sparkler. A creamy texture shows crisp green apples and lemon zest. Bone dry yet vibrantly expressive, this aperitif will surely whet the appetite. As flavorful as it is, this brut is enjoyable on its own. With such an outstanding price to quality ratio, this is the perfect sparkling wine for large gatherings as you can confidently buy a case without breaking the bank or worrying if you're skimping on quality.
Episode 60: Bubbles for the Holidays - or Anytime
From still to sparkling and from bone dry to decadently sweet, the wines of Vouvray offer a breadth of flavors matched by no other varietal. And the Pichot strikes a harmonious balance that is pitch perfect for your holiday meal! Its muscular texture acts as a foil to its orchard fruit rich flavors, leaving just a hint of sweetness on your palate that will match with anything on your holiday table, be it the roasted turkey or the savory sidies that we all love. Green apples, honey, peaches, and pineapples - this white has it all.
Episode 19: Terroir: How Wine and Spirits Take on the Personality of Their Origins
Domaine Lafage Tessellae Grenache Syrah Mourvedre
Listen, you don't want a ton of tannin or super heavy oak for a Thanksgiving meal. At least, I don't. That's why this GSM (Grenache, Syrah, Mourvedre) blend works so well, especially when Grenache is the main constituent to the blend. You want smoothness, elegance, and plenty of fruit; and this wine has it. The black fruit aromas are ripe and jammy, but not overly so. On the palate, it's round and rich, which works well with the heavier dishes usually found on the Thanksgiving table.
Episode 17: Wine About the Weather: Great Wines That Pair Perfectly with Winter Fare
On our most American of holidays you cannot go wrong with anything from sunny California. A decadent California red bursting at the seams is actually the perfect choice for your holiday table, where sweet and savory flavors are competing for your attention. And there is no other red more all-American than Zinfandel, which made a name for itself with its bold fruit flavors and spicy accents. The Clark and Sheffield Zin is a riveting example: blackberries, raspberries, black pepper, even chocolate
Episode 46: California Wine with Benziger and Concannon
This red blend is a knockout! A juicy, fruit forward blend crafted with grenache, syrah and mourvedre. Light bodied with a super-smooth structure that offers vibrant flavors of cherry, raspberry, and chocolate with a long, fresh finish. The perfect go-to red and a superb value.
Episode 46: California Wine with Benziger and Concannon
Even in cooler weather, gin can shine. Earl Grey tea is the star of the botanical show here, and the spicy floral quality it adds to FEW's citrusy gin gives the spirit depth and a touch of a savory character that pairs best with sweater weather. Just add lemon juice and honey syrup for a classic Bee's Knees.
Episode 25: the Wide World of Gin with Scofflaw's Danny Shapiro
Pierre Ferrand Reserve Double Cask
Proof that there are still great deals in Cognac! Ferrand Double Cask comes to us from the Grand Champagne cru, which produces delicate Cognacs that display extraordinary finesse. Sweet oak and dried apricots greet the nose, backed by a supple palate that doubles down on the dried fruits and finishes with a gentle oak spice. This Cognac is a blend of 10-20 year-old eaux de vie finished in a Banyuls cask. Hard to believe a Cognac of this age and complexity is only $75.
Episode 5: Meet Master Sommelier Fernando Beteta
Copper & Kings Northern Soul Apple Brandy Private Barrel Binny's Handpicked
Fall means orchard fruits, and this apple brandy delivers the goods. Aged in casks that previously held cider from Vander Mill in Michigan this is a smooth combination of ripe apple and soft oak spices. Sub it in for whiskey in any number of classics for a fall twist. We especially loved it in old fashioneds and mixed with a ginger beer from Fever Tree.
Episode 30: On the Road at World of Whiskies 2018
If you don't want to sink into the couch for hours after your Thanksgiving meal, give amaro a try for dessert! Amari are bittersweet Italian liqueurs traditionally consumed as a digestive aid. Montenegro is a medium style amaro, meaning it's not too bitter, too sweet, nor too heavy. Just right if you're starting down the path to pleasant digestion. Orange peel and vanilla are the dominant flavors with some vegetal notes, baking spices and gentian in there as well. Enjoy a glass on the rocks with a citrus twist. You'll be ready for round two, or three.
Episode 10: The Incredible Word of Mezcal
The flagship in Alaskan's award-winning portfolio of beers, this signature amber takes inspiration from a 19th Century Alaskan Gold Rush era brew. Rich and malt forward, but with just enough hops to keep things perfectly balanced. This remarkably food friendly brew will pair wonderfully with almost everything on the table. You can even try mixing a little into the gravy for some added depth of flavor.
Episode 16: Barleywine and a Cold Weather Beer Survival Guide
Light in body, yet high in alcohol, the best Belgian tripels are paradoxically both rich and refreshing. When it comes to tripels, Tripel Karmeliet is hard to beat. Estery and aromatic, its pillowy soft foam is floral and herbaceous, accentuating a fruity sweetness and spicy finish. It pairs wonderfully with salads and veggies, and its Champagne like effervescence leaves the palate fresh and clean.
Episode 11: Unraveling the Monks' Secrets to the Perfect Lambic Beer
Hazy/New England IPAs are often described as looking, smelling and tasting like orange juice. Deschutes Fresh Haze checks all those boxes. This isn't merely unfiltered Fresh Squeezed. Creamier, less bitter and showcasing a different lineup of hops (Mandarina, Amarillo and Simcoe) – it's hard to believe there's no actual fruit juice in this can. Its vibrant citrus flavor pairs especially well with cranberry relish and sweet potatoes.
Episode 4: Explaining Scarcity in Beer, New England IPA, and more...
How about a break from beer? Vander Mill uses handmade cinnamon roasted pecans and whole vanilla beans to create this one of a kind hard cider. Sweet spice and vanilla pair perfectly with bright apple notes, and the pecans impart some body and a subtle nuttiness on the finish. A perfect partner for any number of harvest dishes, especially sweet potatoes and pumpkin pie.
Episode 21: Move Over Beer, Cider is Here!
Brooklyn Black Chocolate Stout
Brooklyn's Black Chocolate Stout is a now iconic American take on Russian Imperial Stout. Jet black in color, its complex finish combines the flavors of dark fruit, roasted malts and rich dark chocolate. Brooklyn's brewmaster Garrett Oliver is revered for his masterful pairing of beer and food and he suggests you serve this decadent stout with chocolate desserts, ice cream and cheesecake. We think it also pairs quite nicely with a big slice of pecan pie.