Main Content Starts Here
August 29, 2018
Labor Day Wine Hot Deals!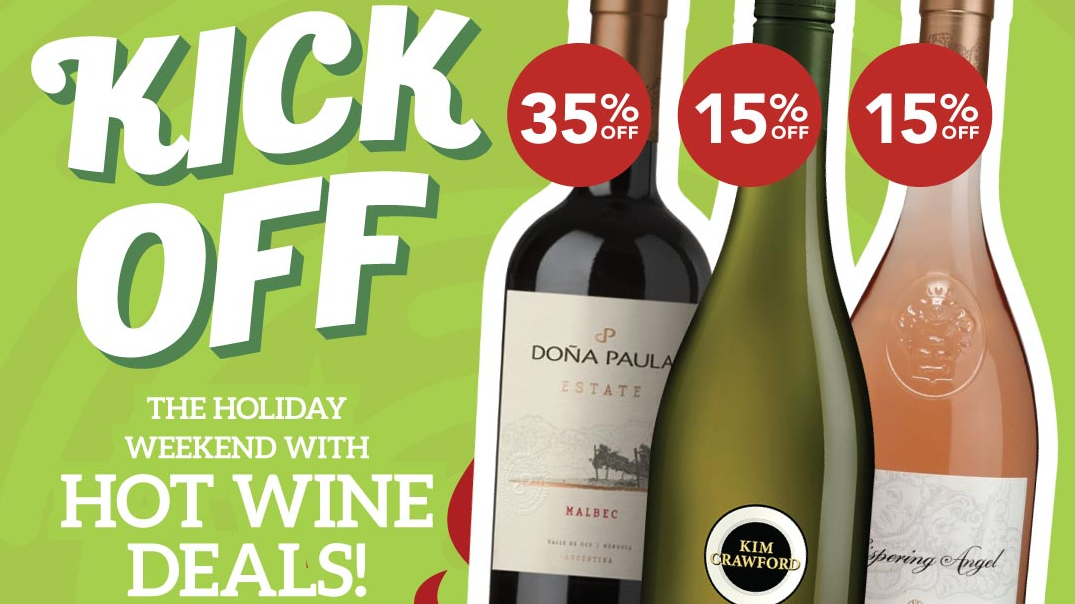 Football season is here and Labor Day is almost upon us. Kick off the holiday weekend and celebrate the fruits of your labor with today's offers, all hot deals from our Weekend Sale! Whether you're enjoying a meal fresh off the grill or just kicking back with something cool and refreshing, the wines below will add some sizzle to your Labor Day Weekend!
You can't go wrong this weekend with malbec, which many Argentines consider the ideal beverage to serve with asado, an assortment of grilled meats. A "vibrant and gloriously scented" fruit-driven red, the 2016 Dona Paula Malbec is a heavy hitter with "juicy black fruits and a balanced finish." Enjoy this with grilled meat drizzled with bbq sauce. Or on its own - its fruit driven flavors will delight any palate.
2017 Kim Crawford Sauvignon Blanc
For many enthusiasts, Kim Crawford is the very definition of white wine! And they wouldn't be off the mark, for Kim Crawford's sauvignon blanc is as classic as a sancerre from France, but for only a fraction of the price. Fresh, herbal, and focused on tart citrus flavors, this vibrant and smoky white is "full bodied and quite lush, with vibrant acidity on finish." This will shine with grilled vegetables and salad as well as on its own.
2017 Caves D'Esclans Whispering Angel Rosé
A perennial favorite, the Cave d'Esclans' Whispering Angel has it all! Crafted by Patrick Leacuteon, the former winemaker for First growth Mouton Rothschild, the 2017 Whispering Angel takes the best of both a seductive red wine and a vibrant white wine. "This is so lovely with the strawberry and cream character… but still shows flavorful notes of peaches and spices."