Main Content Starts Here
Goose Island Bourbon County Brand Stout 2018 - Your Sneak Peek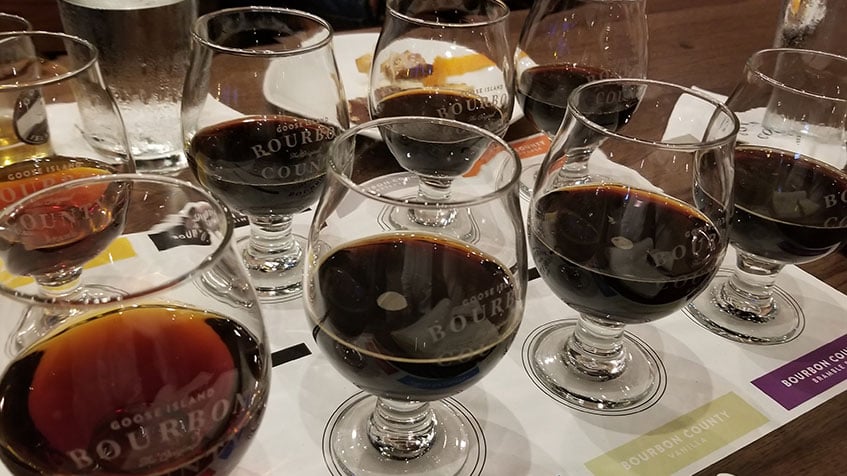 Goose Island invited us to stop by for a preview of the 2018 Bourbon County lineup. As per usual, they've created some incredible beers. It's going to be a long, anxious wait till Black Friday! Find all of the information you need on the
Goose Island Black Friday release here.
Bourbon County Brand Wheatwine
Take Bourbon County Barleywine's massive malt bill, strip it nearly bare, add some wheat and you're left with this curious new variant. Wheatwine is going to be a Bourbon drinkers favorite – showcasing a rich mélange of caramel, toffee and vanilla. Bourbon influence isn't subtle here, it's the star of the show. Undoubtedly people are going to consider aging this one, but if you appreciate bourbon as much as we do, you'll love it fresh. It is a BOURBON County offering after all…
Bourbon County Brand Stout
The classic continues to impress. Brewmaster Jarred Jankoski emphasized that this year's batches have been clocking in at over 15% ABV. A pair of possible explanations for the higher ABV include an improved mash filter and a greater emphasis on receiving the wettest barrels possible. This year's offering was brimming with chocolate and fig with an almond undercurrent. The finish was remarkably complex, with notes of toffee, molasses and cherry cordial.
Reserve Bourbon County Brand Stout
Oh the difference a barrel can make… Trying Reserve alongside classic BCBS is an absolute must. Last years Reserve featured Knob Creek barrels, and while it while it was a bit more oak forward and spirited, it wasn't miles apart from BCBS. This year's Reserve features 12 Year Elijah Craig barrels, and they took things to a whole different level. Nearly everything is amplified here, with a weighty delivery of dark chocolate and vanilla leading into an incredibly long and oak spiced finish. The complexity of flavor here, especially given the absence of adjuncts, is something special.
Bourbon County Brand Midnight Orange Stout
Ever cracked a Terry's Chocolate orange? That was the inspiration behind this unique variant. As Goose Island's Head of Brewing Innovation Mike Siegel emphasized, the key to nailing this citrus stout was sweet Spanish orange peels. Not just any, IQF (individual quick frozen) specifically processed to preserve all that beautiful citrus oil. Coupled with two different kinds of cocoa nibs, the end result brings to mind chocolate truffles dipped in orange liquor.
Bourbon County Brand Coffee Barleywine
Inspiration for this seemingly strange combination came back in 2013 when a coffee packed randall was accidentally hooked up to a keg of Barleywine instead of BCBS. Hooray for happy accidents! Goose Island traveled to Guatemala to obtain a very special blend which was then introduced in whole bean form to their "Dorothy" re-circulation tanks. It was then tasted at periodic intervals until the perfect infusion was achieved. Coffee flavor here is beautifully nuanced, producing subtly earthy and mocha tinged finish.
Proprietor's Bourbon County Brand Stout
This year's Proprietors release might seem pared down when compared to previous releases, but rest assured the end result was deliciously decadent. Once again Dorthy tank re-circulation was utilized to introduce chocolate and two different types of cocoa nibs to BCBS. How much chocolate? 12 pounds per barrel! Decadence delivered – this palate enrobing stout finishes surprisingly dry, with notes of espresso and spiced pecans.
Bourbon County Brand Vanilla Stout
Grade A Madagascar Vanilla beans, you're up! This year's take on Vanilla is a bold one. The nose screams vanilla, but once again the value of high-quality ingredients shines through here. Vanilla initially presents in a toasted marshmallow, with fruity and floral notes giving way to just a touch of earthiness on the finish.
Bourbon County Brand Bramble Rye Stout
Buckle up and get ready for a massive wave of raspberries and blackberries. Goose might have pushed this one just a touch too far, but given how fresh it is, perhaps with some time the BCBS base will peak out a bit more from this berry blanket. It's still a very interesting concoction – think old fashioned with a splash of blackberry liquor. Fans of rich fruited meads are going to love this one.