Main Content Starts Here
Gold Medal Greatness - Tasting Barrels At Odd Side Ales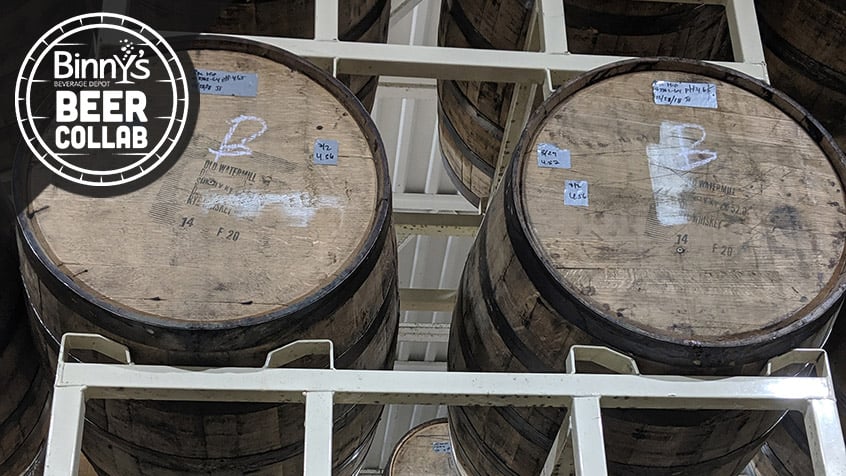 In 2017 Odd Side Ales took home Gold in the Specialty Ale category at GABF for their Sweet Potato Soufflé Rye Ale. In 2019 they did it again, this time for Rye Hipster Brunch Stout, a treasured release that took Silver in 2017. When Odd Side invited us up to Grand Haven to taste through this year's barrels, we jumped at the chance. Odd Side Ales' barrel aging room is quite a sight to see. In this massive, climate-controlled space, a variety of barrels lay resting peacefully - bourbon, rye, tequila, rum, wine… but on this particular visit we had our eyes on the rye.
As we sampled our ways through this year's batch of Rye Hipster barrels, those that made the cut were chalked with a B. To be honest, there wasn't a bad barrel in the batch, just some that we felt were especially exceptional.
Odd Side's cellarman Jared Faubert keeps a watchful eye on this precious stock. In addition to periodically tasting barrels, he pulls samples for their lab to take and record pH readings. This extra preventative step helps identify barrels that might warrant further QC lab testing prior to blending and bottling.
While we were there, we also got to sample two upcoming collaborative projects that we have in the works – Bourbon Baller Stout and Bluegrass Breakfast Stout. Like Rye Hipster, we were tasting beer straight from the barrel, so it was without final adjuncts. That having been said, they're both tasting fantastic. Keep a close eye on the Beer Buzz for more details.
A big thank you to Chris, Joel, Jared and the rest of the team at OSA. Odd Side's newly expanded and renovated tap room in downtown Grand Haven is breath taking. If you find yourself nearby, or need an excuse to take a short trip, we highly recommend a visit.
***UPDATE: 12.20.19*** - Bourbon Baller Stout, Bluegrass Breakfast and Binny's Hand Selected Rye Hipster Brunch Stout are now available!