Main Content Starts Here
August 20, 2018
Farewell to a Single Malt Legend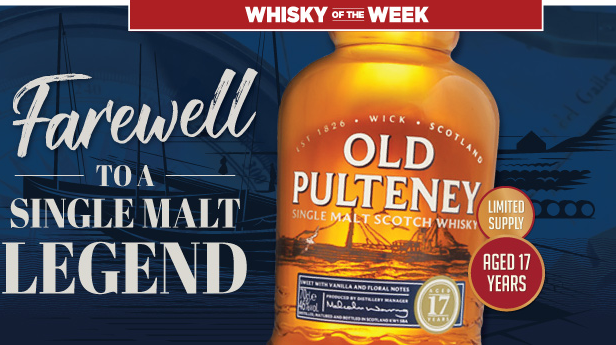 For several years now rumors have been swirling that Old Pulteney may discontinue some of their older offerings, specifically the award-winning 21-year-old and the underrated 17-year-old. Not surprising news considering age statements on single malts are increasingly disappearing. Pulteney just announced their new lineup, and the 17 and 21 are indeed gone, replaced by new 15 and 18 year offerings.
Old Pulteney has always been a favorite of the Whiskey Hotline, we love its balance of honey, oak and brine, living up to its billing as a "Maritime Malt." Of the various Pulteney expressions, we've always had a soft spot for the 17-year-old. Sure, the 21 has won some big-deal awards, but the heavier influence of sherry aging in the 17 gives more balance to that coastal character in the form of dried fruits and baking spices. We were offered one last shot at an allocation of this powerful 17, an opportunity we couldn't pass up.
On the nose, this Hotline favorite shows plenty of fruit in the form of red berries, plum and raisin with a lovely undercurrent of sea salt and brown butter. The fruit really jumps forward on the palate with dried figs and plums cut through by a bit of salinity and soft, sweet vanilla cream before a pleasant dose of wood spice joins the dance of flavors. The finish is enduring with clove and dark stewed fruits lingering. A single malt classic that will be sorely missed.