Main Content Starts Here
Expand Your Wine Horizons - Barrel to Bottle Try if You Like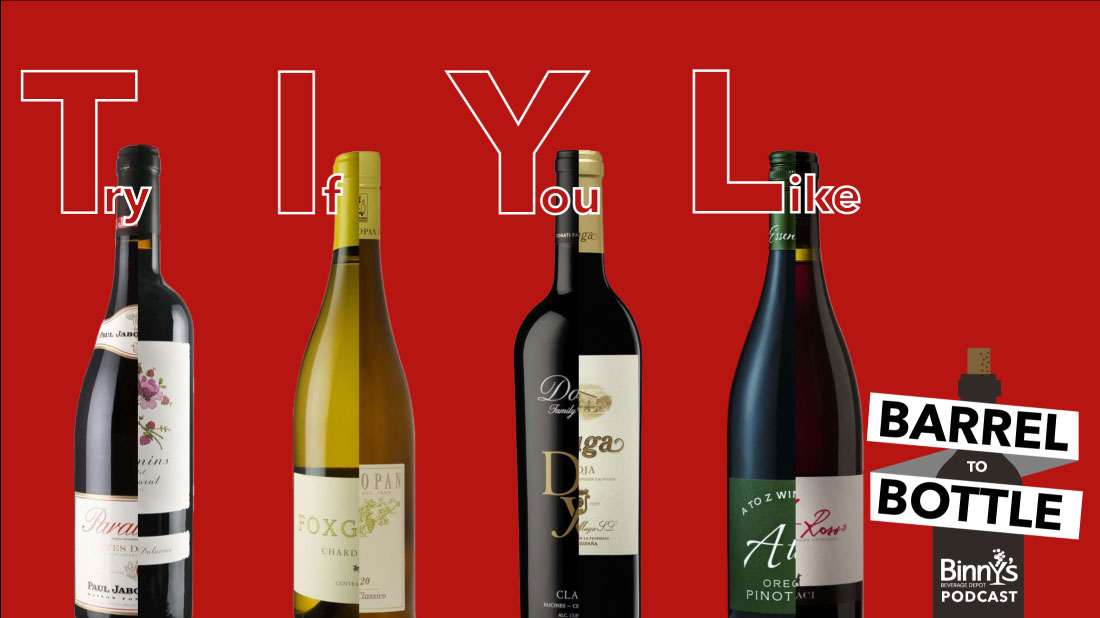 TIYL. If you're stuck in a rut with your wine purchases, but are looking to get adventurous, this is the episode for you. Today we'll be tasting well-known wines or wines from well-known regions; if you like those wines, we can recommend something to elevate your wine game and move your palate into new and exciting things.
Everyone loves their domestic chardonnay. Foxglove Chardonnay is completely unoaked; it's crisp and refreshing and reasonably priced. If you like wines like Foxglove, try Pieropan Soave Classico 2021. Soave Classic and Garganega grapes are new to most consumers. It's around the same price as the Foxglove.
A to Z Pinot Noir is one of the best sellers among pinot noir. It's a gamey and complex wine, especially for a "value" pinot noir. It's surprising in some ways that this wine sells so well because it's pretty funky. It's different than many of the other higher selling pinot noirs. Just like with Soave, we're taking you back to Italy and Etna Rosso. The Graci Etna Rosso is going to be similar to the A to Z but with a little more intensity and structure.
The next lazy wine that Greg probably buys too often is Cotes du Rhone, specifically Paul Jaboulet Parallele 45. This is a huge company in the Northern Rhone. This is a value red wine that will appeal to a lot of people and pair with a lot of different cuisines. Pat will keep enjoying this wine, but if you want to branch out you can try a garnacha-dominant blend, Alvaro Palacios' Camins del Priorat.
The Donati Claret is a pretty typical Paso Robles-style, which means big and ripe with a fair amount of oak in the nose. If you like those kind of Paso wines, we're going back to Spain with Muga 2017 Reserva. It's not going to be quite as ripe as the Donati, but it's still a bold wine.
It's time now for the Q&A portion of Barrel to Bottle (yes, we still do this). Listener Sarah wants to know if it really matters what kind of wine glass you drink out of. Do you need a glass for every kind of wine? How many wine glasses do you need?
If you have a question for the Barrel to Bottle Crew, email us at comments@binnys.com, or reach out to us on Facebook, Twitter or Instagram. If we answer your question during a podcast, you'll get a $20 Binny's Gift Card!
If you like our podcast, subscribe wherever you download podcasts. Rate and review us on Apple Podcasts.