Main Content Starts Here
Everyday Bourbon Values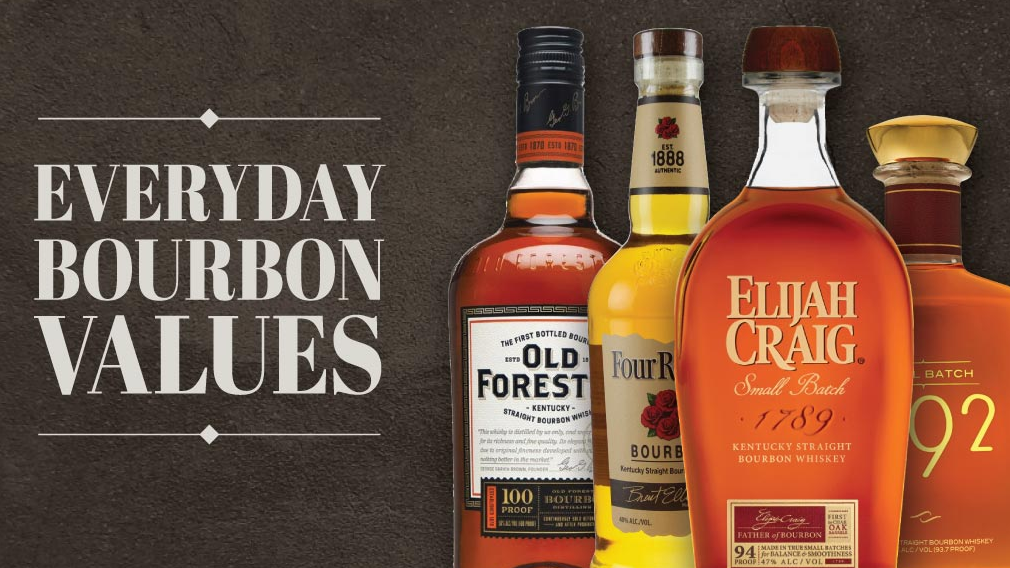 As high-end bourbons have continued to climb in price, and disappear from the shelves, it's nice to have a few brands that deliver consistently great flavor and value. We've highlighted a few of The Whiskey Hotline's favorites that scratch that bourbon itch without breaking the bank. In fact, they're some of the best spirits values around under $30.
Old Forester Signature Bourbon
Old Forester has played second fiddle to some of Brown Forman's bigger brands like Woodford Reserve for quite a while now. The brand has seen a resurgence lately as consumers are starting to appreciate the immense value it delivers. A perennial favorite of the Whiskey Hotline, Old Forester Signature delivers from nose to finish. Sweet vanilla and caramelized fruits soaked in honey leap from the glass. Pepper and cinnamon spice with oak tannin give balance to the ripe and tropical side. Enough strength to stand up and be noticed in a cocktail, or on the rocks.
At this price, this should be a mainstay on any back bar. This is the only release from the iconic distillery that combines all 10 of their recipes. Incredibly well balanced, this mellow bourbon is a perfect daily sipper or cocktail delight. With a base of delicate and fruity bourbon, a moderate dose of clove and cinnamon are perfectly incorporated to create a well-rounded workhorse. Hard to imagine this bourbon was once unavailable in America, thank goodness we can find it stocked nowadays.
Elijah Craig Small Batch Bourbon
The nose on this soft, 94 proof sipper is that of an older bourbon with highlights of butterscotch, oak, vanilla and a faint whiff of herbal rye. Quite inviting. These oak-driven flavors also shine on the palate which is expertly balanced with a touch of brown sugar sweetness and some spicy cinnamon. Even with some price increases in recent years, Reverend Elijah's namesake whiskey remains one of the best deals in the bourbon aisle.
Small Batch 1792 Ridgemont Reserve Bourbon
This favorite from the Barton distillery in Bardstown is known for its chewy mouthfeel and sweet complexity. Wearhouse collapses and all, 1792 will keep you on your toes with big luscious tropical fruit flavors and pleasantly lively spice. Though the name has changed a few times, the quality has never wavered. Quality bourbon at a wonderful price, no need to go broke while drinking like a King… or Queen.