Main Content Starts Here
Discover Beaujolais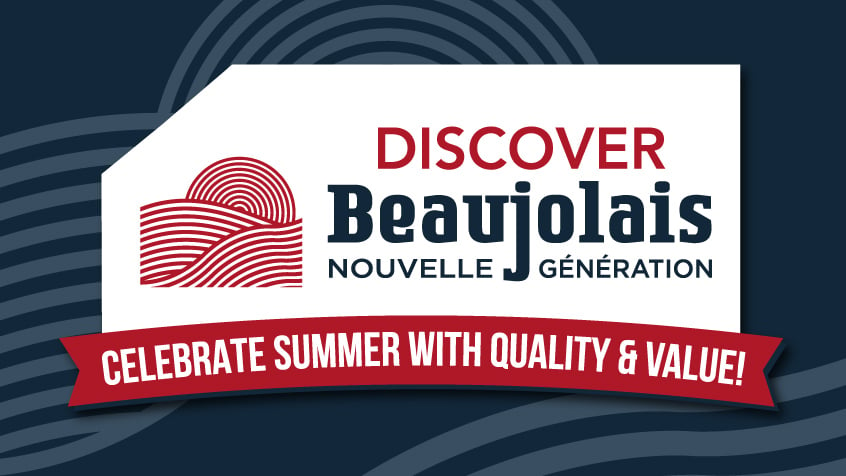 Travel with us for a few minutes to Beaujolais. Settled in the rolling hills just south of Burgundy, it's a region immensely appreciated by a few (mostly those who work in wine) and undiscovered (or misunderstood) by many. In short, I'm crazy about it, and you should be too.
The region itself is comparable in size to Napa Valley, but unlike many other regions in France, it's simple to understand. There is just one grape you need to know -- gamay. It found its natural home in Beaujolais when Philip the Bold, Duke of Burgundy, outlawed the grape from the Cote d'Or in 1395. It was for the best though, as gamay grows much better on the granite and schist soils of Beaujolais than on Burgundy's limestone.
So fast-forward six hundred years to the 20th century. The star of the show post WWII was Beaujolais Nouveau. Have you heard of it? Probably. It's fresh, vibrant and easy-drinking. Nouveau is bottled just a few days after fermentation as a fun, festive wine to commemorate the harvest. Today, the release date is the third Thursday of November and it is a celebrated affair all over the world. In fact, it's about 25% of the region's total production. The revival in interest is largely thanks to Georges DuBeouf who began tirelessly promoting the region in the 1960s.
Now let's focus on the rest of the wine produced by this region. Here are the appellations of Beaujolais:
The bottom of the pyramid is Beaujolais AOC. Largely located on the flatter land in the south of the region, it's nothing overly sophisticated. It's meant to be drunk young. Bright with sour and tart red fruit with high acidity, it's refreshing and quaffable. Sitting around $10, this is your order-by-the-case, party wine.
Beaujolais Villages AOC is the next tier with better soils and slightly higher elevation for these 38 villages. The wine is a bit riper and more concentrated, but again, still light and dominated by strawberry, cranberry and dark raspberry.
Both of these categories are usually made by carbonic or semi-carbonic maceration. This is a defining feature for the region, so it's worth sharing. Carbonic maceration is achieved by filling a tank with CO2 before placing whole bunches (picked by hand) in the tank. The CO2 triggers an intracellular fermentation in each of the berries. Once the ABV within each berry reaches 2%, the grape skins burst and release their juice. Winemakers generally let this maceration occur for 4-5 days for Beaujolais wines and 6-9 days for Beaujolais Villages before pressing off the skins. The result is an extraction of color without much tannin and a fresh fruity quality with lifted aromas of banana, confected red cherry, kirsh, and bubble gum. In one word, it's cheerful.
Semi-carbonic maceration, which is more common, is achieved in the same way but without any CO2 addition to the tank. The weight of the fruit at the top of the vat crushes the grapes at the bottom resulting in traditional fermentation of the released juice via native yeasts. CO2 and heat, by-products of that alcoholic fermentation rise in the tank and cause those preserved bunches of grapes at the top to undergo carbonic maceration.
Much of the Cru Beaujolais was made in this way until recently. The region is experiencing a revival and a new generation is experimenting more with traditional winemaking and oak usage to produce a more complex, textured, full-bodied wine. This brings us to the 10 villages that sit at the northern end of the region at 600-1500 feet on south-facing slopes known as the "Crus." The best examples can age well and compare favorably to the Pinot Noir to the north. There is more color, more tannin, and more earthy/savory elements that are not found with carbonic or semi-carbonic maceration. Here are a few words on some of the Crus most commonly found at Binny's, moving from lightest to fullest in body.
Chiroubles - lightest style with great finesse, highest altitude
Fleurie - floral, fragrant, feminine with lower acidity and very soft tannin
Brouilly – Largest cru so styles vary enormously, generally a lighter more perfumed style
Côte de Brouilly - volcanic soil, powerful nose of red fruits, elegant with floral and mineral notes
Morgon - deep color, power, warm and spicy, best examples can develop similar to Pinot Noir
Chénas - robust, structured, spicy, black fruit, wood and pepper can remind you of the Rhone
Moulin-à-Vent - rustic, full-bodied, most concentrated and age worthy, Burgundian with age, intense ripe red and black fruits, sturdy
Final tips:
Q: How long can I age Beaujolais?
A: Setting aside Nouveau, which you should consume right away, the age ability of the Crus listed above ranges from 3-4 years for the top of the list down to 10+ years for Moulin-a-Vent. Beaujolais and Beaujolais Villages should be consumed within 2 years.
Q: What food can I pair with Beaujolais?
A: Anything! From roast chicken and grilled salmon to spicy Thai takeout, sushi and any Mediterranean fare, you really can't go wrong.
Q: How much should I expect to spend?
A: The beautiful part about Beaujolais is the value. So many come to Binny's and want Red Burgundy for $25. Trust me, buy Beaujolais instead. Most on the shelf are below $30, and that is for the Cru level. Villages level wines are closer to $15.
Remember, it's a wine to be enjoyed. It's not fussy but rather charming and pleasant. Next time you're not sure what to bring to a dinner party or serve at your own gathering, grab a bottle of Beaujolais. Chill it in your fridge for 10-15 minutes before serving.
DISCOVER BEAUJOLAIS VIRTUAL TASTING
You can see our recent Beaujolais Virtual Tasting on our blog.
Click here for a 15% off coupon for Beaujolais wines
For further information about Beaujolais, please download this information packet.