Main Content Starts Here
Demo Kitchen Recipes: Tortilla Española con Jamón y Salsa Romesco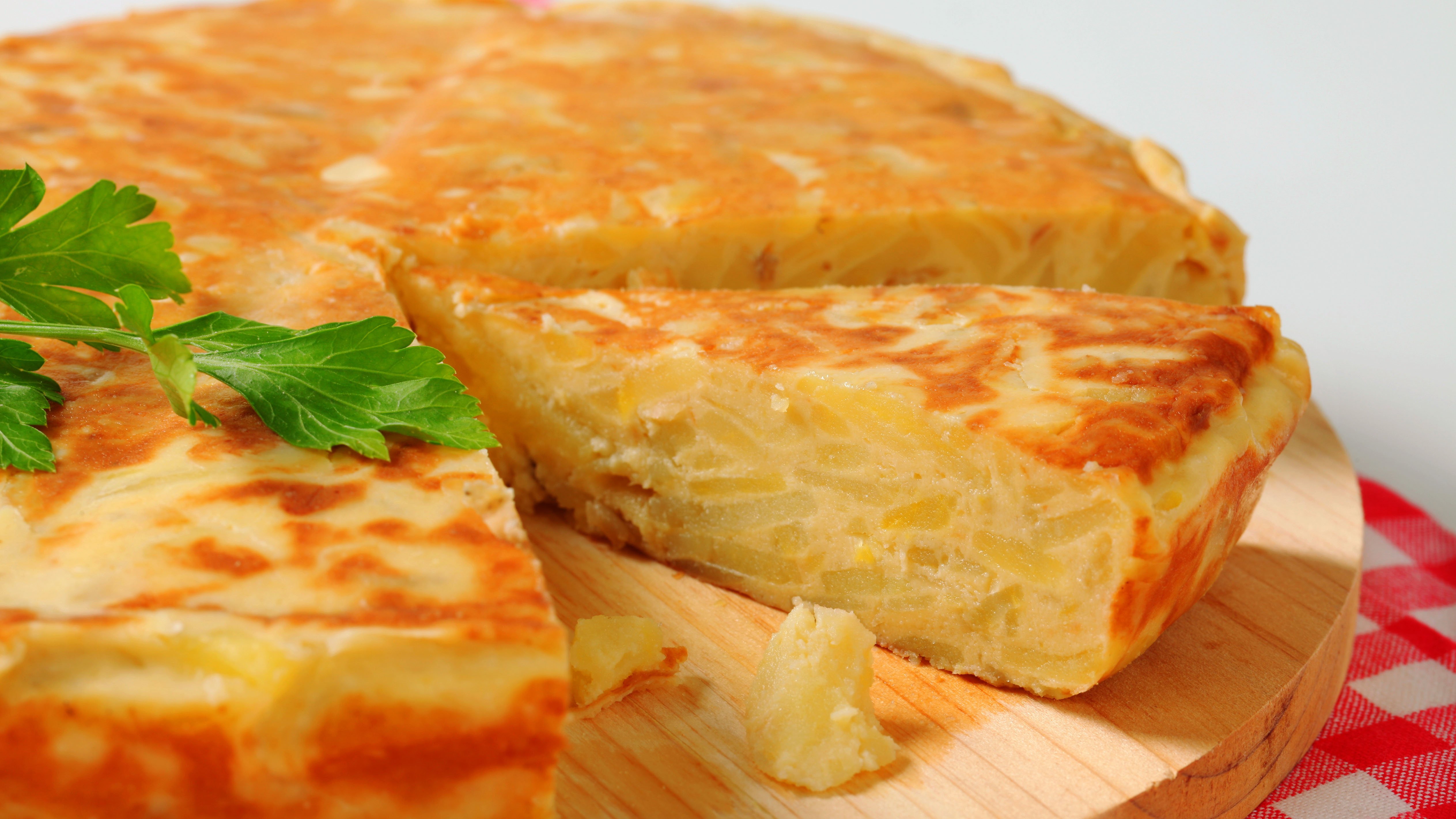 The Demo Kitchen feels compelled to start this post with a little disclaimer. This should not be construed as an apology, just an explanation of why we have chosen to mess, ever so slightly, with tradition. We know tortilla de patatas, the Spanish omelet, is among Spain's most beloved dishes. We know that there is regional diversity within the tradition, ranging from firm and easily sliced into a pinxto, to lusciously runny versions that will cover the plate with custardy liquid egg. We know that this is one of those amazingly simple dishes, born of necessity and scant ingredients. We know that the biggest debate among modern purists is whether the modest addition of onions is appropriate or not. And we know that simple perfection requires no embellishment, yet we have taken a few liberties anyway. We think you will find them subtle, pleasing and easily stripped away to reveal a very traditional omelet at the heart of it all.
The omelet itself really adheres quite closely to tradition, although we do come down on the onion side of the debate. Our only real modification here is the addition of leeks alongside some chopped onion. Why? We thought this would be a fun and tasty nod to another specialty of Catalonia, grilled calçots. Calçots are a celebrated variety of mild green onion that have inspired rabid fandom and countless April events at which these early maturing delights are grilled until charred and served with a sauce not too dissimilar to the Romesco recipe below. One would be very hard pressed to find the genuine article here, so we went with leeks for their clear similarities. Oh, and we make it easy on you by finishing the omelet in the oven rather than flipping it in the pan. If you prefer to be a flipper, have at it.
That's it! No great sins committed. A minor tweak to the onion content is insignificant when compared to a world of possible meat, cheese and vegetable additions. It is still a Spanish omelet not just another frittata unmoored from tradition.
The omelet could be considered complete at this point. It can be served warm or at the traditional room temperature (one of the things that makes this so appealing as part of a brunch buffet; it can be prepared well in advance and requires no last-minute fussing.) Versatility is the name of the game here as this can easily slip into a variety of roles. It can be a perfect start to the day as a hearty breakfast, wedges served with bread make for a terrific addition to a tapas menu and it also makes for a satisfying lunch or dinner alongside a green salad. So, purists, take heart. Leave the leeks out and up the onion, if that's your thing, or just nix the onions entirely to get to the very root of the matter - a totally stripped-down classic version.
Of course, we didn't stop there but we still cleaved to purely Spanish enhancements. As we intimated above, we are pairing this up with a Romesco sauce, an old school classic that relies on the ancient technique of thickening sauces with nuts and/or bread. It is traditionally made with a mortar and pestle so you can pummel and grind the ingredients to the proper consistency by hand if you like, but a food processor works well too. Romesco is a classic accompaniment for fish or grilled veg, but it is so delicious and versatile it's hard to find something it doesn't taste great with. We humbly submit that eggs and potatoes are near the top of the list of fantastic partners for Romesco.
The last thing we have done is to simply guild, what has already become a holiday worthy take on this simple dish, with a thin slice of exceptional dry cured ham. Simply drape each serving artfully with a slice of Serrano or, if you are feeling flush, Ibérico ham (perhaps the greatest ham on the planet) for a rich, nutty, and salty garnish. Now that's not so bad. Is it? Trust us, there is nothing bad about it and you now have a slightly elevated dish worthy of your Easter Brunch.
This iteration is an absolute dream with a fine Spanish sparkler. The Demo Kitchen highly recommends the supremely elegant Raventos i Blanc l'Hereu Blanc de Blancs. Champagne is always a great choice, as are Manzanilla and Fino Sherries.
Thanks go to the Beer Buzz, this week, for reminding us of what a wonderful and flexible beer Hefe Weiss is at the brunch table. Check out the sale price on Weihenstephaner as encouragement to try this most excellent pairing.
Our resident mixologist certainly took the advice to heart by providing us with a wheat beer-based cocktail, the Disaronno Florida Squeeze, that is akin to a yeasty Mimosa (Mimosas are another no brainer). As luck would have it the cocktail incorporates the almondy liqueur, Amaretto, as a fortuitous tie-in to the almonds in the Romesco sauce, making it a guaranteed winner.
Buen provecho!
Serves 4 as a main course or 8 on a brunch buffet.
Spanish Omelet
INGREDIENTS:
1 leek, white and light green only, cut lengthwise and well rinsed. (Gritty sand can spoil your omelet)
¾ lb. Yukon Gold potatoes
¼ cup extra virgin olive oil (Spanish Arbequina is our choice)
1 tsp. kosher salt, more to taste
½ tsp. Freshly ground black pepper, more to taste
12 large eggs
¼ cup chopped onion
4-8 thin slices of Serrano ham
INSTRUCTIONS:
Preheat oven to 350°F.
Slice leek halves in half again lengthwise then slice into thin (¼") slices.
Peel and slice potatoes very thinly (1/8"). Use a mandolin if you have one.
Heat a 10" oven safe nonstick or cast-iron pan over medium heat. Add olive oil. When the oil is hot, add the potatoes. Turn to coat evenly in oil. Season with ½ tsp. of salt and ¼ tsp. pepper. Cook for about 8 minutes, turning occasionally, until potatoes are barely tender but not totally soft or browned. Add leeks and onions, continue to cook, stirring, until veggies are tender, about 3 minutes.
While potatoes are cooking, crack eggs into a large bowl, season with ½ tsp. salt and ¼ tsp. Pepper. Whisk until well combined with no stringy white.
When potatoes mixture is tender pour beaten eggs into the pan. Cook until eggs begin to firm up, about 3-4 minutes. Transfer pan to oven and bake for about 8 minutes until the eggs puff and pull away from the edge of the pan.
Cover the pan with a large plate and carefully invert the pan while holding the plate tightly against it. The omelet should easily release onto the plate. Be careful! Everything is hot.
Serve warm or cool to room temperature. Serve triangular wedges draped with a slice of jamón and a dollop of Romesco sauce.
Romesco Sauce
INGREDIENTS:
1 large red bell pepper
4 ripe plum tomatoes
2 garlic cloves, peeled
½ cup almonds, skinned and toasted
2 slices (2 oz.) crusty bread, lightly toasted
1 tsp. sweet paprika
¼ tsp. ground cayenne pepper
1 tbsp. chopped flat leaf parsley
kosher salt, to taste
freshly ground black pepper, to taste
2 tbsp. Sherry vinegar
1/3 cup extra virgin olive oil (Spanish Arbequina is our choice)
INSTRUCTIONS:
Preheat broiler. Place the red pepper and tomatoes on a baking sheet covered with foil. Broil, turning occasionally until veggies are charred on all sides. The skin of the pepper should turn black all over; the tomatoes should be spottily charred. Remove from the heat. Place pepper in a bag or a bowl covered with plastic wrap to steam.
When cool enough to handle, peel and core tomatoes. Peel pepper and remove stem, seeds, and membranes.
In a food processor fitted with the steel blade, chop garlic. Add almonds, bread, paprika, and cayenne. Process until a thick paste forms.
Add red pepper, tomatoes, parsley, salt, and pepper. Process until smooth. Scrape down sides.
With the processor running, add the vinegar then add the olive oil slowly in a thin stream to form an emulsion.
Adjust seasoning as desired with salt, black pepper, paprika and cayenne. Allow flavors to meld for several hours or overnight.