Main Content Starts Here
Demo Kitchen Recipes: Wisconsin Old Fashioned-Glazed Ham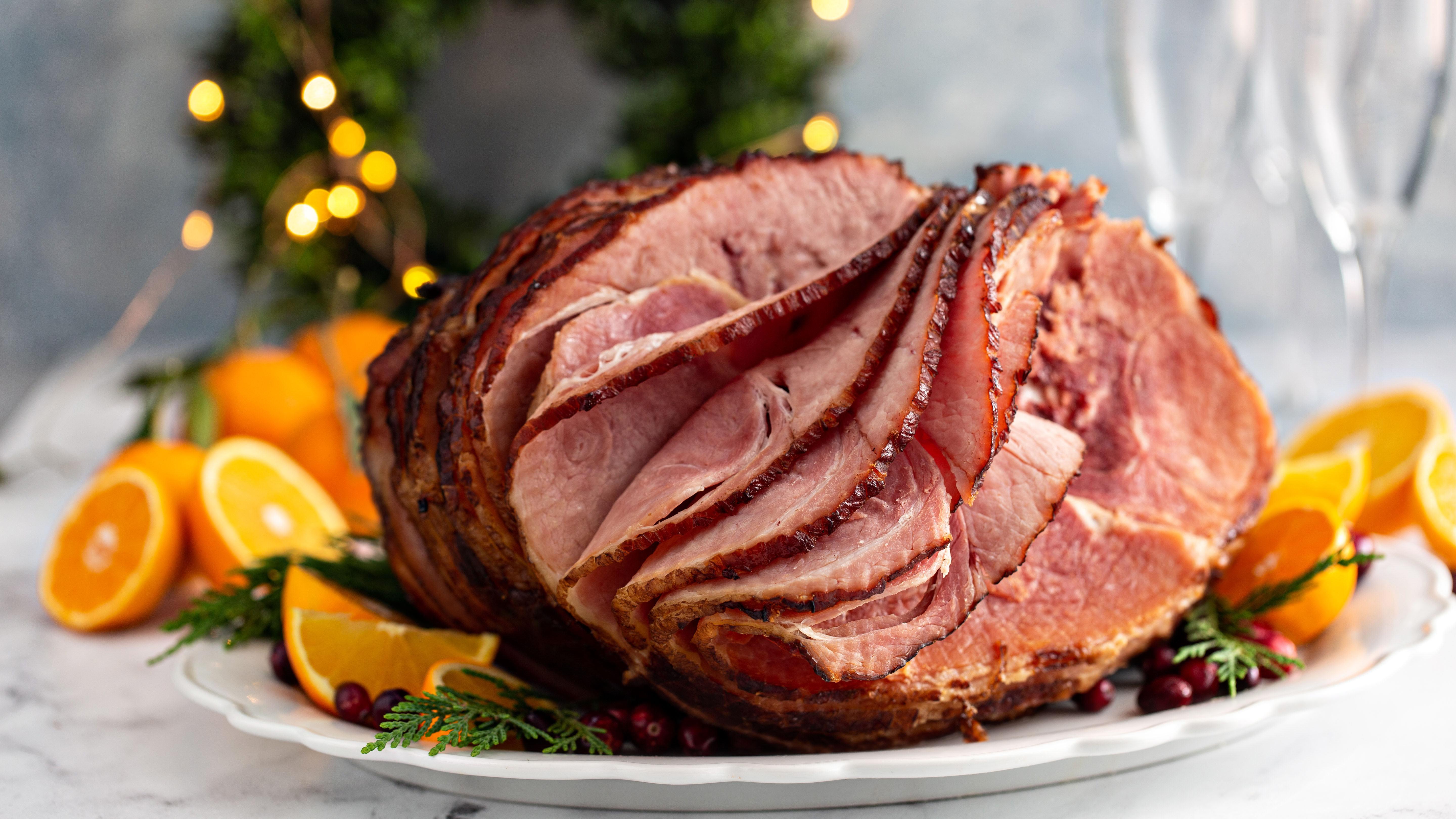 Disclaimer - This is not an heirloom recipe handed down through the generations of some deeply rooted Milwaukee family. Wisconsin Old Fashioned Glazed Ham did not grace the tables of beer barons past, nor is it likely to show up on a supper club menu and it certainly can't be found at the local Friday fish fry. It's not an old-fashioned preparation at all, although it doesn't stray far from many glazed ham recipes. It is a new take on an old theme: sticky, sweet flavors playing off salty and savory smoked ham. Sweet and salty are always a winning combo but the Demo Kitchen likes to think of things from a potent potable perspective, so we set out to create a glazed ham based on Wisconsin's unique take on the Old Fashioned cocktail.
A well-executed Old Fashioned is certainly a classic and, really, the very definition of the word cocktail - being just spirit, sugar, water and bitters. Add a simple garnish of fruit and there it is, a gussied up shot of whiskey known as the Old Fashioned Cocktail – deliciously simple and simply delicious. In Wisconsin, that Platonic ideal may exist as an archetype, but the real-world reflection is something quite different.
First, whiskey is eschewed in favor of brandy. Particularly Korbel brandy. The why is a long story so the Demo Kitchen will leave it to Binny's Home Bartender to weave that tale at some point, if they choose. Just know that the Wisconsin Old Fashioned is first and foremost a brandy old fashioned.
That is far from the only distinguishing feature, however, and it is here where we see why this version has all the makings of a fine glaze. The WOF is like a flashy, fruity and fun caricature - the wacky alter ego of the stuffy classic. An easy drinking and convivial side to the introverted drink that may seem most at home next to a crackling fire, in a deep mahogany hued library full of leather-bound books and overstuffed chairs.
The WOF veers radically from the basic model by muddling orange slices, maraschino cherries and perhaps a bit of syrup from the cherry jar along with the traditional sugar cube and bitters, elevating the garnish to a major player in the flavor profile.
Next the drink is stretched with soda; lemon-lime for "sweet" (perfect for our purposes here), grapefruit soda or sour mix for "sour", or club soda alone or in combo with one of the others for what is known as "press". The result is flirting with the concept of an elaborate highball or a fruit cup akin to a Pimm's Cup or some such concoction.
It is all those sweet, fruity elements that we will take advantage of for making the glaze, along with a few other judicious ingredient choices (maple syrup, brown sugar and cinnamon are all welcome complements along with a little sharp counterpoint from mustard and a pinch of cayenne). Don't worry, there will be brandy too.
Make sure to get a high-quality, fully cooked ham. You can lean into Wisconsin by choosing a nice applewood smoked beauty from Nueske's but any good city ham will do, even if it is from a state that doesn't serve or condone the Brandy Old Fashioned. Once you have ingredients in hand it is just the very simple matter of baking and glazing the ham until it has warmed through and developed a sweet, glossy lacquer of glorious WOF cocktail goodness.
If bright red cherries are your thing or you just love that retro look, feel free to garnish the ham with them but we highly encourage using Luxardo cherries if only for the syrup. The cherries are superior too.
When it comes to perfect pairings, the obvious choice for cocktail enthusiasts is a WOF, sweet. As for beer, although the Demo Kitchen isn't a great fan in general, with a few exceptions, now would be a great time to unleash a fruity, hazy IPA. Sweet kriek lambic and sweet hard cider should also be in the running. There is, of course, no shortage of fine beer from Wisconsin to consider.
Sweetish and/or fruity wines are also in order. Demi-sec Vouvray, riesling and moscato are all nice choices in white wine. Exceptionally full and fruity rosé also works nicely. Red wine drinkers should turn to fruity, low tannin versions of grenache, Beaujolais or Valpolicella. Brachetto and Lambrusco can also make for bold but highly rewarding choices.
Hammy holidays!


Wisconsin Old Fashioned Glazed Ham
INGREDIENTS:
1 (6-8 pound) precooked smoked bone-in ham half, trimmed
whole cloves
1 orange, zested and juiced
½ cup maple syrup
½ cup demerara sugar
½ cup butter
¼ cup Korbel brandy
2 tbsp. Dijon mustard
2 tbsp. cherry syrup, from Luxardo cherry jar
6 dashes Angostura bitters
½ tsp. ground cinnamon
¼ tsp. salt
¼ tsp. black pepper
1 pinch cayenne
orange slices
DIRECTIONS:
Preheat oven to 325°F.
In a medium saucepan combine soda, orange juice, orange zest, maple syrup, sugar, butter, brandy, mustard, cherry syrup, bitters, cinnamon, salt, pepper and cayenne. Bring to a boil, reduce heat to a simmer and cook stirring occasionally until it has thickened to a glaze.
Meanwhile, use a sharp knife to score the fat of the trimmed ham in a diamond pattern about ¾" wide, being careful not to cut into the meat. Place ham on a rack in a large roasting pan with a little water in the bottom. Stud every other diamond with a whole clove.
Brush some glaze all over ham, reserving the rest for continued basting. Tent loosely with foil. Place ham in oven.
Bake, basting with glaze every 20 minutes. After one hour, remove foil. Use toothpicks to affix cherries to the clove-less diamonds, if desired. Continue baking and basting another half to one hour until glaze is glossy and caramelized and a thermometer placed in the thickest part of the meat reads 140°F. Use the pan drippings to continue basting when fresh glaze is gone.
Remove from oven, let rest 20 minutes. Place on a large lettuce lined platter, garnish with orange slices. Carve and serve warm or at room temperature.