Main Content Starts Here
Demo Kitchen Recipes: The Commander's Pudding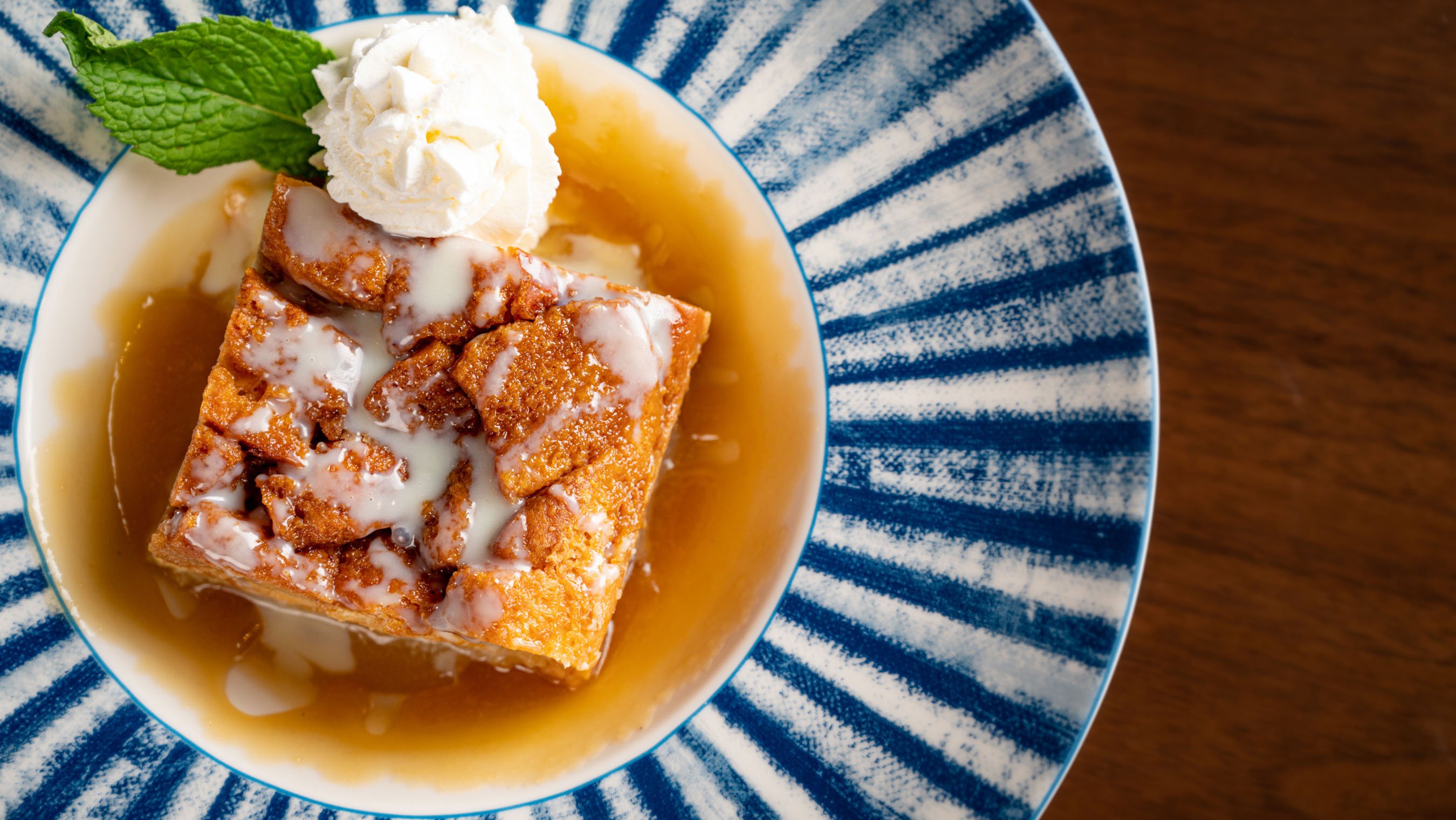 This is the Commander's pudding but don't worry, he's happy to share. It wouldn't be the first time; the "Bachelor Duke", as he was known, deserves a pudding named for him if only for sharing a cloned cultivar of banana that would become the savior of banana producers and the fruit loving world alike.
Readers who are hip to food history may be scratching their heads having made an immediate and correct association between Bananas Foster and the legendary New Orleans Garden District restaurant, Commander's Palace. While that makes perfect sense, the Commander's Pudding isn't named for that great institution. Nope, we have turned to the Beer Buzz for inspiration in both naming and developing this dish, er... Cavendish?
That inspiration being our latest incredibly decadent barrel aged collab with Brooklyn's Other Half Brewing. Binny's supplied the bourbon barrels and input on ingredients and Other Half cranked out Deep Orbit Commander Cavendish Bourbon Barrel Aged Imperial Stout. As is their wont, Other Half loaded this high abv beast up with adjuncts – chocolate, toasted coconut and surprise... banana.
That is where William George Spencer Cavendish, 6th Duke of Devonshire, comes in. As President of London's Royal Horticultural Society (1838 until his death), he promoted research into plants and fungi at the Royal Botanic Gardens, Kew. But what he is most remembered for is his head gardener's greenhouse propagation of a banana specimen. That gardener, Sir Joseph Paxton, bestowed the Latin name, Musa cavendishii, on that banana species to honor his patron. From that greenhouse came a world of cloned bananas that now dominate commercial production – Cavendish bananas.
Interestingly, when Ella Brennan, along with Chef Paul Blangé, first whipped up Bananas Foster in 1951 at Owen Brennan's Vieux Carré Restaurant (see the recipe for a great cocktail of the same name), the Gros Michel or Big Mike banana, was slowly losing its position as the world's favorite banana due to disease pressure. New Orleans itself was on the cusp of losing its key role as a major port for bananas coming from Central and South America and although Cavendish clones were replacing the Gros Michel it seems very likely that it was not the Cavendish that went into the original version of this dish.
By the time New Orleans was no longer the United Fruit Company's favorite port, Ella Brenan was at the helm of Commander's Palace and Cavendish bananas had supplanted Gros Michels as the world's sweet banana of choice. So, to complete these Cavendish chronicles, we make the fair assumption that Bananas Foster at Commander's Palace has always been Cavendish Foster.
The sad addendum to this tale is that the Cavendish, being that it is grown as cloned monoculture without genetic variation to speak of, is now succumbing to the same disease that felled the mighty Gros Michel. So, eat 'em if you got 'em before the famous refrain, yes, we have no bananas, becomes a reality.
By the way this is obviously not a recipe for Bananas Foster proper but a hybrid with another dish that is very popular in NOLA, bread pudding. It is an excellent dessert especially when embellished with a scoop of vanilla ice cream, but it can also be served like French toast as an extravagant brunch dish. In either case, go bananas and pair it with Other Half x Binny's Commander Cavendish Imperial Stout.
Serves 8
The Commander's Pudding
INGREDIENTS:
Pudding -
4 large eggs
1½ cups whole milk
1½ cups heavy cream
1 ripe banana
⅓ cup maple syrup
2 tbsp. Crème de Banane
2 tbsp. aged rum - El Dorado 8
1 tsp. vanilla extract
1 tsp. cinnamon
1 tsp. kosher salt
½ cup semisweet chocolate chips
8 cups cubed brioche or baguette
butter to grease pan
2 tbsp. Sugar, divided
5 ripe bananas, peeled and cut into ¼" thick coins
⅓ cup chopped pecans
⅓ cup shredded coconut
Sauce -
DIRECTIONS:
Pudding -
A day in advance, cube bread and leave out overnight to dry. Alternatively, on the day of serving put fresh cubed bread in a low oven for 20 minutes to dry or simply use stale bread.
Preheat oven to 350°F. In a blender, combine the eggs, milk, cream, banana, maple syrup, crème de banane, rum, vanilla, cinnamon and salt. Blend until smooth.
Add the chocolate chips and bread to a large bowl, cover with the banana custard and combine well. Set aside to soak, so the bread absorbs the liquid.
Butter a 9"x13" baking dish, then sprinkle the bottom with 1 tbsp. of sugar. Arrange half of the banana coins in a single layer in the bottom of the dish. Top with half of the bread mixture. Layer in the remaining banana coins and top with the remaining bread mixture.
Place baking dish on a low sided sheet pan. Bake for 40 minutes.
Top with pecans and coconut then sprinkle with remaining sugar. Return to oven and bake until puffed and golden, approximately 15 to 20 minutes.
Meanwhile, make the sauce -
Melt the butter in a saucepan over medium heat. Add brown sugar, cream, rum, banana liqueur and salt, and whisk until combined.
Simmer, whisking, until thickened, 6 to 8 minutes. Remove from heat and keep warm.
Serve pudding warm, drizzled with warm sauce as an extravagant brunch dish or as dessert with a scoop of vanilla ice cream.